3 Mental & Emotional Health Practices For Those In Menopause

Board-certified dermatologist
By Keira Barr, M.D.
Board-certified dermatologist
Keira Barr is a dual board-certified dermatologist and founder of the Resilient Health Institute.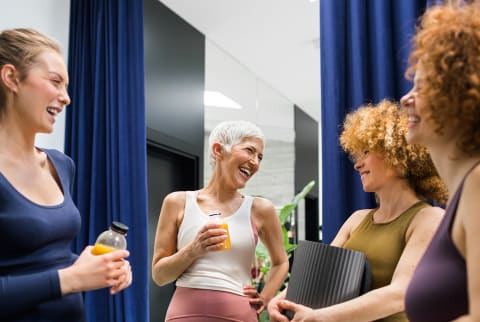 Image by Studio Firma / Stocksy
October 8, 2021
Our editors have independently chosen the products listed on this page. If you purchase something mentioned in this article, we may
earn a small commission
.
When we think of a person going through menopause, it often conjures up images of hot flashes, brain fog, changes in libido, insomnia, and weight gain. And while these symptoms are not for the faint of heart, the symptoms that don't often get as much attention but have the most profound impact are the ones that affect a woman's emotional and mental well-being.
This is a problem that needs a solution.
Advertisement
This ad is displayed using third party content and we do not control its accessibility features.
After speaking to countless women in the menopause transition over this past year, what I've found is that there is a common thread that ties all of us together. We are experiencing a level of stress, anxiety, and overwhelm that is different from what we have ever experienced before. The worst part is that many of us keep it to ourselves because we don't feel seen, heard, or understood by those around us.
Can you relate? If you said, yes, you're not alone.
Where the problem lies.
While most cultures celebrate puberty as the beginning of an exciting phase of life, menopause is often perceived as the beginning of the end of the excitement. Historically, going through "the change" has been portrayed as a life sentence punctuated by a loss of femininity, cultural irrelevance, lack of sanity, diminished sexuality, and lack of entitlement to talk about your symptoms without judgment or being readily dismissed as "overly emotional.'' It's no wonder so many women feel isolated, alone, and hesitant to share what they are going through.
And while not all women experience mood changes, feeling comfortable speaking about their own symptoms or knowing who to turn to to talk about them can feel equally as isolating.
How to change the paradigm around mental and emotional health in menopause:
Women in menopause are facing several mental hurdles, internal and external. Of course there's the external weight of society's perception of what a menopausal woman should look and act like (i.e., frumpy, frazzled, and fatigued—and being told her symptoms are just a part of getting older). And as if that wasn't enough, she's also carrying the internal weight of the physical, mental, and emotional changes from shifting hormones. For many, this is compounded by the stress and strain of juggling care for aging parents, kids, or loved ones; feeling confident in her career; and navigating how to live through a pandemic.
From so many women, I hear versions of "I just don't feel like myself anymore." And, truly, losing your sense of identity is enough to affect your mental health.
It makes sense because of the fluctuating patterns and levels of estrogen, progesterone, and testosterone (not to mention other hormones like thyroid, insulin, and cortisol) during this time that have an impact on our body systems—far beyond our reproductive system.
So, yes, you may not feel like yourself right now because you're experiencing major shifts in how your mind and body work. These changes are major and can feel overwhelming, but you can support your body through this transition to lessen the effects. Especially those effects that can feel hard, lonely, and depressing.
This is where Kristen Neff's work about cultivating self-compassion can help shed the weight, layer by layer. In fact, this study found that self-compassion was a powerful predictor of all mental well-being outcomes for the menopausal women participating. Sure, the three-step approach is simple, but application is not always easy and takes practice, patience, and persistence…(so just know you aren't doing it wrong if it doesn't feel amazing the first time you try it). While this is an oversimplification of Neff's work, here are the highlights:
Mindfulness: Take notice of how you are feeling without trying to suppress or deny it, but rather being open to observing your thoughts and feelings just as they are without judgment or getting swept up in negative reactivity.
Common humanity: Give yourself permission to acknowledge that what you are experiencing is hard. And while the timing and circumstances of when a person enters menopause (surgically induced or naturally occurring) may differ, all women go through it, which means despite feeling alone at times, what you are going through is part of being human, having the human experience of transitioning through menopause. In fact, women spend one-third of their life in a hormone-deficient state, which means there's a lot of other women who may be having a hard time too.
Self-kindness: Self-compassion means that we treat ourselves with kindness and understanding when we are suffering or feel inadequate or not "like ourselves" as our hormones shift rather than letting our inner critic pick us apart.
Advertisement
This ad is displayed using third party content and we do not control its accessibility features.
If you find that giving yourself compassion is too challenging, I find that asking these two questions are surefire ways to help get back on track: What do you need to hear right now? What do you need to feel supported right now?
When you answer them, you know you can have your own back and give yourself what you need. Even though we live in a society where this is not yet the norm, it's up to us to decide if we want to choose to merely survive or infuse our menopausal experience with kindness, love, and self-compassion so that we can thrive.
2.
Converse and communicate.
It's becoming more clear that due to the little education about menopause in mainstream medical training, limited access to providers and holistic menopausal care because of time constraints in an insurance-based model, and familial and cultural taboos for discussing the topic, women are at risk of feeling isolated, confused, frustrated, and overwhelmed.
So what can we do about it?
We can reframe the cultural conversation and discuss menopause more openly with mental and emotional well-being front and center in the delivery of holistic care. By creating a space where women can speak freely about their experiences while at the same time being armed with information and a greater understanding of how their body works, we can change the menopause paradigm.
Given that we spend a third of our lives in a hormone-deficient state, creating a container for open dialogue and teaching mind-body practices to support women's emotional and mental well-being is my big "why" for launching my Midlife Freedom program.
Not only can we begin to normalize the conversation about the physical, mental, and emotional changes that occur during the menopause transition, but we can shift the conversation from an experience of loss of our menstrual cycle to an experience of gaining the freedom to start an entirely new chapter of our lives, a chapter where we embrace our resilience and use the setbacks of our past to propel us toward a future of our own design.
Advertisement
This ad is displayed using third party content and we do not control its accessibility features.
3.
Connect with community.
As humans we are social beings. Connection is vital for our survival, health, and happiness as illustrated by research that shows us that a lack of human connection1 can be more harmful to your health than obesity, smoking, and high blood pressure. The lack of connection in menopause is no different. In fact, a recent study found that women in menopause did better with group support than women who did not receive such support.
Participating in a supportive community of women like the Midlife Freedom program that offers education and tools to equip you with the resources and support to manage your stress and prioritize your well-being is the missing link in current menopause management that no hormone replacement pill, patch, or pellets can provide.
Bottom line.
There are a lot of factors working against a woman's ability to get the support she needs during the menopause transition. Given that, there needs to be a multifaceted approach to support her caring for her mind and body as an individual but more importantly caring for herself in a community so that she knows her reactions and experiences are not dramatic or "crazy"; rather, they are common, expected, and above all, normal.
Advertisement
This ad is displayed using third party content and we do not control its accessibility features.