Internal Medicine Physician
By Austin Perlmutter, M.D.
Internal Medicine Physician
Austin Perlmutter, M.D., is a board-certified internal medicine physician and New York Times bestselling author.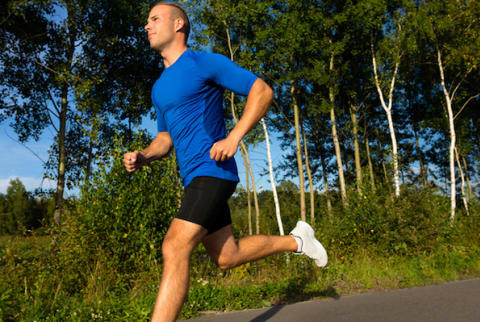 Photo by Shutterstock.com
May 8, 2014
As anyone trying to stay in shape knows, without continued effort, we lose our gains. Getting ripped is hard, and staying there is even harder. Our fitness idols seem capable of keeping up their amazing bodies for years on end. However, they have the ability to focus on their physiques for hours a day. The rest of us may get cut when we dedicate our free time to exercise.
When other obligations impose, we lose what we've worked so hard to gain. As a medical student, I work anywhere between 50 to more than 80 hours a week, sometimes overnight and weekends. Three years in, I'm in better shape than when I started, and here are my secrets.
Advertisement
This ad is displayed using third party content and we do not control its accessibility features.
1. Always have food available.
This may seem counterintuitive at first. Why give yourself 24/7 access to food if your goal is to stay in shape? When you're working long hours, and can't guarantee access to healthy food, having snacks like nuts and veggies around ensures that you maintain your metabolism, as well as stopping you from chowing down on whatever's nearby
2. Nobody's perfect, but try not to cheat.
When we can't access our healthy routines, we're more apt to succumb to outside influences. Someone may leave cookies in the break room, candy on a desk or bring bagels for the entire office. Just because you're not home doesn't mean you're obligated to participate. I find that point number 1 above really helps to lower my chances of eating other people's unhealthy food. With your own healthy food on hand, you're not as tempted to indulge in other's unnecessary calories
3. Make the most of your options.
Sometimes, despite the planning, you're stuck eating something you didn't expect. Maybe you picked up another shift, got asked to finish a job early, or have to stay late. Regardless, it's important to keep a level head and choose the lesser evil. When you have a restaurant or cafeteria available, go with salad with dressing on the side. If you're staring down a vending machine, look for recognizable foods like nuts. This isn't the time to give up and order ice cream, French fries, or soda. Stay strong, and you won't have to regret your choices.
4. Set yourself up for success.
If you found yourself trapped and eating things you normally wouldn't, don't just blow it off just to have it happen again. Instead of waiting until you're starving and eating something unhealthy, plan to bring a meal the next day. Having a lunchbox on hand will save you money and help prevent catabolism, as well as allow you to fully control your nutrition intake.
5. Even a little exercise helps.
Maybe you don't have hours to spend working out after you get home. That's OK. Just engaging your muscles helps prevent atrophy. A couple sets of push-ups, burpees, and crunches, and your muscles will remember that they're needed. While this may not be as good as a full gym session, it will help you to preserve the work you've already put in.
Advertisement
This ad is displayed using third party content and we do not control its accessibility features.
Austin Perlmutter, M.D.
Internal Medicine Physician
Dr. Austin Perlmutter is a board-certified internal medicine physician and internationally recognized expert on how environmental influences affect our mental and brain health.
His research on lifestyle factors in depression have been featured and cited in peer-reviewed literature and he educates on the topic on top podcasts, and in keynote presentations around the world. He is a co-author of the New York Times and international bestseller Brain Wash, which he wrote with his father David Perlmutter M.D. and covers our poor modern-day brain health and the role of everything from diet to social media on our cognitive and mental state. He is a frequent contributor to websites including MedPage Today, Doximity, KevinMD, Medium, and Psychology Today, and hosts the Get The STUCK Out podcast.
He currently serves as the Senior Director of Science and Clinical Innovation at Big Bold Health, where he is running an IRB-approved pilot trial exploring the effects of polyphenols on epigenetic expression. His overarching focus is in helping people find non-pharmaceutical strategies for getting "stuckness" out of their brains and bodies using the best that science and nature have to offer.