Waterfalls Are Forming On Glaciers & Scientists Are Concerned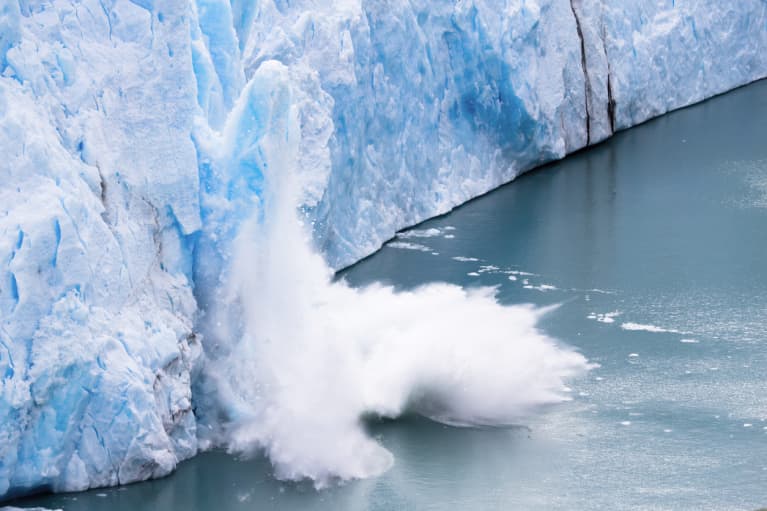 December 5, 2019 — 0:28 AM
We're just a few weeks away from the dawn of a new decade. But as 2020 looms, so does the issue of climate change. And as a new study found, sea levels rising is still a very real concern for scientists and researchers.
The University of Cambridge recently discovered the Greenland Ice Sheet is cracking and melting more.
As the second biggest ice sheet in the world, and the largest contributor to sea-level rise, it's something climate experts are keeping their eye on.
What is a supraglacial lake?
It all starts with supraglacial lakes, or a body of meltwater that develops on top of a glacier. When these lakes continue melting and spread wide enough to reach a "moulin," or a vertical crack in the glacier, the water rapidly drains, creating cascading waterfalls that dump tons of water down the glacier.
But too many of these waterfalls could contribute to accelerated glacial melting and cracking.
And in this study, scientists observed the meltwater was indeed creating new fractures within the glaciers and making existing fractures get bigger. The use of drones in the study allowed the researchers to make these conclusions, giving us a better idea of the significance of supraglacial lake drainage.
Tom Chudley, a Ph.D. student at the Scott Polar Research Institute and the team's drone pilot says, "It's possible we've underestimated the effects of these glaciers on the overall instability of the Greenland Ice Sheet."
Ice sheets are often a kilometer thick or larger. When water drains from these supraglacial lakes into the cracks, they effectively become some of the world's largest waterfalls.
Study co-author Poul Christoffersen Ph.D., a glaciologist at the University of Cambridge, notes when the meltwater from the supraglacial lakes empties through a crack, it reaches the bottom of the glacier, causing more melting there. So with more water melting up top, these waterfalls are causing more melting down below as well.
And given there isn't enough new snow to make up for the ice lost, it's estimated the Greenland Ice Sheet is losing a billion tons of ice every day and growing. It recently lost 11 billion tons in one day alone.
Want to turn your passion for wellbeing into a fulfilling career? Become a Certified Health Coach! Learn more here.