Nuts About Nuts? Add This One To Your Diet For Better Heart Health

By Caroline Muggia
mbg Contributor
Caroline Muggia is a writer, environmental advocate, and registered yoga teacher (E-RYT) with a B.A. in Environmental Studies & Psychology from Middlebury College.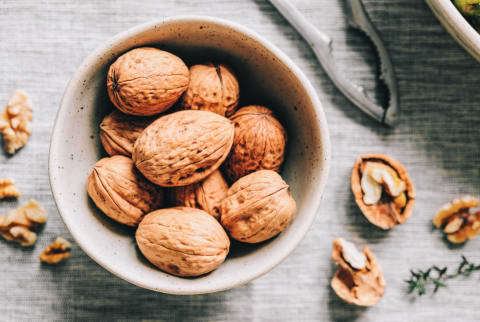 Image by Nataša Mandić / Stocksy
May 2, 2019
To figure this out, the researchers assigned participants to three different low saturated fat diets, one that included whole walnuts, another that did not contain walnuts but had the same ALA and polyunsaturated fatty acids content, and a third that had another type of fatty acid but no walnuts.
After six weeks, the researchers found that all of the diets had a positive impact on cardiovascular risk factors (blood pressure, brachial pressure, cholesterol, arterial stiffness), but in particular, the diet with whole walnuts showed the most significant benefits including lower central diastolic blood pressure.
"When participants ate whole walnuts, they saw greater benefits than when they consumed a diet with a similar fatty acid profile as walnuts without eating the nut itself," said Penny Kris-Etherton, distinguished professor of nutrition at Penn State, in a statement. "So it seems like there's a little something extra in walnuts that is beneficial—maybe their bioactive compounds, maybe the fiber, maybe something else—that you don't get in the fatty acids alone."
The link between eating whole walnuts and lowered central blood pressure (the pressure moving toward your heart) is especially important as central blood pressure levels are a marker for the risk of developing cardiovascular disease, which means that eating whole walnuts may have lowered the participants' risk of developing CVD.
Based on this news, it seems like we could all use more walnuts in our lives. If eating raw walnuts is not your cup of tea, try roasting them with a little salt and honey or adding them to your smoothies. There are tons of ways you can incorporate these superpowered nuts into your diet without having to eat them straight.
Want to turn your passion for wellbeing into a fulfilling career? Become a Certified Health Coach! Learn more here.

Caroline Muggia
Caroline Muggia has a B.A. in Environmental Studies & Psychology from Middlebury College. She received her E-RYT with Yoga Works and is a graduate of the Institute for Integrative Nutrition. A writer and environmental advocate, she is passionate about helping people live healthier and more sustainable lives. You can usually find her drinking matcha or spending time by the ocean.