This Vegan Roasted Pumpkin Dish Has A Gut-Healing Secret Ingredient
mbg Contributor
By Caroline Muggia
mbg Contributor
Caroline Muggia is a writer, environmental advocate, and registered yoga teacher (E-RYT) with a B.A. in Environmental Studies & Psychology from Middlebury College.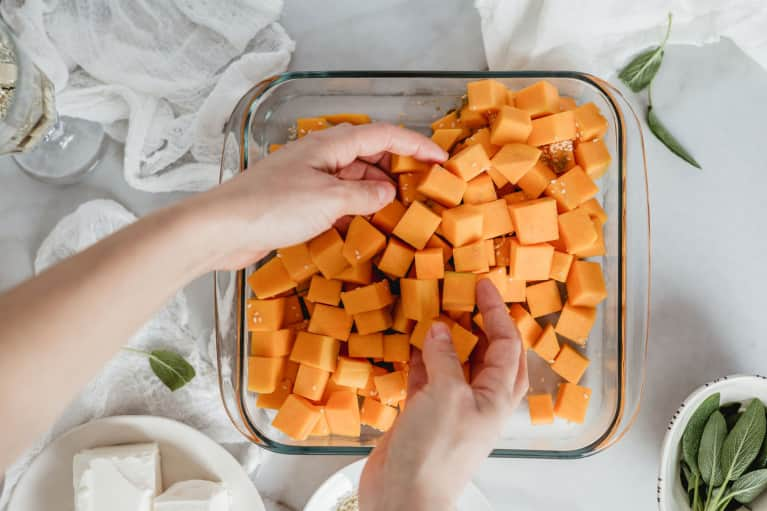 Our editors have independently chosen the products listed on this page. If you purchase something mentioned in this article, we may
earn a small commission
.
If you're looking for a healthy and delicious way to enhance flavor in your vegan dishes, you may want to consider miso. It's made from fermented soybeans and packed with probiotics, which can help balance the bacteria in your gut and create a healthy microbiome. It adds a rich umami undertone to any dish—creams, marinades, and soups; you name it.
Timothy Pakron, author of Mississippi Vegan: Recipes & Stories From a Southern Boy's Heart, is no stranger to incorporating unexpected flavors into his plant-based, Southern-inspired vegan dishes. Weaving in stories from his upbringing in Mississippi, with a focus on healthy and sustainable options, he incorporates vibrant and local ingredients to bring new flavors to the vegan cuisine.
The roasted pumpkin and cheese walnut crumble showcases Pakron's genius as he puts a unique twist on a staple dish. Pumpkin is the way to go this fall season as it has anti-inflammatory properties as well as builds the immune system. "The combination of tangy miso and rice vinegar with a touch of nutmeg and cayenne pepper truly highlights its subtle flavor," says Pakron. A cheesy walnut crumble adds the perfect finishing touch. Made with nutritional yeast, which provides essential amino acids, vitamin B, and even more probiotics, Pakron notes that this "cheesy walnut crumble takes this dish from ordinary to extraordinary."
Roasted Pumpkin With Cheese Walnut Crumble
8 cups peeled pumpkin, cut into 1 ½-inch cubes (about 3 pounds)
¼ cup vegetable oil
2 tablespoons coconut sugar or brown sugar
2 tablespoons mellow white miso or chickpea miso
1 tablespoon rice vinegar
½ teaspoon sea salt
¼ teaspoon freshly grated nutmeg
¼ teaspoon cayenne pepper
½ cup walnuts
3 tablespoons nutritional yeast
½ teaspoon fresh lemon juice
¼ teaspoon sea salt
Fresh thyme sprigs, for garnish
Preheat the oven to 400°F. Line a baking sheet with parchment paper.
In a large bowl, toss the pumpkin cubes with the oil, coconut sugar, miso, vinegar, salt, nutmeg, and cayenne. Spread evenly on the baking sheet and bake until the chunks are tender and golden, about 40 minutes.
While the pumpkin is roasting, make the walnut crumble: Spread the walnuts into an even layer on a baking sheet or baking dish and roast in the oven along with the pumpkin for 8 minutes, or until slightly toasted and fragrant. Remove and add the nutritional yeast to the pan. Pop back in the oven for an additional 2 minutes to toast the yeast. Once done, remove and transfer the mixture to a food processor and add the lemon juice and sea salt. Pulse to create a crumble. Set aside.
Once the pumpkin chunks are done, transfer to a serving dish. Serve sprinkled with the walnut crumble and garnish with the fresh thyme sprigs.