Gut-Healing, Vegan Green Goddess Dressing Takes 5 Seconds To Make. Here's The Secret Ingredient
Contributing Food Editor
By Liz Moody
Contributing Food Editor
Liz Moody is a food editor, recipe developer and green smoothie enthusiast. She received her creative writing and psychology degree from The University of California, Berkeley. Moody is the author of two cookbooks: Healthier Together and Glow Pops and the host of the Healthier Together podcast.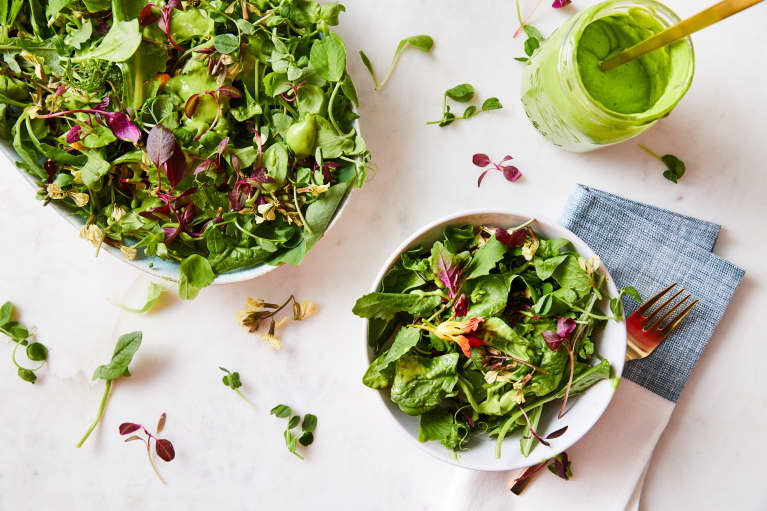 Innovations in food science and manufacturing technologies have finally made delicious, creamy, no-compromise plant-based yogurt a possibility, and with the explosion in the category now and in coming months, we've named it as one of our top food trends of the year. This finally makes it possible to make a vegan green goddess dressing that's as crave-worthy as its dairy-based counterparts, in less time than it'd take to snag a bottle off the shelf.
Green Goddess Dressing is a creamy California classic, an herb-studded, Ranch-like affair that's as perfect drizzled over a salad as it is a dipping vessel for crudités. The nondairy yogurt offers plenty of probiotic, gut-boosting benefits, while the polyphenols in the fresh herbs (feel free to play around with quantities based on preferences and what you have on hand) up the anti-inflammatory properties. Keep a jar on hand, and let it entice you to reach for the vegetables in your fridge!
Gut-Healing, Vegan Green Goddess Dressing
½ cup unsweetened, plain nondairy yogurt like coconut-based So Delicious, Pili-based Lavva, or almond-based Kite Hill
½ cup extra-virgin olive oil
½ cup packed fresh parsley
½ cup packed fresh basil
¼ cup packed fresh cilantro
3 tablespoons chopped chives
1 garlic clove
Juice of 1 lemon
¼ teaspoon fine-grain sea salt
Black pepper, to taste
Blend all ingredients together until smooth.
Add more salt and pepper to taste. Keeps for up to one week in a tightly sealed jar in the fridge.