paid content
 for

The Ultra-Refreshing Cocktail You'll Want At Every Outdoor Party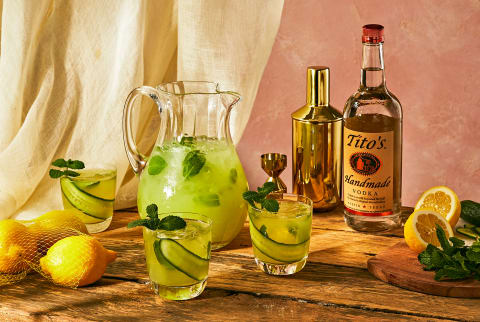 Image by Jenny Huang / Contributor
May 20, 2019
This summer's star ingredient? Hydrating, cooling cucumber. You're probably already a fan of slicing the fruit and adding it to seltzer (it tastes like a mini spa day), but have you ever thought of juicing it?
While fresh cucumber juice is awesome on its own (just blitz chopped cucumber in a blender and strain it through a mesh strainer), added to lemonade—summer's tried-and-true drink of choice—it's nothing short of revelatory.
Image by Jenny Huang / Contributor
Now, say hello to your new favorite summer drink: a Sparkling Cucumber-Mint Lemonade cocktail. It's so easy to make that you can stir up a batch to share in under 10 minutes. Just combine cucumber juice with Tito's Handmade Vodka, fresh lemon juice, sugar, and mint leaves in a large pitcher, and stir until the crystals have dissolved. If you like your lemonade more tart than sweet, feel free to add more to taste—you do you. Organic raw cane sugar is our sweetener of choice here, but you can substitute whatever sweetener you prefer; coconut sugar or honey also work great.
Batched in a pitcher and topped with seltzer to taste, the result is a mean, green, crowd-pleasing cocktail that's perfect for just about any summer occasion, from barbecues to beach days. Served with a cucumber slice or a thin cucumber ribbon (if you're feeling fancy), it's just as refreshing and as a cold dip in the ocean or a seat directly in front of the AC.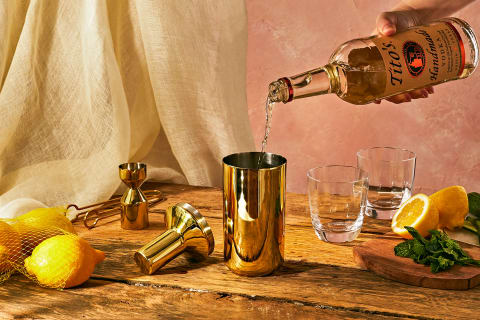 Image by Jenny Huang / Contributor
Green Wave Pitcher
A sparkling cucumber-mint lemonade with Tito's Handmade Vodka
1½ cups fresh cucumber juice (peel your cucumbers before juicing)
2 cups fresh lemon juice
1½ cups Tito's Handmade Vodka
3 cups cold water
3 tablespoons raw cane sugar (or sweetener of choice)
¼ cup mint leaves (about 18 to 20 leaves), plus optional mint sprigs for garnish
6 cucumber ribbons or slices, for garnish
Combine the cucumber juice, lemon juice, vodka, sugar, and mint leaves in a large pitcher with a lid. Stir until sugar is dissolved, then top with 3 cups cold water, plus more sparkling water to taste. (You can use only sparkling water if you want it really bubbly.)
Taste, and adjust the sweetness to your liking if needed by adding more sweetener a teaspoon at a time. To serve, pour into ice-filled glasses and garnish with a cucumber ribbon or slice. With ribbons, add them to the glasses before you prepare with ice.
To make cucumber ribbons, use a vegetable peeler or a mandoline to thinly slice a small cucumber, lengthwise.