paid content
 for

Turmeric-Spiked Candied Maple Pecans Are The Ultimate Anti-Inflammatory Holiday Treat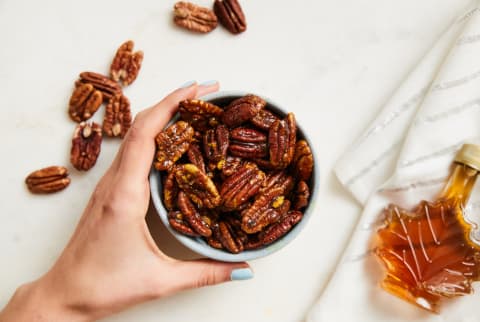 Photo by Miachel Breton / mbg Creative
December 15, 2017
'Tis the season for parties, cookie swaps, cocktails, cake, and cheer of all kinds. While we love to indulge in the good stuff we look forward to all year, there are plenty of ways we can improve on the more sugary traditions. One of our favorite ways to improve holiday treats is to use pure maple syrup from Canada as the main source of sweetness because it's natural, minimally processed, and brings a great flavor to any recipe. Plus, did you know that December 17 is National Maple Syrup Day?
Because pure maple syrup is tapped straight from the tree, it is all natural, unlike other processed sweeteners. It also has potential health benefits because it contains beneficial vitamins and minerals like manganese, riboflavin, calcium, and copper. Recent research has revealed that pure maple contains 65 polyphenols, which may help prevent heart disease, diabetes, and certain types of cancers and neurodegenerative diseases, such as Alzheimer's. Plus, the calories in maple syrup are lower than in corn syrup and honey, averaging about 50 calories per tablespoon.
Delicious ways to use maple.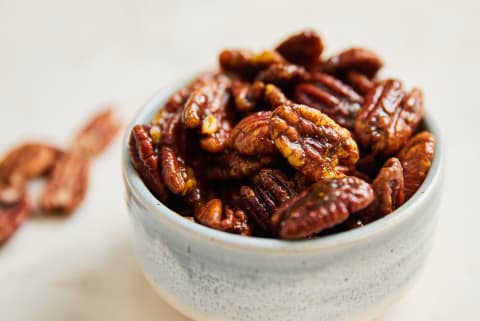 Photo: Miachel Breton / mbg Creative
Pure maple syrup isn't just for pancakes, either. Its unique and complex flavor adds depth and gentle sweetness to all kinds of dishes. You can use it as a sweetener for baking, in your morning coffee or chai, to make a cacao hot chocolate, in cocktails, in candied nuts (see recipe below), in salad dressings, and in roasting vegetables (cumin and maple roasted squash for the win!). Get creative with it!
What to look for in maple syrup.
To get the maximum benefits (and its delicious flavor) out of this natural sweetener, make sure you're buying 100 percent pure maple syrup from Canada (watch out for fake maple flavoring, and corn syrup masking as the good stuff). Sustainability is also important—the vast majority of maple from Canada uses trees that are grown in a legally protected Quebec forest. Doing a simple thing like using 1 teaspoon of their maple syrup in place of 1 teaspoon of white sugar, you help preserve two maple trees. Good for the trees and you—a win-win if there ever was one.
Turmeric-Spiked Candied Maple Pecans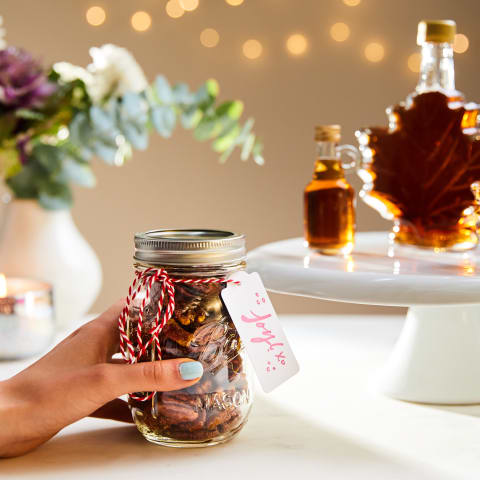 Photo: Miachel Breton / mbg Creative
These Turmeric-Spiked Candied Maple Pecans are a great DIY hostess gift—they're deliciously addictive from their mix of natural sweetness from the pure maple syrup and spice from the turmeric blend. As an added benefit, both pure maple syrup and turmeric have been shown to have anti-inflammatory benefits.
Package them up in a medium mason jar with a ribbon or a small ceramic bowl wrapped with a fresh new tea towel, and you have the perfect minimal-waste gift that everyone will appreciate.
2 cups raw pecans
1½ tablespoons coconut oil
2 tablespoons pure maple syrup from Canada
½ teaspoon ground turmeric
½ teaspoon ground cinnamon
¼ teaspoon ground ginger
¼ teaspoon ground cardamom
Pinch of black pepper
Pinch of sea salt
Photo: Miachel Breton / mbg Creative
First, put all your spices together in a small bowl, stirring with a fork to combine.
In a large dry pan over a medium-low heat, toast pecans for about 5 or 6 minutes, tossing a few times, until fragrant and beginning to brown.
Remove pecans from the pan to a plate. Add coconut oil to the pan and let it melt for a minute. Add the maple to the pan and stir with a rubber spatula (it should be bubbling a bit) to combine the two. Add spices to the maple coconut oil mixture and stir.
Add the pecans back in and stir well to evenly coat in the maple mixture and cook, stirring, for 1 minute. Remove from heat and transfer pecans onto a tray lined with a piece of parchment paper. Allow to cool fully before serving (pop them in the fridge or freezer to speed up the cooling process).