paid content
 for

6 Ways To Look Like You've Gotten Your Beauty Sleep (Even If You Haven't)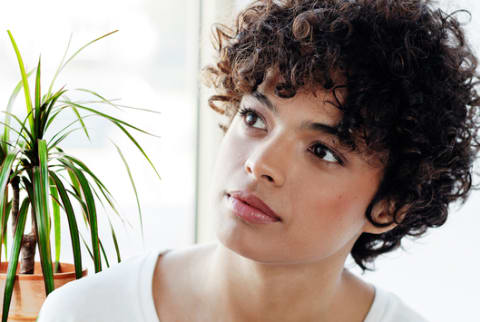 December 14, 2016
So you had a bit of a rocky night, resulting in dull, tired skin that's interfering with your normal glow. Even if you're only working with a few hours of beauty sleep, it's possible to revive your skin and fake the look of a full night's slumber.
With a quick one-two punch of strategic skin care and makeup tricks, you'll look bright and rested—fake it till you make it!
Advertisement
This ad is displayed using third party content and we do not control its accessibility features.
Wake up your face.
A good first step in simulating a full night's sleep is all about aloe vera: the ultimate soother for stressed-out skin. Aloe vera is both anti-inflammatory and hydrating—the perfect combo for parched and irritated skin. Before you dare begin your morning routine, slather a light layer of aloe vera gel (kept chilled in the fridge) all over your face. The cooling effect will feel oh-so-good and helps to depuff—particularly on the delicate under-eye area. Leave on for a few minutes while drinking your coffee or matcha, wash off, and then proceed with the rest of your skin care routine.
Slough off sleepiness.
A telltale sign of a sleepless night is dulled skin. Exfoliation is key to revitalizing your radiant glow, so head to your kitchen to whip up this simple, do-it-yourself scrub.
Combine about ¼ cup organic brown sugar, 1½ tablespoons of jojoba oil, and a few drops of frankincense essential oil, which acts as a toner and pore minimizer. Throw these together and apply liberally, scrubbing in circular motions to help boost blood flow and get rid of dead, flaky skin. Make sure to follow up with a good facial oil to lock in this new softness.
Advertisement
This ad is displayed using third party content and we do not control its accessibility features.
Set the stage for greatness.
Now that you've prepped your skin to create the perfect canvas, it's time to dip into a little natural makeup. Start with W3LL PEOPLE's Bio Tint Multi-action Moisturizer with SPF 30—a hybrid beauty wonder that hydrates, brightens, and firms the skin. Packed with bioactive ingredients like ginseng, peptide complexes, and broccoli seed oil, this plant-based wonder actually improves the quality of skin while correcting redness and blemishes.
Next, you'll need to do something about those dark circles. Don't use a matte concealer—you really want to amp up the moisture for overworked eyes. Go for something luxurious and mousse-like in texture, like this dreamy Bio Correct concealer from W3LL PEOPLE. Gently press into the skin rather than wiping it on, and go easy with the amount of product you use, as tired skin can look worse if you overdo it on the coverage. The best part about this product? It contains coffee to depuff, organic coconut oil to hydrate, and algae to brighten.
Pro tip: Don't forget to apply concealer to your upper lid! This will combat redness to brighten and wake up your eyes instantly.
Bring life into the complexion.
If you didn't get enough sleep last night, your skin is probably dehydrated. Dry skin and powder can be a risky combo, so opt for cream makeup products instead. Your biggest weapon to combat a fatigued appearance is W3LL PEOPLE's Natural Contour and Highlight Duo. Start with the brightening cream to highlight the top of the cheekbone, brow bone, bridge of the nose, and Cupid's bow to create a healthy, rested glow. Follow up with the bronzing cream to add some sun-kissed color to sallow skin.
For an extra kick, dab W3LL PEOPLE Nudist Multi-Use Duo onto the apples of your cheeks. You can even sweep a little onto your upper lids at the crease to open the eye. The creamy shades are super sheer and natural looking, and they're packed with chamomile and green tea to enliven and rejuvenate skin while mimicking the look of healthy blood flow to the face.
Advertisement
This ad is displayed using third party content and we do not control its accessibility features.
Brighten your eyes.
Lack of sleep is most noticeable in the eyes. They aren't as wide, bright, or clear when you haven't had enough shut-eye. The easiest way to fix this is by using an eyelash curler followed by a few coats of mascara, like W3LL PEOPLE's Expressionist Mascara. Make sure to apply to the upper lashes only, as this will prevent any product from wearing beneath your eye, making you look even more tired.
Another trick is to use a touch of black liquid eyeliner. Simply tight line the upper lid (leaving the lower lid out of it) to lift your eye and make the whites appear whiter. This Expressionist Liquid Eyeliner from W3LL PEOPLE is free from harmful chemicals, so it won't further irritate tired, red eyes.
Give some love to your lips.
Use a dab of your DIY sugar scrub to remove any flakiness from parched lips, and finish by adding just a touch of clear gloss to create the appearance of full and hydrated lips. W3LL PEOPLE's Bio Extreme Lip Gloss nourishes with Shea butter and stimulates with organic cinnamon to provide healthy-looking fullness.
Now you're ready to face the day, so get moving and do something beautiful!
Advertisement
This ad is displayed using third party content and we do not control its accessibility features.