paid content
 for

You Only Need One Thing To Transform Your Daily Commute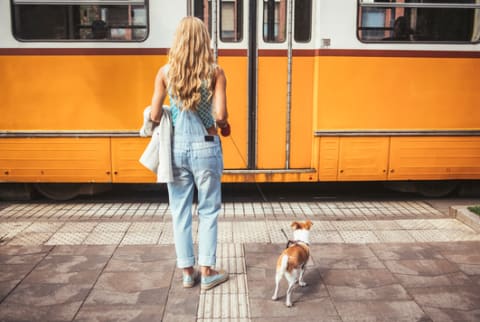 June 19, 2017
Whether it's 30 minutes on the subway, an hour in the car, or 15 minutes on foot, we spend quite a bit of time traveling to and from work. And it can be hard—especially in the evening—to take advantage of this time, as we are often anxious to get home and relax. But why not use your commute home as time to do something mindful, fun, and engaging? An audiobook is the perfect way to indulge in some "me time" and distract yourself from the challenges of the day and ease yourself into the evening.
What type of audiobook is best? We recommend something that will make you laugh, a story about love, or one that will help you grow as a person. We chose these six to get you started; they will have you laughing, crying, and might even help you uncover some of your hidden personal strengths. But be careful: You might even start to look forward to your trip home.
"Not That Kind of Girl" by Lena Dunham
Just as we'd expect from the creator, producer, and star of Girls, this audiobook is original, smart, and shockingly relatable. Formatted as a series of personal essays, this audiobook will undoubtedly distract you from whatever stressors you encountered that day. You'll laugh, you'll cringe, and you'll learn a lot about life in the process—what more could you ask for?
"Mindshift" by Dr. Barbara Oakley
Ever wonder whether you have any hidden talents that are just waiting to be discovered? Well, this is your chance to find out. In Mindshift, Dr. Oakley will lay down exactly what it takes to break out of your shell and achieve the kind of success you've always dreamed of—regardless of your age, job, education level, or background. So why not reserve a few minutes on the way home to broaden your passions and expand your thinking?
"Believe Me" by Eddie Izzard
In this unique audiobook, you'll learn what it takes to be a critically acclaimed, award-winning comedian and actor—from the streets of London all the way to Madison Square Garden. Eddie Izzard has an amazingly diverse fan base, and his intelligent humor is guaranteed to keep you smiling—even when you're stuck in traffic or miss the bus.
"The Light We Lost" by Jill Santopolo
What could be better than injecting a little love and romance into our workweek? This novel follows two young adventurers for 13 years as they try to create lives of meaning without losing each other in the process. Warning: You may catch yourself continuing to listen to this one as you make dinner and get ready for bed.
"Smarter, Faster, Better" by Charles Duhigg
Jobs, family, kids, relationships, money—it can be so hard to prioritize all of life's responsibilities and challenges. But what if we told you there's a science to productivity, and that you just need to understand it? In this New York Times best-seller, you'll learn everything you need to know about this science to motivate, plan, focus, and execute more effectively than you ever have before.
"The Little French Bistro" by Nina George
If you're in need of a little bit of inspiration after a long day, this one's for you. In this powerful audiobook, Marianne leaves her passionless life—and everything and everyone in it—to rediscover who she is and what it really means to be alive.
Ready to revamp your commute and actually make it enjoyable? You can download a FREE audiobook of Pride and Prejudice here, and you'll be automatically entered in the "Transform Your Commute" sweepstakes for a chance to win an iPad and a year's worth of audiobooks.