paid content
 for

Top Reasons to Skip the Beach and Embrace a Mountain Wellness Retreat This Winter
By Ashley Mateo
mbg Contributor
shley Mateo is a freelance writer and editor in NYC. She recieved her B.S. in journalism from Boston University and has written for Self, Women's Health, Runner's World and more.
Image by Colorado Tourism
December 12, 2019
Advertisement
This ad is displayed using third party content and we do not control its accessibility features.
Winter vacation used to mean fleeing the cold for warmer weather in locales where you could soak up the sun and not stress about moving much further than from your lounge chair to the water and back. But, today, people aren't looking to laze around—they want experiences. And that desire is fueling the growth of the adventure travel sector. In 2018 alone, for example, 67% more travelers chose to book outdoor activities than in 2017, according to data from TripAdvisor.
Adventure isn't just about chasing adrenaline thrills, though. The Adventure Travel Trade Association (ATTA) defines adventure travel as including two of these three elements: connection with nature, interaction with culture and physical activity. This winter, skip the cliché beach vacation and, instead, immerse yourself in a world of natural beauty in one (...or two...or three) of Colorado's many mountain towns, home to dozens of off-the-grid retreats, yoga centers, spas and thrilling activities beyond the ski slopes. Here's why: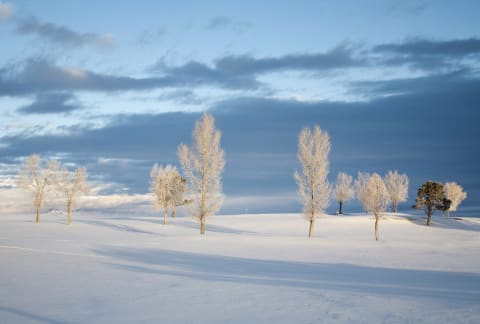 1.
You can find your Zen away from the crowds.
Scientists have long known that practicing meditation can help ease psychological stresses like anxiety, depression and pain, and there's no better place to relax and reflect than in nature. The beach sounds like a nice place to do that, but when everyone has the same idea, it can be hard to find your own slice of paradise. Shoshoni Yoga Retreat in Rollinsville, 8,500 feet in the mountains above Boulder, is a far cry from the warm weather escapes flooded with tourists. Head into the woods to partake in all-inclusive yoga and meditation retreats that last one night, a full weekend or longer.
Infinite Alignment Retreats in Durango (outside of Denver), Shambhala Mountain Center in Red Feather Lakes (an hour from Fort Collins) and True Nature Healing Arts Center (in Carbondale, near Aspen) also use yoga, meditation, and breath work to help guests reconnect with themselves and the world around them. If you're meh on yoga but still looking for spiritual enlightenment, head to Crestone in the Mystic San Luis Valley region—the former mining town is now home to a Hindu temple, a Zen center, a co-ed Carmelite monastery, and several Tibetan centers.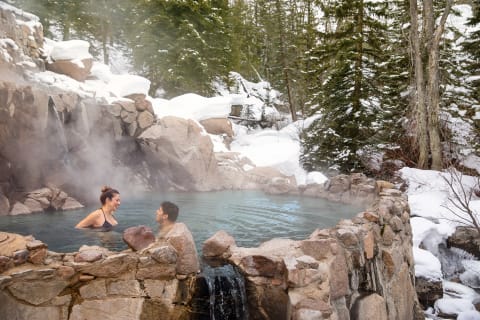 Image by Colorado Tourism
Advertisement
This ad is displayed using third party content and we do not control its accessibility features.
2.
You can warm up in healing waters.
You don't need to fly to the Caribbean to find warm waters this winter—the unique geological profile in the Rocky Mountains has produced mineral hot springs throughout Colorado. These waters contain minerals like calcium, sodium bicarbonate, silica, and sulfur, which can at the very least soothe sore muscles but may also help increase circulation and oxygen flow in your body and ease skin issues like psoriasis. And hot springs are trendier than ever—searches for hot springs have jumped by 32%, according to Pinterest's 2019 trend report.
Head to the Spa of the Rockies in Glenwood Springs to soak in the world's largest hot springs pool. To max out your time, opt for the 90-minute Ultimate Zen package (which includes six separate treatments). Or visit Strawberry Park Hot Springs in Steamboat Springs, which boasts private massage huts and watsu therapy (a kind of aquatic bodywork) in the hot pools fed by natural springs nearby. For a more exclusive experience, stay in one of the private log cabins at Avalanche Ranch Cabins & Hot Springs in Redstone for 24-hour access to three secluded hot springs pools on the 36-acre property.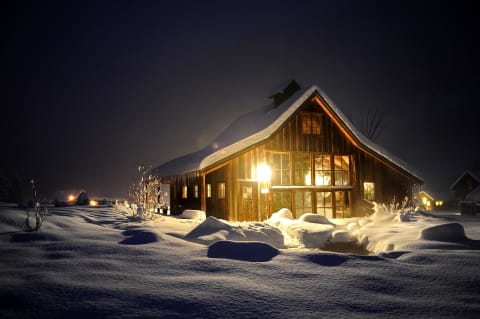 Image by Dunton Hot Springs
Advertisement
This ad is displayed using third party content and we do not control its accessibility features.
3.
You can really, truly unplug.
These mountains aren't exactly known for spectacular cell service, and that's a good thing. Despite the 24/7 on-call mentality fostered by today's work environments, research shows that we need nights and weekends to disconnect and recover from those daily stresses. At Dunton Hot Springs, a ghost town from the 1800s that's been restored as a remote luxury mountain escape in southwestern Colorado, you'll lose cell service before you even arrive. Offline, you'll be better able to appreciate the hand-built log cabins, the bathhouse that still uses water from the original hot springs discovered by the Ute Indians and miles of streams and trails where you can spot elk, deer, bald eagles, and other wildlife.
For a different kind of unplugged experience, head to Westcliffe, the state's first certified Dark Sky Community—one of only nine certified Dark Sky communities in the world. Officially, that means the town (tucked in the valley of southern Colorado's Sangre de Cristo Range) has shown exceptional dedication to the preservation of the night sky through education and enforcing lighting ordinances. Unofficially, it means the stargazing is epic and you'll get the best shuteye of your life without light pollution disrupting your sleep cycles, especially if you book a stay through Dark Skies Vacations—one of their properties even includes a private observatory.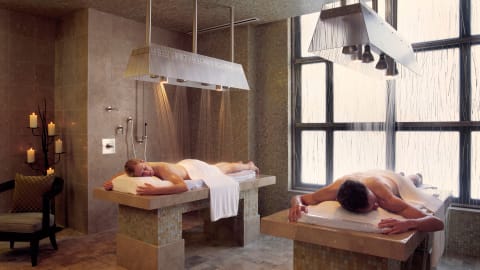 Image by Park Hyatt Beaver Creek Resort & Spa
Advertisement
This ad is displayed using third party content and we do not control its accessibility features.
4.
Spa days go way beyond the average salt scrub.
Sure, there's something nice about getting a rubdown next to the ocean, but mountain spas are sublime. Take the shower massages at The Broadmoor Spa in Colorado Springs, for example—the hydrotherapy treatment is designed to reproduce the sensation of a Colorado rain shower. Allegria Spa at the Park Hyatt in Beaver Creek boasts a Roman-style water circuit, which includes multiple pools, a steam room, a hurricane shower and an essential oil-infused relaxation room. And at Garden of the Gods Club and Resort in Colorado Springs, you can try the Haslauer Pure Sense Soft Pack Bed—a weightless environment that claims to provide the same benefits as a full night of sleep.
Colorado's unique spa treatments tend to incorporate natural ingredients and aromas from the area, including mountain juniper, lavender, white pine and cedar, as well as flat rocks from the Colorado River and basalt stones quarried from the region, creating a more memorable local experience.

Image by Colorado Tourism
Advertisement
This ad is displayed using third party content and we do not control its accessibility features.
5.
You won't just be sitting on a beach.
While beach vacations offer stunning scenery, there isn't much priority placed on action. But 53% of Americans believe it's important to exercise while traveling, according to data from Expedia—and in the mountains, there's a whole world of adventure to be discovered. Sure, you'll find skiing in this great state, but you can also try snowmobiling the 120-mile trail from Sunlight Mountain Resort to Powderhorn Ski Resort, cross-country skiing Frisco's 45 kilometers of groomed trails in the White River National Forest, and snowshoeing the 355 miles of hiking trails in Rocky Mountain National Park near Estes Park.
There are other unique outdoor activities, too. Outside of Ouray you can scale frozen waterfalls at Ouray Ice Park, a free, man-made park that features more than 200 ice and mixed climbs. In Frisco, Colorado Kite Force offers lessons in snowkiting (like kiteboarding but with skis or a snowboard) on Lake Dillon, and at Monarch Mountain, you can actually paddle a kayak through the snow in a next-level version of sledding. For those who do need a ski fix, venture beyond the typical resort experience. Telluride Helitrax—based out of Telluride, a small town surrounded by 14,000-foot peaks in southwestern Colorado—facilitates access to more than 200 square miles of land and many landing zone options; in a single day, you can ski 10,000 to 14,000 vertical feet through remote, pristine powder. Kind of makes you wonder––what are you waiting for?