paid content
 for

From Hands To Fruit To Toys: 8 Tips For Safely Cleaning It All With Castile Soap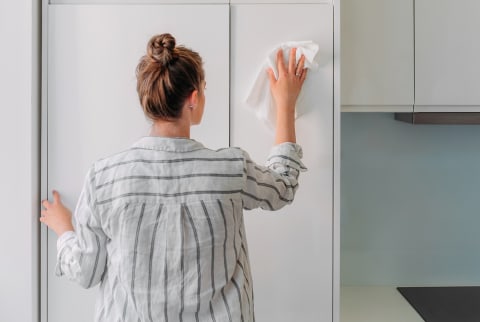 Image by Studio Firma / Stocksy
May 20, 2020
These days, cleaning is more than a mindless once-a-week activity. It's a daily necessity and persistent distraction, a task not all of us have mastered in our indoor existence...yet. The ultimate goal is to keep things disinfected, without becoming obsessive (there's enough preoccupying our minds these days). Luckily, with Castile soap from Earth Mama, we don't have to worry about harmful chemicals, just tackle our to-scrub list, which includes:
Your Hands: As our indoor weeks turn to months, we can't forget just how important it is to keep hands clean and pristine! Lather up with foaming Castile soap, close your eyes, and make wash time cathartic while singing to the tune of your favorite song or repeating the affirmation of your choice (forget "Happy Birthday"). Never underestimate the power of a few deep breaths and some warm water. Wash, pat dry, and enjoy healthy hands and hopefully some new energy.
Your Fruits and Vegetables: Now is 100% the time to START cleaning your food with intention if you've let your washing habits get a little flexible prior to COVID-19 (we're guilty of eating berries directly from the container, too). Fill a quart-size spray bottle with water, add a tablespoon of Earth Mama organic Castile soap, and spritz away. It's important to remember that your food has been on a journey and therefore needs to be washed, just like your hands do after you leave the house.
Your Kids: While you're scrubbing away the havoc they're causing, don't forget to give them a good washing too! Castile soap is safe on the most sensitive skin (babies included) and can even be used to make a diluted baby wipe. In addition to wiping down the littlest family members themselves, don't forget their toys, the changing table, and the various household items that have a way of ending up in their mouths when you're not looking.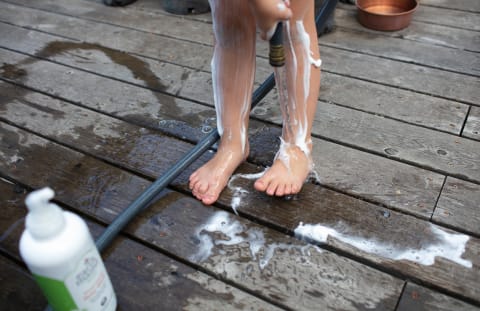 Image by Earth Mama Organics / Contributor
Your Countertops: Yes, when there's something sticky on your kitchen or dining room surfaces, you get out that sponge instantly. Do you, however, rush to get a towel and Castile soap after unloading groceries or resting your coat and face mask on the counter? Sometimes we forget that our belongings aren't immune to germs either! It's important to continue to clean your countertops as the things of your life leave and return to the home. Pro tip: Add a little baking soda to your Castile soap for tackling tough-to-scrub spots, and remember: If you think you need to clean it, you absolutely do.
Your Bedside Table: If you're like us, there's a chance your bedside table has become more than a place to rest the novel you're slowly working through. There are rings from water glasses, miscellaneous pens, face masks, and confession: a crumb or two. Your Castile spray bottle is the solution, spray it down, wipe it with a clean cloth (then toss it in the laundry!)
Your Tech: As your laptop, TV, and cellphone have become your local fitness studio, restaurant, bar, classroom, retail store, and so much more, it's imperative we give it all an extra-diligent daily cleaning to remove the sweat, grime, and splash of red wine that may have found its way to screens and keys. Don't forget the remote! For between buttons and tight spaces, Castile soap plus a straw cleaner are the perfect pair.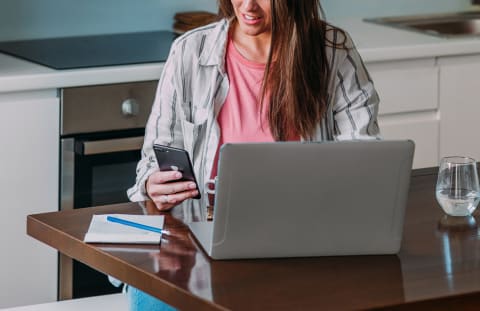 Image by Studio Firma / Stocksy
Your Keys: Though we're not leaving the house much, those house and car keys that come with you on your daily walk and/or essential errands could definitely use some Castile soap TLC. We don't typically give our key chains any daily attention, but we certainly are now.
Your Mask: Last but not least, the essential of all essentials: your face mask. This necessary covering protects you from a potentially harmful environment...but also receives your every breath, occasional sneeze, and so much more. Delicately lather your mask in Castile soap, rinse with warm water thoroughly, and let completely air dry on a clean, flat, surface.
With this checklist, you're able to fret less, keep safe cleaning simple (via CDC protocol1), and maybe even enjoy it a little.