Get Your Mushrooms In & Keep Your Brain Sharp With This Salad Recipe
Written by
Caroline Muggia
Leigh Weingus is a New York City based freelance journalist writing about health, wellness, feminism, entertainment, personal finance, and more. She received her bachelor's in English and Communication from the University of California, Davis.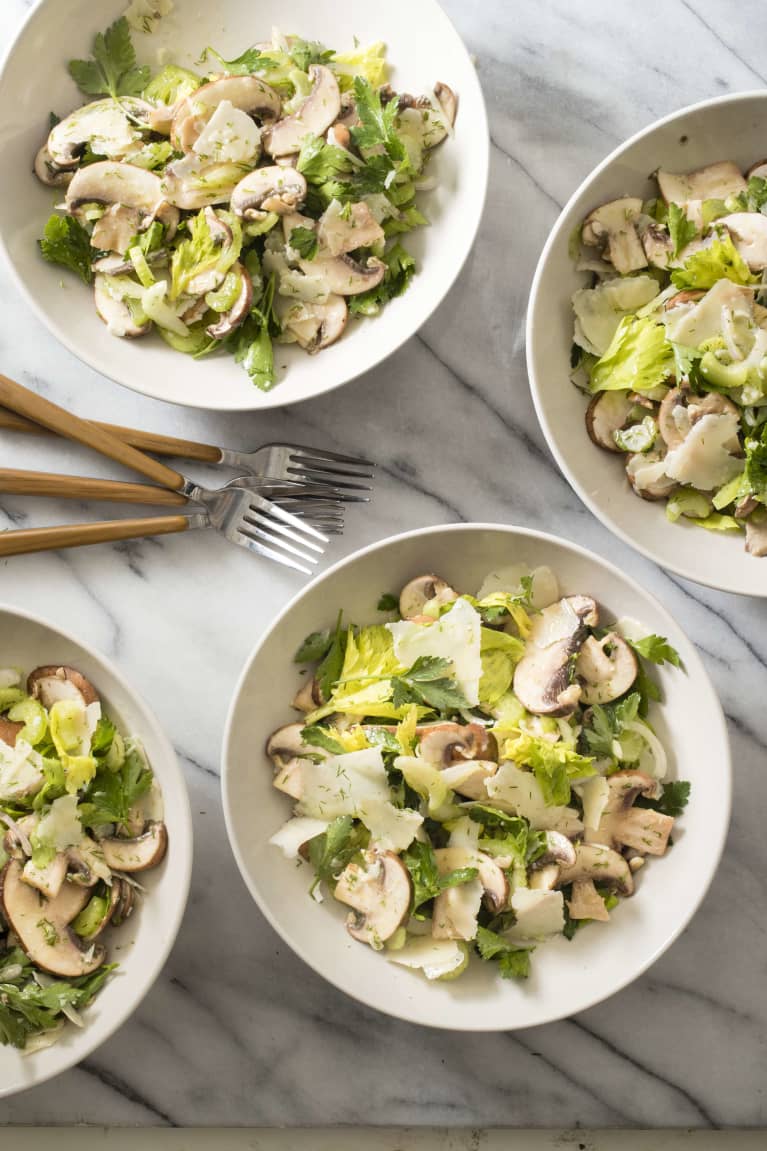 Our editors have independently chosen the products listed on this page. If you purchase something mentioned in this article, we may
earn a small commission
.
Mushrooms are all the rage right now and for good reason. They're known to strengthen our immune system, support detoxification, and reduce our risk of mild cognitive impairment (the stage before dementia). So naturally, we're finding ways to put them in everything.
This salad recipe, published in Vegetables Illustrated by America's Test Kitchen, features cremini mushrooms, which are high in selenium, ideal for supporting healthy thyroid functioning, and potassium, known to promote more restful sleep.
This light and flavorful salad also includes another fan favorite: celery. Celery is known to improve digestion, calm the nervous system, and make your skin glow. You'll reduce waste by using the ribs and the leaves and will be left with a delicious and nutritious salad!
Shaved Mushroom & Celery Salad
8 ounces cremini mushrooms, trimmed and sliced thin
¼ cup extra-virgin olive oil
1 shallot, halved and sliced thin
1½ tablespoons lemon juice
Salt and pepper
4 celery ribs, sliced thin, plus ½ cup ­celery leaves
2 ounces Parmesan cheese, shaved
½ cup fresh parsley leaves
2 tablespoons chopped fresh tarragon
Combine mushrooms, oil, shallot, lemon juice, and ¼ teaspoon salt in large bowl. Toss to coat, then let sit for 10 minutes.
Add celery ribs and leaves, Parmesan, parsley, and tarragon to mushroom-shallot mixture and toss to combine. Season with salt and pepper to taste. Serve.
Based on excerpts from
Vegetables Illustrated
with the permission of America's Test Kitchen. Copyright © 2019.