This Kung Pao Cauliflower Is Anything But Bland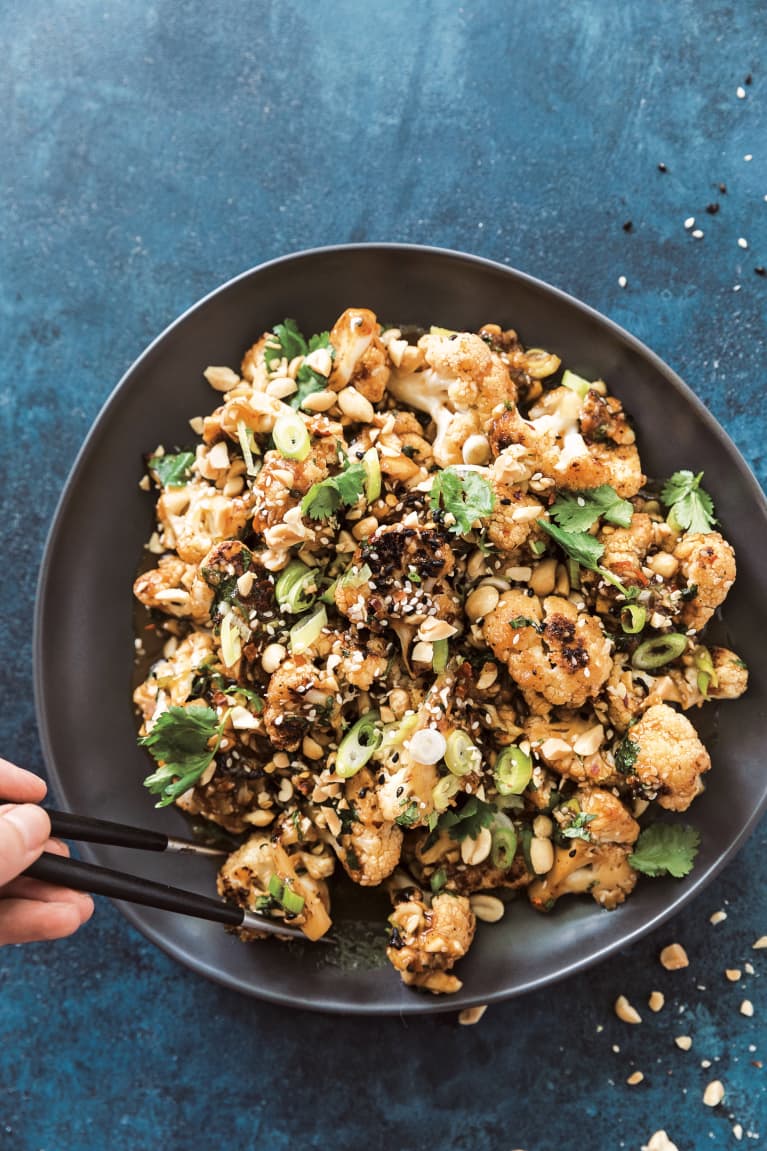 Our editors have independently chosen the products listed on this page. If you purchase something mentioned in this article, we may
earn a small commission
.
Cauliflower oftentimes gets a bad rap for being bland, but this version is anything but. It's insanely flavorful, has tons of texture, and surprises with a little bit of spice. The glaze is sweet and almost sticky—like the delicious sauces at Chinese restaurants but a little healthier. This one is sweetened with agave nectar instead of sugar, and it gets most of its flavor from garlic, ginger, and hoisin sauce.
Plus, we know that cauliflower is a cruciferous vegetable, so it's a perfect substitute that promotes immunity and gut health, and the cilantro topping on this dish not only adds just the right amount of heat but can also help balance hormones and clear skin. Who knew a meal so easy to make could have so many health benefits? Have your woks at the ready.
2 tbsp. (30 ml) rice wine vinegar
2 tbsp. (30 ml) soy sauce
2 tbsp. (30 ml) agave nectar
1 tbsp. (15 ml) hoisin sauce
1 tbsp. (3 g) grated fresh ginger
1 tbsp. (9 g) cornstarch
2 tsp. (10 ml) sesame oil
2 tsp. (10 ml) chili-garlic sauce
3 cloves garlic, minced
Pinch of red pepper flakes
2 tbsp. (30 ml) vegetable oil
1 medium head cauliflower, cut into florets
Salt, as needed
Black pepper, as needed
1 tbsp. (10 g) sesame seeds
2 scallions, thinly sliced
¼ cup (38 g) roasted, salted peanuts, coarsely chopped
¼ cup (15 g) coarsely chopped fresh cilantro
In a medium bowl, whisk together the vinegar, soy sauce, agave, hoisin sauce, ginger, cornstarch, sesame oil, chili-garlic sauce, garlic, and red pepper flakes until combined. Set aside.
Heat the vegetable oil in a large skillet over medium-high heat.
Add the cauliflower in an even layer, season it with a pinch of salt and a pinch of black pepper, and sear the cauliflower, undisturbed, for 2 to 3 minutes, or until it is golden brown.
Flip the cauliflower and sear for 2 to 3 minutes, until it is golden brown on the opposite side.
Add the sauce and reduce the heat to medium.
Toss the cauliflower in the sauce to coat and sauté for 3 to 4 minutes, or until sauce thickens and the cauliflower is tender.
Add the sesame seeds, scallions, peanuts, and cilantro and stir to combine.
Season to taste with additional salt and black pepper, if desired, and serve.
Recipe excerpted from Eat More Plants. Text © 2019 Molly Krebs. Reprinted with permission from Page Street Publishing Co., 2018.
And do you want to turn your passion for wellbeing into a fulfilling career? Become a Certified Health Coach! Learn more here.