This Healthy Kale Caesar Is Low-Key Packed With Protein & Fiber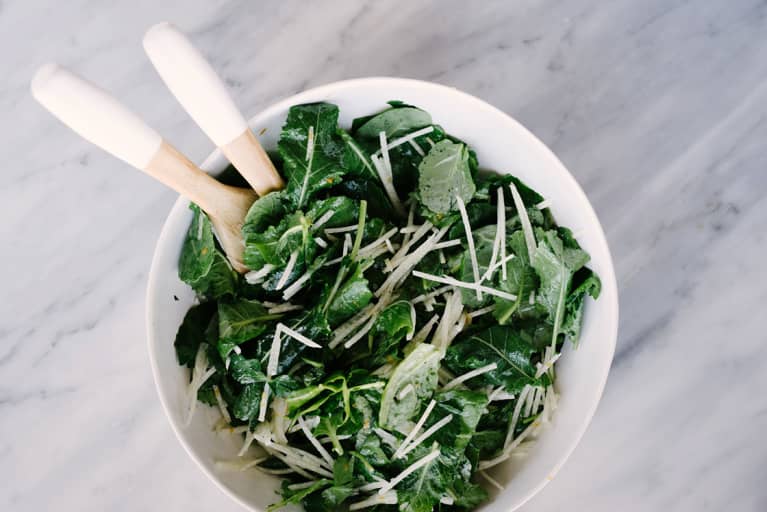 Our editors have independently chosen the products listed on this page. If you purchase something mentioned in this article, we may
earn a small commission
.
Maria Koutsogiannis is the founder of the blog FoodByMaria and the author of the new cookbook Mindful Vegan Meals. After years of struggling with an eating disorder, she found that food could be her medicine and realized "food is your friend." Once she was able to take the fear away from food, she started to develop recipes that nourished her body and made her feel good from the inside out.
Her spin on the classic Caesar salad swaps bread croutons for homemade lentil croutons, high in insoluble fiber, which helps improve digestion, and high in soluble fiber, which helps stabilize blood sugar and reduce blood cholesterol, contributing to greater heart health. On top of that, lentils are high in protein and can boost metabolism.
The innovation doesn't stop there. This kale Caesar also includes coconut bacon, high in good-quality fats like avocado oil, and cashew dressing, high in magnesium, which also supports a balanced blood sugar. We hope this twist on your favorite classic reignites your love for Caesar salads.
All Hail the Kale Caesar Salad  
1 cup (93 g) flake unsweetened coconut
1 tbsp (15 ml) avocado oil
2 tbsp (30 ml) soy sauce
1 tbsp (15 ml) maple syrup
1 tsp smoked paprika
½ tsp liquid smoke
Salt and pepper to taste (more pepper than salt)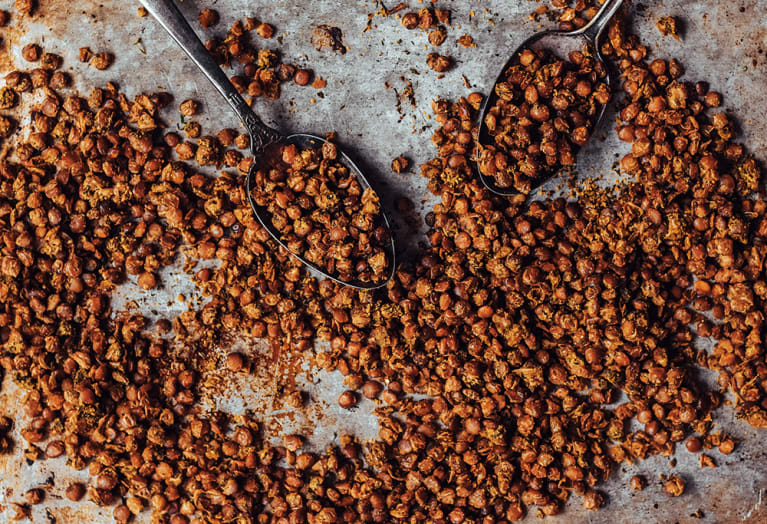 1 (15-oz [425-g]) can yellow lentils
1 tbsp (15 ml) extra-virgin olive oil
3 tsp (10 ml) fresh lemon juice
1 to 2 tbsp (18–36 g) nutritional yeast
1 tbsp (3 g) dry dill
1 tsp parsley flakes
1 tsp garlic powder
1 tsp onion powder
Salt and pepper to taste
Cayenne to taste
½ cup (70 g) cashews or cooked chickpeas
¼ cup (60 ml) extra-virgin olive oil
¾ to 1 cup (180 to 240 ml) water (add more if you find the consistency isn't runny enough; keep it mind it will thicken up over time)
Juice of 1 large lemon
2 garlic cloves, pressed
2 tbsp (36 g) nutritional yeast
1 tbsp (9 g) capers
1 tsp onion powder
½ tsp Worcestershire (there are vegan brands on the market; I use Wizard)
Salt and pepper to taste
1 large bunch of kale, washed, and chopped into bite-size pieces
¼ to ½ cup (29–58 g) vegan mozzarella cheese (I use Daiya)
Thinly sliced kelp (optional but really adds that fishy taste traditional Caesars have!)
Preheat the oven to 325°F (165°C). Line two large baking sheets with parchment paper.
In a bowl, combine the coconut flakes, avocado oil, soy sauce, maple syrup, paprika, liquid smoke, and salt and pepper. Let them sit and marry while you are preparing the lentils.
Drain the lentils, gently patting them dry. Add them to a large bowl along with the olive oil, lemon juice, nutritional yeast, dill, parsley, garlic powder, onion powder, salt and pepper, and cayenne. Stir until well-combined, then transfer to a baking sheet. Make sure the lentils are evenly distributed across the baking sheet. Cook for about 15 minutes. Remove from the oven, flip them with a spatula, and return to the oven, rotating the baking sheet. Bake for another 15 minutes.
Transfer the coconut bacon to the second baking sheet. I use tongs to avoid bringing any extra liquid over to the baking sheet. Evenly distribute the coconut to ensure really crispy "bacon"! Cook for about 15 minutes, or until crispy, flipping halfway through.
While the lentils and coconut are cooking, add the cashews or chickpeas, olive oil, water, lemon juice, garlic, nutritional yeast, capers, onion powder, Worcestershire sauce, and salt and pepper to a high-speed blender or food processor and blend until smooth. You can also use a handheld blender. Add more water as necessary if you like a thinner dressing.
Assemble your salad by adding the kale to a large mixing bowl. Mix in the dressing and stir till well-combined, adding as much or as little dressing and you'd like. Transfer to a serving dish and top with the lentil croutons, coconut bacon, vegan mozzarella, and kelp. This salad is going to blow your mind!