Finally, A Vegan Chickpea Pizza That's Easy To Throw Together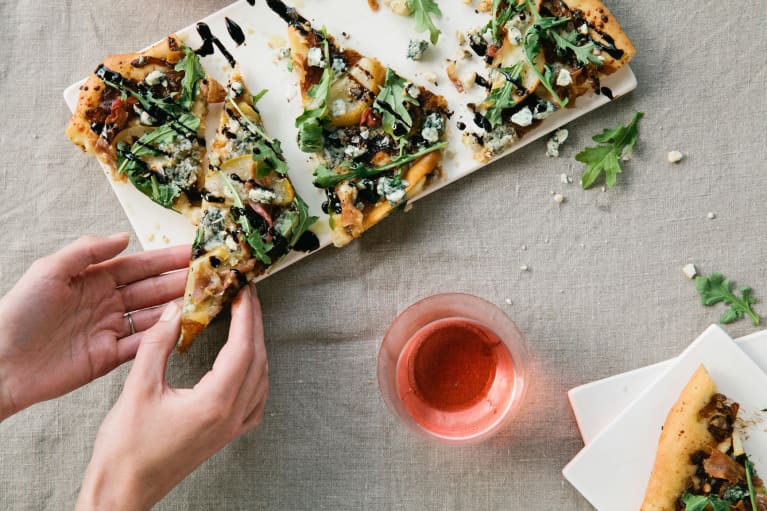 Our editors have independently chosen the products listed on this page. If you purchase something mentioned in this article, we may
earn a small commission
.
Sundays are for making pizza...that doesn't require kneading, shaping, and waiting. Yes, easy-to-make homemade pizza is possible thanks to Rita Serano, author of the new cookbook Vegan for Good.
Serano's healthy pizza recipe is made with a chickpea flour crust that's so simple to throw together you won't be able to resist. This dough requires only three ingredients: chickpea flour, salt, and water. Just like that, you've got a delicious and protein-packed pizza crust.
Besides being a superfood, chickpeas are known to help lower cholesterol and promote weight-loss. Plus, they are good for the environment. The yummy, nutrient-dense ingredients don't stop there: This high-protein crust is topped with refreshing ribbons of zucchini and asparagus and finished with a nutty, creamy pesto sauce with hints of garlic and basil.
Every mouthwatering bite includes ingredients that contribute to your health while also satisfying that need for pizza to close out your weekend.
Spring Green Chickpea Pizza
2¾ cups chickpea flour, sifted
1 teaspoon salt
Freshly ground pepper
1 large bunch basil, chopped (reserve some whole leaves for garnish)
½ avocado, pitted and peeled
5 tablespoons pine nuts
juice ½ lemon
1 garlic clove, finely chopped
2 tablespoons nutritional yeast (optional)
1 zucchini, shaved lengthwise into ribbons
½ bunch asparagus, shaved into ribbons
3 scallions, sliced into ¼-inch-wide pieces
2½ ounces pitted green olives (optional)
2 tablespoons pine nuts
Preheat the oven to its highest setting. Use a whisk to mix the chickpea flour with 500 mL water, salt, and some pepper in a large bowl. Keep stirring until no lumps remain. If you have 5 minutes to spare, set it aside—this will improve the batter. Pour the mixture into a shallow baking tray (about 20 by 30 cm). If the tray isn't nonstick, line the base with baking paper. Bake for 13 to 15 minutes until the pizza base has set.
Meanwhile, make the pesto in a food processor by simply mixing all the ingredients until a sauce forms. If needed, add a splash of water to keep the machine going. Taste and adjust the seasoning if needed, then pour the pesto into a bowl and set aside.
When the pizza base is cooked, remove it from the oven and switch on the grill to high. Spread the basil pesto over the base and scatter the remaining ingredients on top. Place under the grill for 3 to 5 minutes. Keep an eye on the pizza to ensure the topping ingredients do not burn. Once everything is cooked, it is ready to serve, garnished with the reserved basil.
And do you want to turn your passion for wellbeing into a fulfilling career? Become a Certified Health Coach! Learn more here.