These Vegan Peanut Butter Truffles Make For A Simple Sweet Treat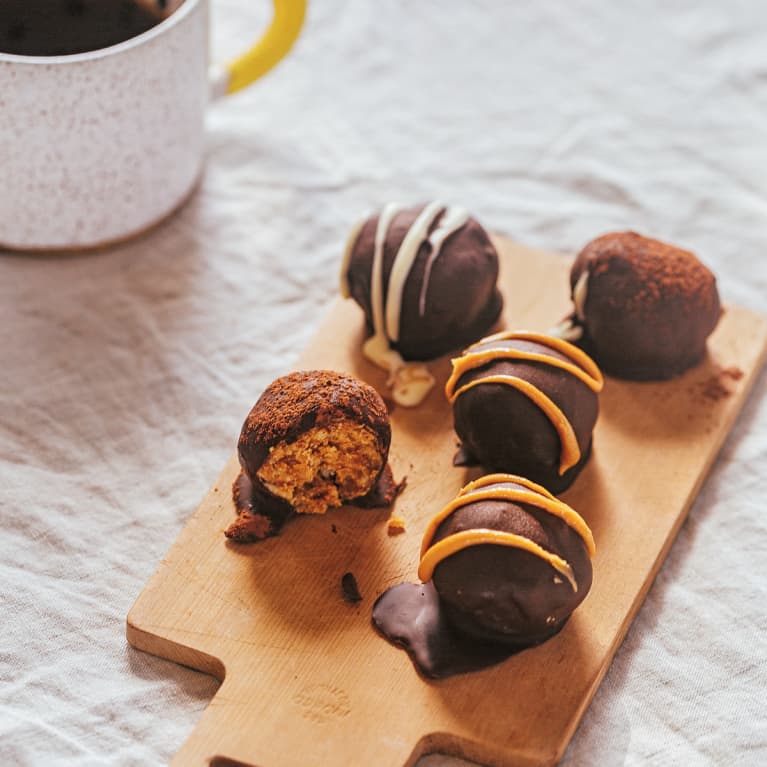 Our editors have independently chosen the products listed on this page. If you purchase something mentioned in this article, we may
earn a small commission
.
Sometimes you want the comfort of a homemade dessert but without the borderline mathematics that come with baking. Look no further than these grown-up truffles.
In the newly released cookbook Peanut Butter: Breakfast, Lunch & Dinner, Tim Lannan and James Annabel want to remind us that just because it's reminiscent of childhood, that doesn't mean peanut butter is just for children. Lannan and Annabel are the brains behind Byron Bay Peanut Butter Company, based in New South Wales, Australia, where they blend up peanut butters and treats for people (and pets) of all ages.
They encourage adults to indulge in this recipe and to let it be creative: "Bring out your inner artist by decorating these treats with a drizzle of contrasting chocolate color or extra PB," they wrote. And while they admit "this might sound like an activity children would enjoy," they encourage adults to enjoy them alone—or maybe with a (healthy) cocktail?
½ teaspoon coconut oil
1 cup dark, milk, and/or white chocolate melts (buttons), plus extra to decorate
¼ teaspoon sea salt
Peanut butter or unsweetened (Dutch) cocoa powder (optional), to decorate
¾ cup peanut butter
½ cup syrup of your choice
⅛ teaspoon sea salt
¼ cup coconut flour
1⅓ cups puffed rice cereal
To make the filling, line a baking tray with baking paper. Using a food processor or electric mixer, beat the peanut butter, syrup, and salt.
Add the coconut flour slowly, stopping when the mixture is no longer wet but not very dry. Fold through the puffed rice cereal.
Roll tablespoons of the mixture into balls and sit them on the prepared tin. Freeze for 5 minutes to chill slightly.
Melt the coconut oil and chocolate together in a bowl placed over a saucepan of boiling water on the stovetop (the water must not touch the bowl) or in short bursts in the microwave. Stir in the salt.
Using a fork, dip the peanut butter balls one at a time in the chocolate and use a spoon to ensure they are covered. Return them to the baking tray.
Decorate, then freeze or refrigerate until the chocolate coating is set. Store with baking paper between layers in an airtight container in the refrigerator for 1 to 2 weeks.
Note: To be sure they're vegan, choose a vegan chocolate option, and if you need to be sure they're gluten-free, double check your puffed rice cereal—it's not always gluten-free!