paid content
 for

How To Revamp Your Reading Routine This Spring + 7 Books To Start With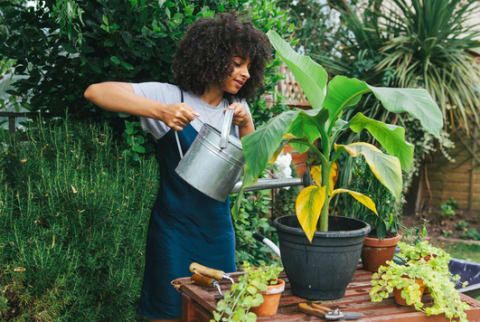 April 24, 2017
Ahh, the sweet smell of flowers, fresh air, and the rich soil beneath your feet. In theory, gardening should be fully entertaining; you're spending some time in nature, escaping from modern technology, and preventing disease by getting some great exercise. But if you tend to get a little antsy, we get it. We're used to constant stimulation, and sometimes it's nice to kill two birds with one stone by exercising your mind while you plant, water, or harvest.
That's why an audiobook is the perfect thing to keep you company while you're spending quality time with your favorite fruits and veggies. And if you can find a book with a theme inspired by the great outdoors? We'd go as far as to say you've created the perfect afternoon.
The Language of Flowers
Ever wonder what your favorite flower really symbolizes? Honeysuckle for devotion, asters for patience, and of course—roses for love. This novel by Vanessa Diffenbaught follows Victoria Jones through her troubled childhood in the foster-care system and into adolescence, when she develops a gift for helping people through her knack for flowers. Filled with mystery and the collision of past and present, this audiobook will have you wishing you could garden all day long.
The Naturalist
Theodore Roosevelt is famous for his lifelong passion for nature and wildlife. This new account—drawing on Roosevelt's diaries and travel journals—tells the tale of how this personal passion led to the beginning of America's conservation movement. With this powerful audiobook by Darrin Lunde, you'll immerse yourself in history, science, and nature—which is not the worst way to spend a morning or afternoon.
The Wonder Trail
Need some inspiration for your next trip? Look no further. You will laugh out loud listening to this adventurous audiobook as author Steve Hely tells the tale of his journey from Los Angeles to the southern tip of South America. This story recounts the unusual, beautiful, and hilarious—in a way that only the writer for The Office could possibly pull off.
The Stranger in the Woods
Ever have the urge to sell your material possessions and go completely off the grid? We feel you. And so does Christopher Knight, who—at 20 years old—drove into the woods and didn't return to civilization for over 25 years. Author Michael Finkel's tale of the last true hermit is a surefire page-turner. In this fascinating audiobook, you'll learn just how far introversion can go and what one man learned from living in total seclusion.
Lab Girl
Perfectly paired for an afternoon in the garden, this audiobook tells the story of a prominent woman in science who managed to find sanctuary by combining her work with her love of the natural world. With themes of friendship, ambition, and the quest for deeper meaning woven throughout author Hope Jahren's autobiography—you will never look at trees, soil, or seeds the same again.
The Lemon Orchard
This captivating audiobook tells the tale of two people from different worlds who meet in the face of loss. Set in the Santa Monica Mountains, you'll be quickly transported to a different time and place. This story is a testament to the true healing power of love, which finds us when we least expect it and in forms we never could have predicted. Author Luanne Rice will leave you inspired to find love and beauty in places you never thought to look before.
The Signature of All Things
As we would expect from Elizabeth Gilbert, the author of Eat, Pray, Love, this audiobook is all about adventure, self-discovery, and romance. You'll be transported across the globe—from Philadelphia to Tahiti—following Alma Whittaker through her work as a botanist studying in a time when old ideals were clashing strongly with new thinking and progress.
Any of these audiobooks would be the perfect match for an afternoon outdoors, exercising your body, expanding your mind, and connecting you with nature. Looking for more inspiration? Here's a free download to get you started and all the other tools you need for a blissful day in the garden.