paid content
 for

5 Books To Start 2017 On Exactly The Right Note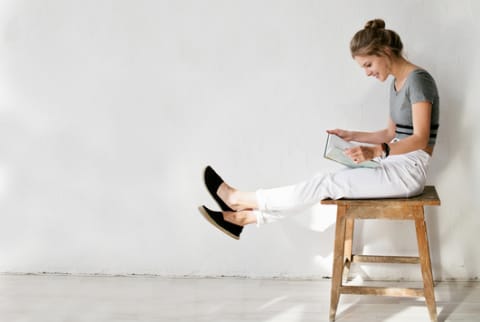 January 2, 2017
Every year has its ups and downs. For a lot of us, though, 2016 seemed like a steady stream of not-so-great occurrences, with the occasional serendipitous event tossed in to keep us from losing our sh*t altogether.
Eager as we may be to welcome the incoming Year of the Rooster and bid 2016 good riddance, it's worth taking a moment (preferably with hot apple cider in hand) to reflect on the good things that happened this year. For example: the gene responsible for ALS has been identified, over 6 million California homes are powered by solar energy, and Harriet Tubman was confirmed as the new face of the $20 bill. And, on top of that, some pretty spectacular new books found their way onto our reading lists.
So, before you get wrapped up in the craziness of the new year, or start gearing up for your 2017 resolutions, take some "me time" to catch up on a couple of the life-changing health- and happiness-centric books you might've missed. These books are crammed full of just the kind of mind-opening, restorative ideas you need to inspire your best year ever.
The Fast Metabolism Diet
Perfect for: The food lover who wants a healthy metabolism reset.
Celebrity nutritionist Haylie Pomroy has been helping clients reveal their best bodies for over 20 years. Her method harnesses the fat-burning power of food (which means, unlike many diets, eating is a crucial part of the fast metabolism food plan. Her book, The Fast Metabolism Diet, is all about switching up the types of food you eat to keep your body guessing, and finding your happiest, healthiest weight without hating your life along the way.
The Fast Metabolism Diet by Haylie Pomroy is available for purchase here.
The Prime
Perfect for: The neurobiology enthusiast (or anyone with digestive issues).
Integrative neurologist Dr. Kulreet Chaudhary came up with a protocol of lifestyle tools to sharpen the brain and keep it healthy in the long term. An unexpected but welcome side effect to the brain-boosting benefits of her lifestyle regimen. Chaudhary believes that healing your gut, increasing your mental acuity, and losing weight can all be achieved by rescuing your body from its toxic, inflammatory state. By adding certain teas and herbs to your diet, you can "prime" your body to release excess weight and feel better than ever.
The Prime by Dr. Kulreet Chaudhary is available for purchase here.
The Trim Healthy Mama Plan
Perfect for: Anyone who wants to be their healthiest ever—and has zero patience for fad diets.
After trying every diet under the sun to no avail, Pearl Barrett and Serene Allison decided to build their own get-fit plan. Through their own trial and error, and endless research, the pair found an eating plan that made them feel good, stay fit, and didn't require them to deprive themselves of foods they loved. The THM approach to eating focuses on maximizing your intake of delicious, unprocessed fats, proteins, fruit, and veggies, and eliminating unhealthy sugars. The book even includes menu plans and key superfoods to make your transition that much easier.
The Trim Healthy Mama Plan by Pearl Barrett and Serene Allison is available for purchase here.
Essentialism
Perfect for: The overachiever who always has more goals than time to reach them.
Greg McKeown, founder of essentialism, best-selling author, and inspirational speaker, is all too familiar with the way most of us live. McKeown explains nonessentialism as the belief that "the key to life is doing everything, cramming more and more into your life." Essentialism, on the other hand, is about choosing only the essential things and doing them the best you can. Now, that's a philosophy we can get behind.
Essentialism by Greg McKeown is available for purchase here.
The Life-Changing Magic of Tidying Up
Perfect for: Literally anyone in your life who hasn't read it.
Marie Kondo's organizational method has become a global phenomenon for a reason. If someone in your life hasn't been converted yet, it's time they started drinking the Kool-Aid. The book explains how getting rid of anything that doesn't "spark joy" can totally change your life. A "tidying festival" helps you find purpose, gain confidence, become happier, and even reduce anxiety. If not now, when, right?
So, start thinking about which of these books you think will help you manifest the year you want. And, if you can't decide, check back in the coming weeks for excerpts and even more juicy insights from each and every one.
The Life-Changing Magic of Tidying Up by Marie Kondo is available for purchase here.