Close Banner
Advertisement
This ad is displayed using third party content and we do not control its accessibility features.
paid content
 for

These Are A Dietitian's Secrets To Staying Energized All Day (Seriously)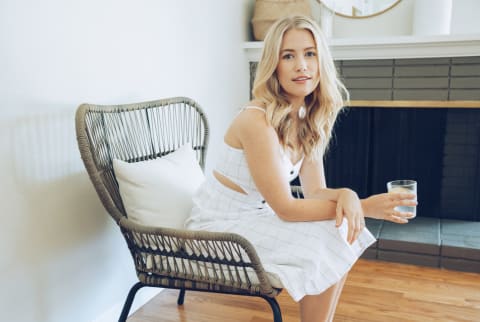 Photo by Tamara Muth-King
I'm a morning person! I like to get up and get going, which requires that I have solid healthy habits in place to keep me nourished and energized.
My husband, Aaron, and I run our business, Healthy Grocery Girl®, together, which consists of our website, social media, YouTube channel, and video production. I absolutely love what I do, which can make it difficult to set boundaries for when work actually starts and ends each day. But I know by now that how I start my day sets the tone for the rest of it.
Here are five ways I simplify my morning routine:
1. Keep skin care and makeup natural.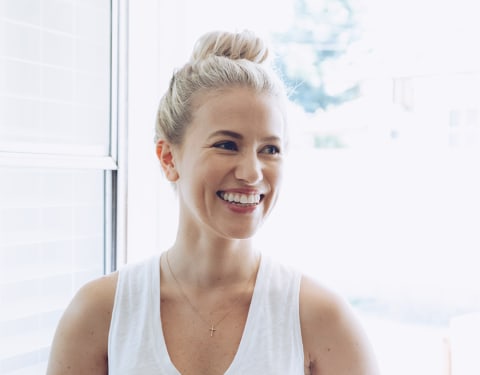 I love simplicity and nature, and this is reflected in my skin care, makeup, and style. When we are not shooting YouTube videos, I usually go makeup-free and put my hair in a ponytail, a bun, or a hat. I love letting my skin breathe and giving my hair a break from washing, drying, and styling. I've learned that by embracing my natural beauty, I'm learning to embrace who I really am as well.
2. Bring it on, breakfast.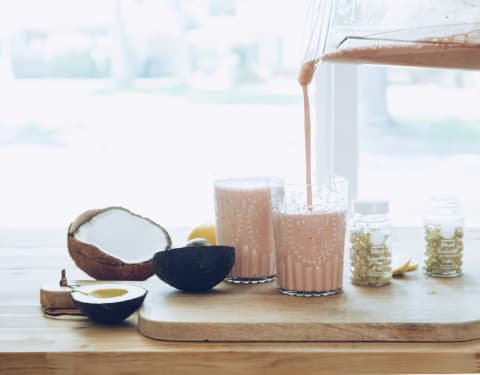 I love to eat—that's why I became a registered dietitian and started a weekly cooking show on YouTube! A nourishing breakfast gives me energy and makes it easier to manage my appetite with wholesome dietary choices all day long. The first thing I do in the morning is hydrate…even before I caffeinate. I drink a big glass of filtered water, preferably lemon water with a splash of apple cider vinegar. Then I move on to a plant-powered breakfast, which usually involves a green smoothie.
Smoothies are a great way to pack in fruits, veggies, and lots of fiber to keep you feeling full. Bonus? They're so easy to prepare. My smoothies consist of mostly pre-frozen fruits and veggies, like frozen broccoli, frozen strawberries, or a banana. Then I'll add a scoop of plant-based protein, fresh pre-washed greens, and some type of seed such as hemp seeds, chia seeds, or flaxseeds. Then grab a nondairy base (coconut milk, almond milk, or water), and finally, the ice. I mix up my smoothie ingredients all the time to add variety to my diet, so I may add fresh ginger, turmeric, nut butter, avocado...whatever I'm in the mood for!
3. Simplify your supplements.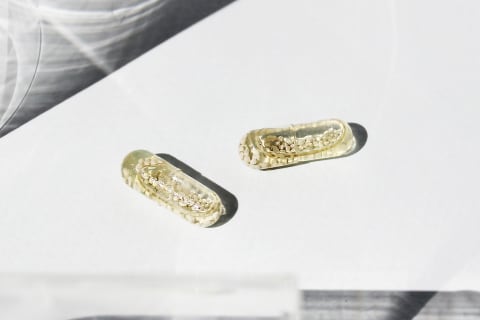 I eat a mostly real, whole foods diet; however, I still take supplements to support my personal health needs. I enjoy Ritual vitamins because they are simple and made with quality ingredients.
As a registered dietitian, I value when brands are transparent and honest about their ingredients, like where the ingredients come from and the science and research behind the product. Ritual goes the extra mile to share this information on their website and has a scientific team that has combed through thousands of studies to identify what ingredients women are lacking the most. Ritual contains nine essential vitamins and minerals such as magnesium, vitamin D3, vitamin E, vitamin K2, boron, vitamin B12, folate, iron, and omega-3s. I love that they contain a plant-based source of D3 that comes from lichen instead of the typical sheep's wool—this was a big win for me! They are also gluten-free, vegan, bioavailable, and contain no synthetic fillers or colorants.
Each night, I put my supplements out on the counter so that I'm reminded to consume them in the morning while I'm making my morning beverages and breakfast. The capsules aren't just "pretty" for Instagram. They look the way they do—transparent with floating beadlets—because the nutrients stay in their most absorbable form. Besides looking beautiful, the supplements have also given me a noticeable bump in energy.
4. Pick a uniform and stick with it.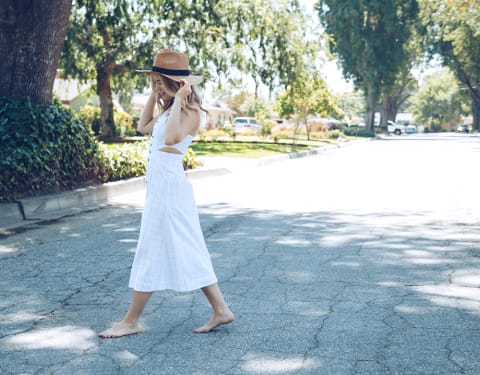 I learned early on that having a "uniform" of simple go-to pieces that always look good together saves time. I have to be on-camera a lot—so you'll see me wearing various outfits in the videos. However, on days when we are not shooting, I can usually be found wearing a tank top or T-shirt (I have one favorite brand in multiple colors), denim jeans or shorts depending on the weather, a jumpsuit or a casual maxi-dress. Pro tip: Developing a closet of neutral-colored clothing—like flax, white, navy, cream, black, and even light pink—packs a big bang for your buck: Most go together, and you can wear them again and again.
5. Meditate.
This one is an inside job! I have always been a big dreamer, planner, and go-getter. When I wake up in the morning I have dozens of ideas, and I would love to see them all happen that day. Obviously, that's not always possible.
First, I try to spend at least a few minutes each morning reading a devotional text, meditating, or praying. Some days it's just three to five minutes, but those few minutes are crucial for helping get my head and heart in a good place as I start the day.
Second, I try to set realistic expectations for what should be accomplished each day and each week. Small consistent steps actually help me move toward my big goals. Once I'm done meditating, I write down my priorities for the day. It helps keep me organized and ensures that the most important to-do's get done. It's the little things that make a world of difference.
More On This Topic
more Health
Advertisement
This ad is displayed using third party content and we do not control its accessibility features.
Advertisement
This ad is displayed using third party content and we do not control its accessibility features.