10 Young Activists That Will Inspire Action In The Global Climate Strike

mbg Senior Sustainability Editor
By Emma Loewe
mbg Senior Sustainability Editor
Emma Loewe is the Senior Sustainability Editor at mindbodygreen and the author of "Return to Nature: The New Science of How Natural Landscapes Restore Us."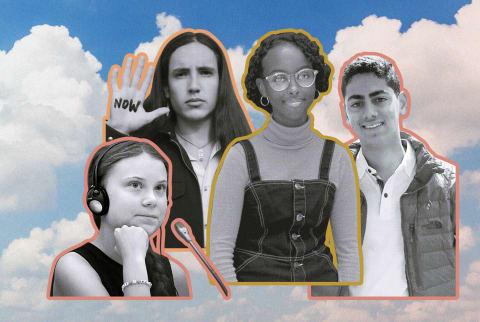 Image by Sarah FitzGerald / getty
Our editors have independently chosen the products listed on this page. If you purchase something mentioned in this article, we may
earn a small commission
.
September 19, 2019
In a world plagued by climate crisis, an unlikely group of activists has emerged. They strike outside the United Nations, shame the federal government for inaction on global warming, and lobby for real reform—when they're not studying for exams or learning to drive, that is. All signs point to the fact that young people will take the threat of climate change more seriously than the generations before them. They already are.
While us adults are busy talking, the following 10 kids are taking action. They'll be among the likely millions of people of gathering for tomorrow's Global Climate Strikes, a youth-led event that invites adults to leave work and join in too. (Kids in New York City public schools don't even need to worry about missing anything important; they now have official permission to play hooky.) It's hard not to feel inspired by what they've already been able to accomplish. The future is in good hands.
Advertisement
This ad is displayed using third party content and we do not control its accessibility features.
1. Greta Thunberg (16 years old)
At this point, Thunberg needs no introduction. She's become the tell-it-like-it-is face of the youth climate movement and has spoken around the world since she started skipping school to demand the Swedish government takes more action on carbon emissions back in August of 2018. Her speech is poised to be a major highlight of tomorrow's Climate Strike in New York City. (She arrived in the U.S. a few weeks ago following an epic voyage on a zero-emissions boat—which raises the question, "What was I doing the summer going into 10th grade?")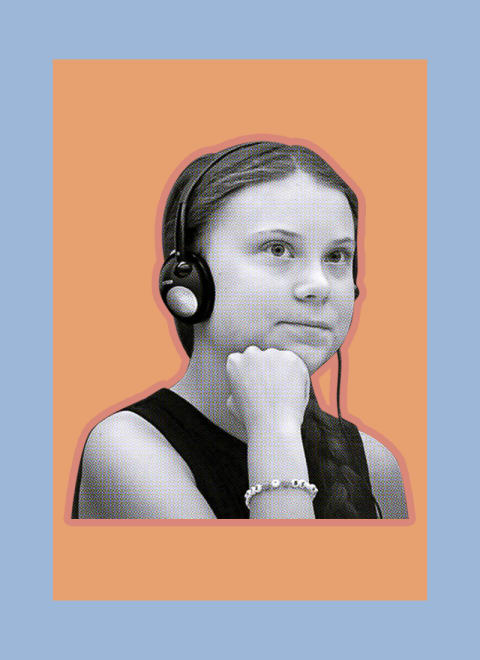 Sarah FitzGerald / Getty
2. Xiye Bastida (17 years old)
Bastida's family was forced to move to New York when her hometown in Mexico flooded, and the 17-year-old now leads protests outside the U.N. nearly every Friday through the #FridaysForFuture program. Like Thunberg, she also travels the country speaking at major events (they'll both be addressing the U.N. this weekend) about the importance of widespread climate action because, as she puts it, "Taking care of the Earth shouldn't be a movement; it should be part of our culture."
Advertisement
This ad is displayed using third party content and we do not control its accessibility features.
3. Fionn Ferreira (18 years old)
Who says high school science fairs can't save the world? While some experts are saying that it's impossible to extract the millions and millions (and millions) of tiny microplastic particles polluting our oceans, 18-year-old Ferreira created what is essentially a magnet for the plastics, which was 87% effective at attracting them during testing. The invention won the Irish high school student this year's Google Science Fair, and he's using the $50,000 prize money to start deploying it in real life.
4. Xiuhtezcatl Martinez (19 years old)
Martinez has been protesting in the name of our environment since the ripe old age of 6. Now 19, he's one of 20 teens suing the federal government for not adequately protecting their generation from the threats of climate change. Most recently, he started a subscription program called NOW that aims to plant one trillion trees around the world. I had the pleasure of interviewing Martinez in 2017, and when I asked what fueled his work, he summed it up simply and beautifully: "Whether it's interacting with another human being or taking in an incredibly beautiful view—that's what I'm fighting to protect. It's not just about the environment or politics. It's about protecting what we love."
Sarah FitzGerald / Xiuhtezcatl
Advertisement
This ad is displayed using third party content and we do not control its accessibility features.
5. Sam Bencheghib (22 years old)
Growing up in Bali, Bencheghib was heartbroken to see the local beaches increasingly clogged with plastic debris. At 12 years old, he started hosting beach cleanups with his siblings but quickly realized that the trash just kept coming back. That's when he took his activism up a notch by doing extreme stunts to call attention to the plastic pollution crisis. He's paddled down one of the most polluted rivers in the world on a kayak made out of plastic bottles, stand-up paddleboarded through the Gowanus Canal superfund site, and now he's literally running across the country—from the Atlantic to the Pacific—hosting talks, cleanups, and documentary screenings along the way. His guiding principle is, "If we want to see big change, we need to take on big challenges."
6. Isra Hirsi (16 years old)
Hirsi was one of the organizers of the massive Youth Climate Strike that took place back in March, and one of her main priorities is making sure that everyone is represented in future environmental movements. "Environmental racism is a really big thing," she tells Grist. "The environmental movement is still predominantly white; how do we change that conversation? Having women of color leading is one way to do that." Of everybody on this list, I'd bet that Hirsi is the one who holds a spot in political office one day—and not just because her mom, Ilhan Omar, is a U.S. representative for Minnesota.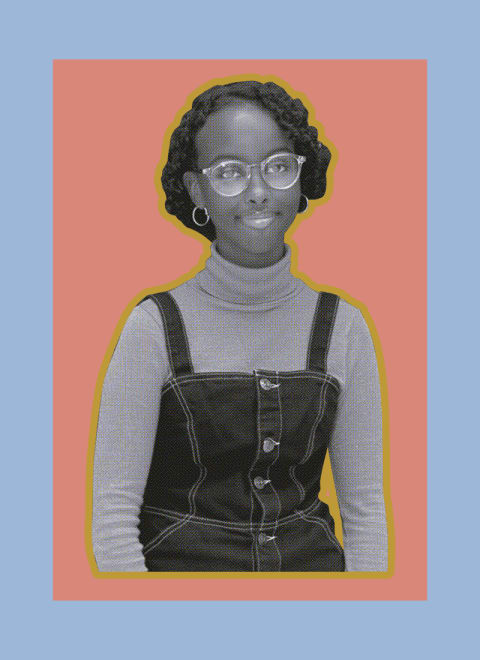 Sarah FitzGerald / Getty
Advertisement
This ad is displayed using third party content and we do not control its accessibility features.
7. Jamie Margolin (17 years old)
Margolin is the founder of Zero Hour, a wildly popular platform for young activists that hosts marches, strikes, and summits around the U.S. Over the past two years, Margolin has organized climate rallies in Washington, D.C., testified before Congress, and hosted a Youth Climate Summit in Miami, where speakers included Bill McKibben and former U.S. EPA administrator Gina McCarthy. Her to-do list this year includes finishing the manuscript for her upcoming book and publishing an op-ed in the New York Times—as if applying to colleges wasn't stressful enough.
8. Leah Namugerwa (15 years old)
Namugerwa is an important voice in Uganda's climate movement, and she's asked the United Nations to ban plastic bags in her home country. Inspired by Thunberg, Namugerwa also leaves school to strike for climate change every Friday. "Friday used to be ordinary, but now it is the busiest day of the week," she explains. "I wake up, carry my placard, and stand on the roadside or wherever I deem suitable to communicate my message. I sit when I get tired of standing while encouraging people to read my message." She adds that while she was initially teased for her end-of-week ritual, a number of peers are now joining in, which gives her hope for the future.
Advertisement
This ad is displayed using third party content and we do not control its accessibility features.
9. Arjun Marwaha (17 years old)
When a wildfire broke out near Marwaha's California home in 2017, he was forced to confront the reality that climate change would affect him in his lifetime. Instead of letting the event paralyze him, he used it as a catalyst to write an award-winning paper in the Yale Scientific Magazine on how we could use plants to extract carbon emissions on a large scale and publish a book, Our Changing Earth: Why Climate Change Matters to Young People, which seeks to raise awareness of the threats of a warming world among kids and adults alike.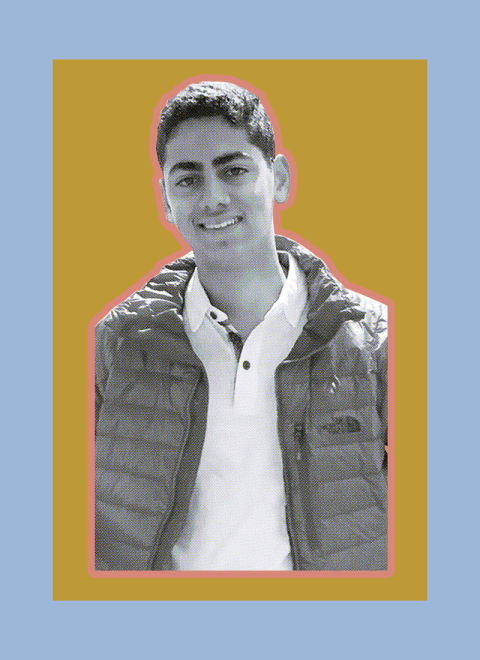 Sarah FitzGerald / Arjun Marwaha
10. Alexandria Villasenor (13 years old)
Villasenor is another activist who takes to her post on the sidewalk every Friday. She's based in New York City and heads to a bench outside the U.N. headquarters, rain, shine, or snow, holding signs like "school strike 4 climate" and "COP24 failed us." You can bet she'll be out again this Friday, when thousands of New Yorkers will likely join in to amplify her message.
Reset Your Gut
Sign up for our FREE doctor-approved gut health guide featuring shopping lists, recipes, and tips