Therabody Vs. Normatec: How To Choose The Best Compression Boots
Written by
Kelsea Samson
Kelsea Samson is a writer, content manager, certified yoga instructor and founder of The Mindfulness Program for Kids and Yoga for the Blind in Tampa, Florida.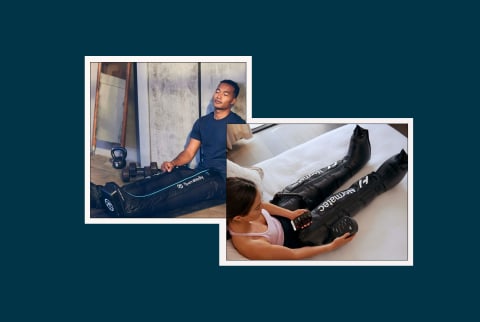 June 4, 2023
We carefully vet all products and services featured on mindbodygreen using our
commerce guidelines.
Our selections are never influenced by the commissions earned from our links.
The best Therabody & Normatec compression boots:
ICYMI, a recovery routine is just as important as exercise itself. Building sufficient recovery time into your schedule promotes healthy circulation, reduces inflammation and muscle soreness1, and promotes proper lymphatic drainage2. The magic of compression therapy lies in the circulatory system, which is responsible for delivering oxygen, nutrients, and hormones to every cell in your body while also flushing your system of toxins. In this Therabody vs. Normatec comparison, we'll break down the pros and cons of these two popular compression tools.
Compression boots bring the benefits of compression therapy to the comfort of your own couch, no masseuse required. You can use compression boots to boost recovery, or to warm up before your workout. While there are plenty of brands on the market to choose from, the gold standards are Therabody and Normatec. In fact, these brands are used and endorsed by professional athletes, trainers, and celebrities.
If you're not sure about slipping your entire leg into a massage boot that makes you look somewhat like an intergalactic traveler, we get it. Our editors were skeptical before testing the best compression boots. "The unlikely recovery tool wasn't on my radar, but I got a chance to try out a pair for our roundup of the best compression boots. This gentle compression therapy supports circulation, and the effect is instant relief," notes Braelyn Wood, mindbodygreen Deputy Commerce Editor.
To help you navigate the world of compression therapy, we put together a roundup of the best compression boots from Normatec and Therabody, with tips on who can benefit from each. Keep scrolling for four options that span all fitness goals and price points.
What are compression boots?
Also known as recovery boots, compression boots are like leg massagers that you wear to boost circulation, reduce inflammation3 and soreness4, and improve your athletic performance. The sensation feels like a lower body massage, only better, with multiple masseuse hands all over your legs at once.
To use compression boots, all you need to do is slip your legs into the sleeves like you would over-the-knee boots, and then sit back and relax as you reap the benefits. Depending on the design, compression boots cover your feet, lower legs, and/or thighs and contain multiple chambers. You can find designs that cover fewer areas, too, which are more ideal for travel.
How do compression boots work?
Compression boots work by filling with air to compress and squeeze, one section at a time from the feet to the hips. This form of intermittent pneumatic compression (IPC) is a popular method of mechanical massage that's recommended by medical professionals to reduce swelling in patients with serious health conditions such as lymphoedema, deep vein thrombosis, and pulmonary embolism. In athletes, IPC is relieving for post-exercise inflammation, which helps you get back to training faster.
What is Normatec?
Normatec is one of the most trusted at-home compression therapy brands and is used by professional athletes and sports medicine experts alike. The brand's boots have been spotted on a potpourri of professional athletes, including Lebron James and tennis star Naomi Osaka. Beyond compression boots, Normatec has a line of full-body recovery systems (even some TSA-friendly options).
Normatec was acquired by Hyperice back in 2020. Originally created by Gilad Jacobs, M.D. Ph.D., Normatec's products were designed with input from professional athletes and sports medicine professionals.
Normatec's boots utilize a technology called "biomimicry," which instead of simply compressing your legs, uses "dynamic compression" (a fancy word for pulsing). The pulsing is meant to mimic the muscle pump of the legs, which the brand says greatly enhances the movement of fluid and metabolites out of the limbs to increase circulation and reduce soreness.
Tl; dr; there's no doubt that Normatec is one of the best compression therapy brands on the market.
What is Therabody?
Therabody is a cutting-edge wellness technology brand most well-known for the Theragun massage gun. In 2020, the brand ventured into creating other wellness and recovery tools, including compression boots which use patented pneumatic compression systems.
Therabody was born out of necessity by a chiropractor who was suffering from chronic pain after a bad motorcycle accident. The brand is built on patient feedback and the founder's chiropractic expertise.
We recently interviewed Therabody's founder, Jason Wersland, D.C. "I created Theragun Percussive Therapy to help people feel better naturally when they weren't in my care," he explains. "Looking back, Theragun Percussive Therapy was a catalyst for a bigger mission. I'm proud to say that Therabody is committed to providing natural solutions that work."
How to choose a compression boot.
When deciding which Therabody and Normatec compression boots will best suit your recovery needs, there are a few factors to consider:
Customization: Some compression boots offer greater customization than others. The level of pressure you require may depend on the intensity of your training or activity. The intensity level of compression boots is measured in millimeters of mercury (mmHg), and indicates how tightly the boots will squeeze your lower body.
Coverage: While many compression boots target the entire lower body from the hips to the feet, others have attachments for arms or focus solely on calves. Consider which areas you'd like to target in your recovery sessions.
Portability: Is your recovery system going to stay at home or do you need something portable? Smaller and lighter compression boots might not have all the bells and whistles of the at-home versions, but they're worth considering you're a frequent traveler.
Budget: Normatec and Therabody boots are both a financial investment and are two of the highest quality compression boots. That said, the brands do offer a range of luxury and budget-friendly options.
How we picked:
Ratings & reviews
We read loads of reviews (positive and negative!) to make sure each compression boot from Normatec and Therabody is effective and easy to use.
Features
Our picks each have a standout feature that makes them potentially perfect for your unique needs—whether that's being completely wireless, extremely customizable, or TSA-approved.
Technology
The optimal amount of compression for you heavily depends on your personalized needs. We opted for boots with a wide range of compression levels and the technology you need to get the most out of your recovery session.
Price
Some compression boots are more expensive than others. We included a range of price points on our list, though you can expect each option to be an investment because they're the best on the market.
Our picks of the best Therabody and Normatec compression boots:
Advertisement
This ad is displayed using third party content and we do not control its accessibility features.
Advertisement
This ad is displayed using third party content and we do not control its accessibility features.
Therabody vs. Normatec: Quick facts
FAQ:
What do compression boots do for you?

Compression boots can alleviate muscle fatigue and pain by aiding in recovery between workouts or training sessions.
Does Normatec reduce inflammation?

Compression boots should help with inflammation and swelling by increasing blood flow and circulation, as well as limiting the accumulation of fluid.
How long should you wear compression boots?

You can wear your compression boots for up to 30 minutes. Most products contain programs that guide usage time.
The takeaway
Rest and recovery are key to keeping your body moving at its best. Compression boots can be a great way to enhance your recovery routine, whether you're an avid athlete or just seeking a way to find relief from chronic pain. People who partake in rigorous physical activity might see more benefits from compression boots due to their effectiveness at boosting recovery and easing muscle soreness after a workout. To build your recovery arsenal, see our list of the best massage guns of 2023.
Meet The Experts
Kelsea Samson
is a writer, content manager, certified yoga instructor and founder of The Mindfulness Program for Kids and Yoga for the Blind in Tampa, Florida.