paid content
 for

A Decadent Vegan & Gluten-Free French Toast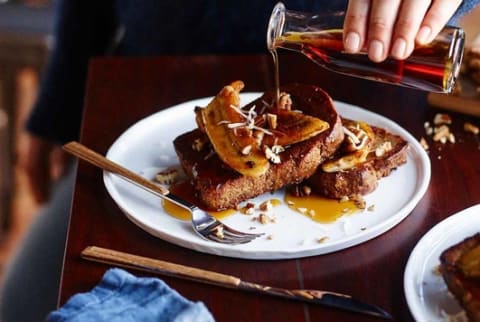 January 4, 2017
This phenomenal gluten-free, vegan French toast is a super-easy staple to add to your righteous recipe repertoire. It's so rich and decadent, nobody will ever guess it doesn't contain wheat, eggs, and dairy. Caramelized bananas are always a hit, but stewed apples, pears, peaches, or rhubarb are epic, too.
The key to hitting the sweet spot and getting the bread crispy on the outside and chewy on the inside (the perfect balance in my humble opinion) is soaking the bread for the prescribed amount of time until it's evenly coated, adding coconut oil as needed depending on your stovetop and pan, and keeping the toast sizzling on each side until it is cooked through.
For a decadent breakfast, brunch, dessert, or (dare I say it?) snack, you can't beat this phenomenal French toast. So simple, so delicious, so creamy, so crispy, you may never blend your batter using dairy milk and eggs again. The coconut and nut boosters increase the indulgence, and the rum lobs the flavor into "to-die-for" territory. Bon appétit!
French Toast with Caramelized Bananas
Ingredients for French toast
1 cup (240ml) unsweetened almond or macadamia milk (strained if homemade)
1 ripe medium banana
2 tablespoons pure maple syrup, plus more to serve
1 teaspoon natural vanilla extract
1 tablespoon white (or black) chia seeds
1 teaspoon ground cinnamon
¼ teaspoon natural salt
8 slices gluten-free sandwich bread
¼ cup (60ml) coconut oil (in liquid form), plus more as needed
Ingredients for Caramelized Bananas
2 medium bananas, thickly sliced on the diagonal
¼ cup (37g) coconut sugar
1 to 2 tablespoons coconut oil (in liquid form)
Pure maple syrup, to serve
¼ cup (60ml) bourbon or rum
2 tablespoons crushed raw pecans or walnuts
1 tablespoon unsweetened dried shredded coconut
Set the oven to its lowest temperature or the "warm" setting.
To make the French toast, pour the milk, banana, maple syrup, vanilla, chia seeds, cinnamon, and salt into your blender and blast on high for about 30 seconds, until well-combined. Pour the mixture into a large shallow baking dish and let rest for about 5 minutes to thicken slightly.
In batches, place slices of the bread in the baking dish and let soak on one side for 8 to 10 seconds. Flip the slices and let soak for another 8 to 10 seconds until evenly moistened.
In a medium skillet (that fits two slices of bread) or on a large griddle (that holds all of the slices) over medium heat, warm 1 to 2 tablespoons of coconut oil per two slices of bread. (Resist the urge to use less coconut oil, or the bread won't get crispy.)
Add the bread and fry for 4 to 6 minutes on each side, until golden brown and crispy on the edges; you may need to add more coconut oil after you flip the bread. If cooking in batches, transfer the French toast to a lined baking sheet and place in the oven to keep warm, and repeat to fry the remaining bread, adding more coconut oil to cook each batch.
While the last pieces of toast are cooking, make the caramelized bananas. Combine the banana slices and the coconut sugar in a zipper-lock bag, seal, and shake to coat evenly.
In a skillet over medium-high heat, warm the coconut oil, add the coated bananas and the bourbon booster, and fry for about 2 minutes on each side until nicely caramelized.
Serve two slices of French toast on each plate, topped with one-quarter of the caramelized bananas, one-quarter of the crushed nut boosters, and one-quarter of the coconut booster. Pass maple syrup at the table.