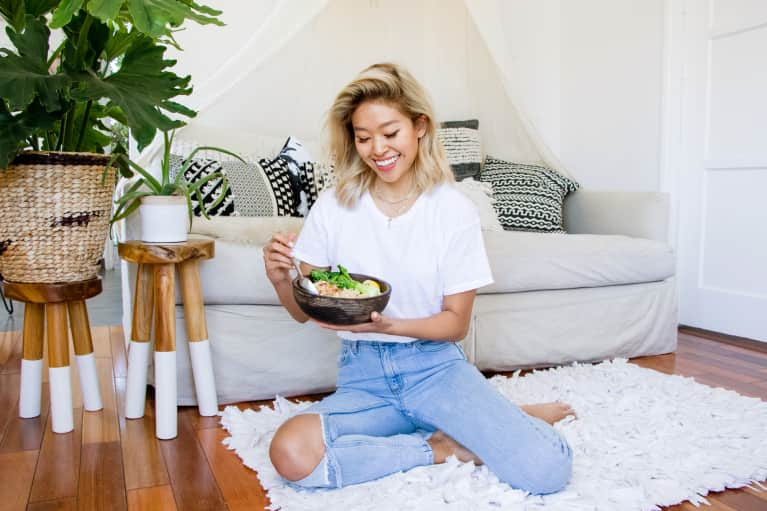 As a fitness and lifestyle blogger living in LA, I'm a busy, self-employed influencer, usually running around from the moment I wake up until well into the evening. I'm naturally a pretty energetic person, but anyone would have a hard time keeping their energy up with a workout, a conference call and a brand event—all before noon! I've developed a few tricks that help me do it, from eating 6 meals a day to always making sure my meals include carbs, protein, fiber and healthy fats. This helps us feel fuller longer and keeps our energy consistent throughout the day. Read on to see my energy-boosting day on a plate!
Upon Waking: Matcha Latte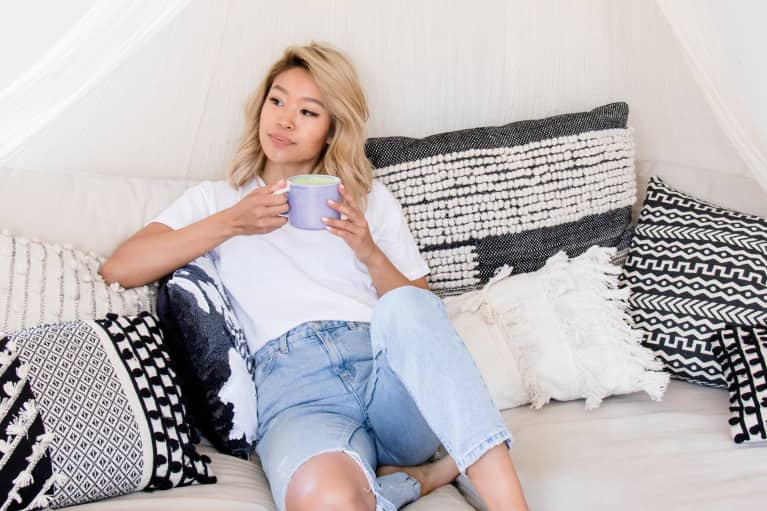 I usually wake up between 5:30 and 7 because I like to get in a workout before the craziness begins. I start my day with a Matcha latte with collagen, coconut butter, and some Natural Delights™ Medjool date paste. Adding the collagen and coconut butter provides protein and fat, plus the energy boosting caffeine from matcha and a sweet touch from Medjool date paste which you can make easily by blending pitted Medjool dates with 1/2 cup of hot water (I make mine on Sunday, and store it in the fridge all week)! Matcha provides a slow rise and fall in energy, unlike coffee which is more of a steep spike up and down. That's why it's my go-to!
Breakfast: Oatmeal with Medjool Dates & Berries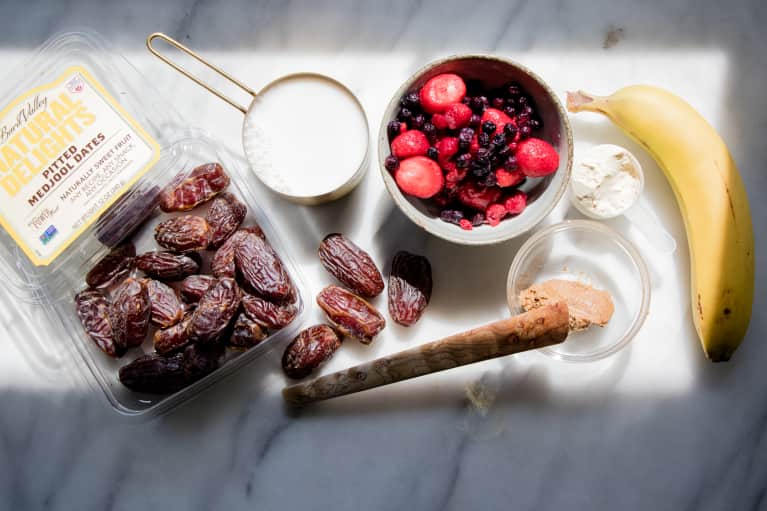 After I get my sweat on, I'm back home for a quick shower and breakfast! One of my favorites is oatmeal with chopped Medjool dates, coconut milk, almond butter and 1/2 cup of berries (fresh or frozen works!). Medjool dates are a perfect natural sweetener because they add a wonderful caramel taste but also bring fiber to the party for a guilt free sweetness. Oatmeal is a high fiber, whole grain that keeps me full for a solid couple of hours!
Lunch: Huge, Gut-Healing Salad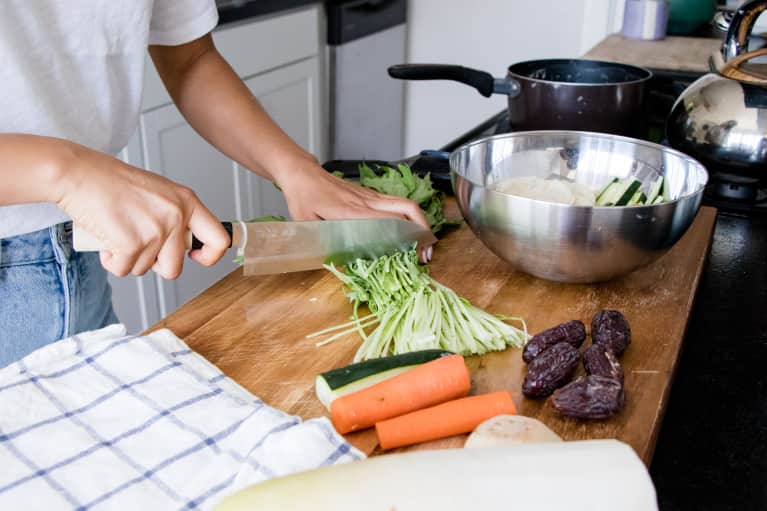 Usually I do things like photoshoots, running errands and going to meetings during the morning so once I get home for lunch I reach for a huge leafy salad with julienned root veggies (daikon, carrot, radish, taro) drizzled with a walnut and Medjool date vinaigrette and a side of fermented soybeans and kimchi. I love using kimchi and fermented soybeans to support my digestion because they are high in probiotics. These foods are cultural to my Mom's home country of Japan and I'm so lucky I've been eating them my whole life (so good for my gut-health)! To make my favorite dressing, add ¼ cup of Natural Delights™ Medjool dates, 1 clove garlic, 1 tsp dijon, ¼ cup walnuts, ½ water, ¼ cup balsamic vinegar to a blender and blend till smooth. This stores in the fridge for 3-4 days.
Afternoon snack: Pick-Me-Up Protein Smoothie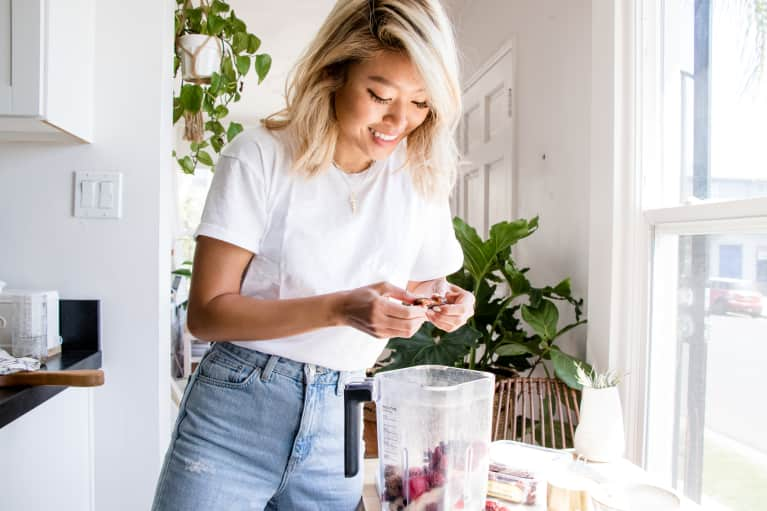 During the afternoon I work on emails, writing content, editing photos and general house work but I usually feel that drain around 3pm. That's when I blend a pick-me-up protein smoothie with yogurt, Medjool dates, 2 kale leaves, blueberries, coconut oil, cinnamon and vanilla protein! My snacks always include at least 2 food groups to make sure I'm getting a variety of nutrients. I also love using the Natural Delights™ smoothie calculator to create different smoothie combinations, so I never get bored.
Dinner: One-Pan Sesame Chicken and Veggies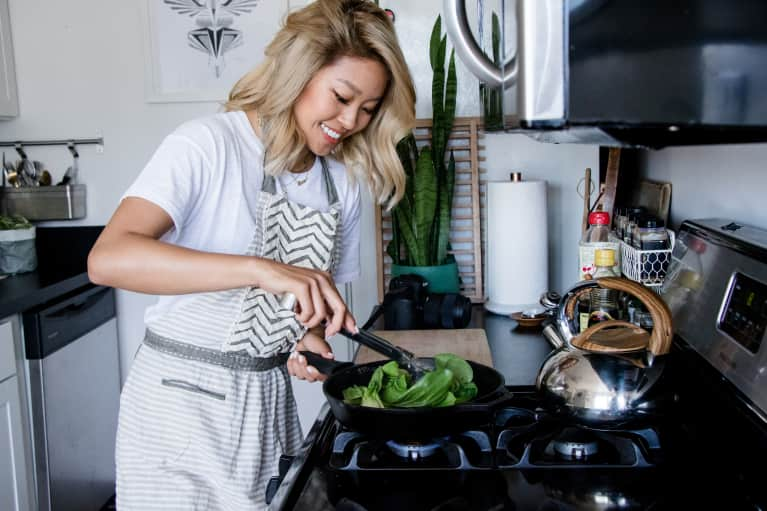 I usually make dinner a bit later in the evening, around 7. I love simple quick meals that don't waste a ton of energy in the cooking process. I make a sesame sauce 1 tablespoon sweet chili sauce, 2 Natural Delights™ Medjool dates, 1 clove minced garlic, ¼ cup low sodium soy sauce and 2 tablespoons of warm water. I toss two chopped chicken breasts in the sauce and roast with some mixed veggies at 400 for 20 minutes! Serve with brown rice. This meal is high in protein from the lean poultry and added fiber and nutrients from the veg and some bonus B-vitamin from the whole grain brown rice!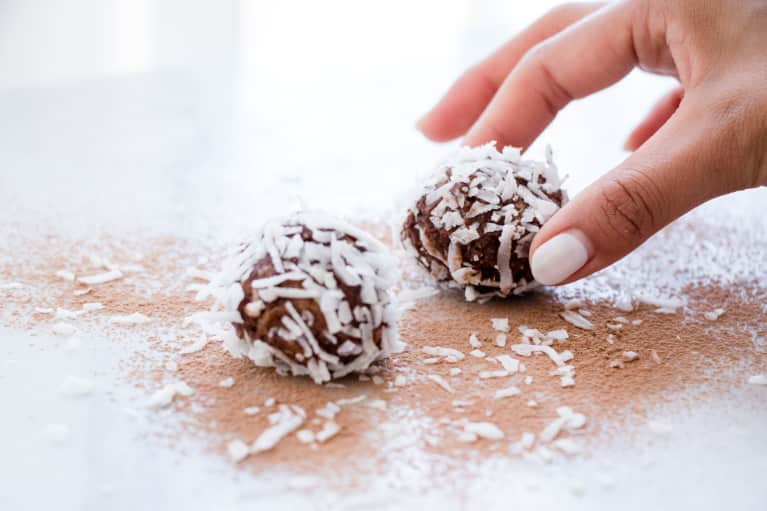 For dessert I have 2 truffle balls that I store in the freezer. My favorite combination is almonds, Medjool dates, cocoa powder, and cinnamon. Simple, easy, and delicious! These always curb my sweet tooth without leaving me feel like I've overindulged.