paid content
 for

The Simple Shift That Will Take Your Yoga Practice To The Next Level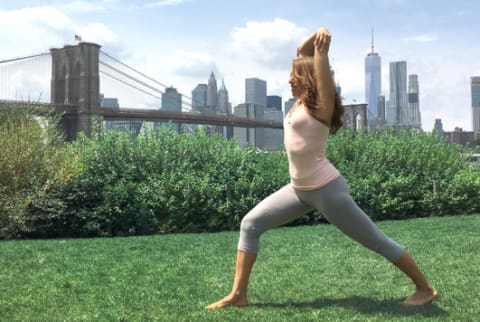 April 18, 2017
Spring is the perfect time to carry your yoga practice out of your home studio and into nature. After all, time outdoors increases vitality, boosts mood, and promotes focus. Plus, getting away from mirrors, studio lights, and other yogis will bring you back to what yoga is all about: deepening your connection with yourself and your surroundings. Here's your comprehensive guide to an effective outdoor practice.
Your packing list
Sunscreen: Be sure to lather up before your down dog. According to the Environmental Working Group, the cleanest and most effective sunscreens fall below 50 SPF and are free of retinyl palmitate and oxybenzone.
Layers: Nothing prepares you for sudden temperature changes like breathable, lightweight layers. Good thing joggers, hoodies, and cardio jackets are dominating athleisure this year.
The right mat: A thicker mat, like a Jade or Manduka, will give you a little cushion on uneven terrain.
A towel and water: Bring a small towel along to clear remnants of nature off your mat, and be sure to stay hydrated!
Where to go
If you're looking for a scenic yoga flow, parks are an obvious choice. In NYC, Central Park, Prospect Park, and Riverside Park all have wide, expansive greenery that puts even the trendiest of studios to shame. During warmer months, there are plenty of opportunities to get your asana on solo or with a group of friends. Studios host huge organized outdoor classes in parks across every borough, and 1 Hotels even offers in-room yoga mats that guests can take outside to nearby Brooklyn Bridge Park.
If you're up for a challenge, ditch the peaceful field or quiet beachfront and head somewhere with more hustle and bustle. After all, yogis from around the world have managed to find their Zen in noisy, chaotic hubs like Times Square, proving that silence is just a state of mind.
There are a few things to keep in mind when settling into your space. "Smooth terrain is important, and I'd recommend keeping a clean space around your practice area," explains Sara Quiriconi, the yogi and health coach behind Live Free Warrior. "I remember a time I practiced in a park and there were little teeny twigs everywhere, which created a really painful experience! Clear out broken shells and sticks so you can spend the time focusing on your practice rather than worrying about your safety."
Heather Lilleston, co-founder of Yoga for Bad People, says that protecting yourself from the elements is important too. "I think the main thing is to have shade so you aren't in direct sun and a flat steady surface. I don't recommend having a full practice on sand, because your joints (your wrists in down dog, for example) aren't always supported and you often end up kicking sand in your eyes."
If you live in a warmer climate, head out early in the morning or later at night to catch a breeze. Bonus points if you can time your savasana with the sunset.
How to get into it
Lilleston and Quiriconi agree that any great outdoor practice takes its cues from the elements. You should feel free to flow into the surrounding sights and sounds without feeling tied to a specific routine.
"Follow the movement, rhythm, and harmonics of what's around you," says Quiriconi. "Since I live in Miami Beach, I'll reference the flow and sound of the ocean or water or listen to the rustle of the palm trees. Nature is incredible calming, grounding, and inspiring, so allow it to guide you!"
Try to get to a place where you're working with the elements instead of against them. This test of mindfulness and focus will ultimately translate over to your indoor practice as well. "It may be windy; there may be insects, sunshine, and noise, but being with all of that—finding a sort of harmony among the symphony of the natural world—is a profound skill that is closer to a real yogic skill than padding your practice with creature comforts," explains Lilleston. She recommends an outdoor practice to anyone looking to tune out noise, command their attention, and connect to the breath.
Share photos of your favorite yoga pose on Earth Day, tagging @mindbodygreen, @1Hotels, and #1EarthDay.