Finally: The Secret Ingredient To Making Banana-Free Smoothies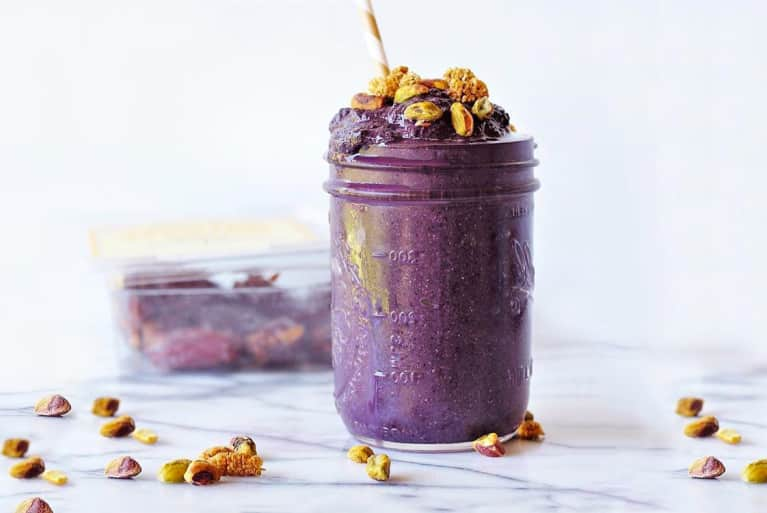 We love to throw a banana in our smoothies as much as the next person, but sometimes it's good to take a break. If you're eating a smoothie every day (or you're simply intolerant to bananas), there's a secret ingredient you can use to make sure your smoothies not only taste amazing but also pack a nutritional punch.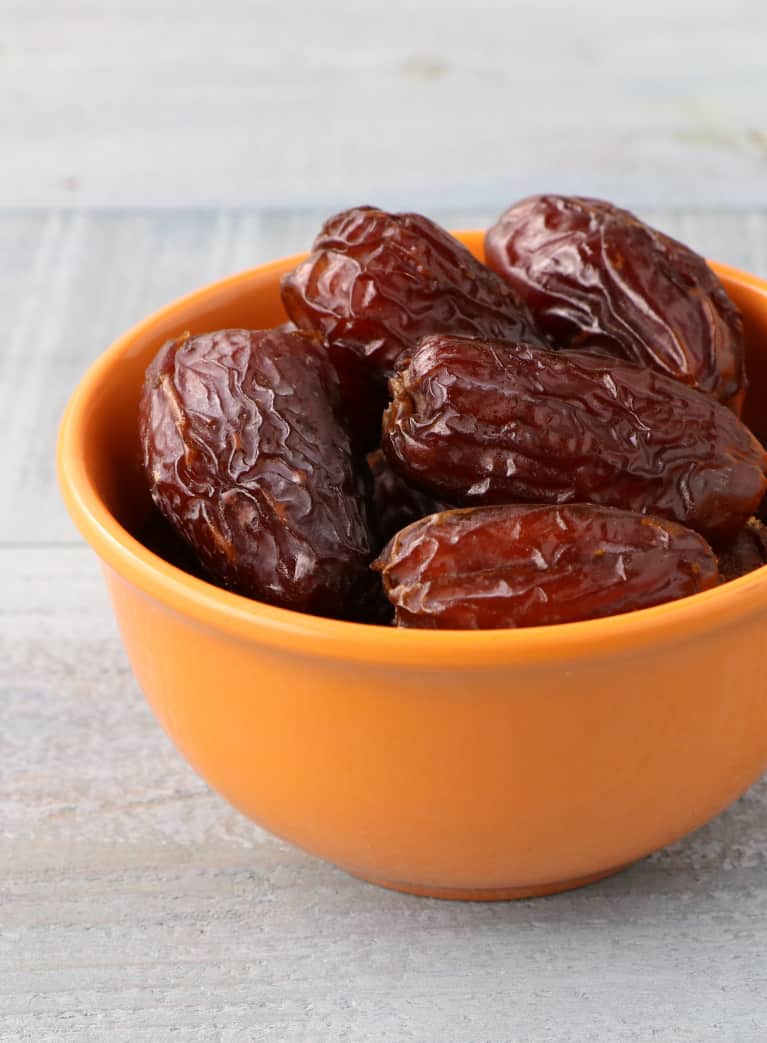 Medjool dates are a rising star in the produce department thanks to their delicious flavor and powerful nutritional composition. One serving (2 Medjool dates) has 33 grams of carbs and 281 mg of potassium. (That's 50 percent more potassium by weight than bananas.)
The potassium, fiber, and mineral-filled Medjool dates have a caramel-like flavor that perfectly sweetens smoothies.
If you have a high-powered blender, simply drop Medjool dates in with whatever else you're blending. If you don't, blend your Medjool dates with the water first (with greens and any other high-fiber ingredients), then add the frozen components and any other bonus ingredients. We love the Natural Delights™ smoothie calculator, which allows you to add all the components for your Medjool date-filled smoothie and see how it affects the nutritional profile, including the amount of calories, carbs, healthy fat, fiber, and protein.
Cold Brew Medjool Date & Cacao Recovery Smoothie
3 Medjool dates, pitted
¾ cup almond milk
¼ cup cold brew concentrate
1 tablespoon cacao nibs
1 tablespoon almond butter
1 scoop vanilla protein powder
Combine all ingredients in a high-speed blender. Blend until smooth.
Pour into a glass and enjoy the recovery!
Medjool Date, Strawberry & Beet Superfood Smoothie
2 cups frozen strawberries
½ cup sliced beets (fresh or frozen)
1 cup dark leafy greens like spinach or kale
3 Medjool dates, pitted
½ cup coconut water
2 tablespoons chia seeds
1 scoop protein powder
Blend all ingredients together for 60 seconds in a high-powered blender.
Enjoy in a glass or bowl! Add toppings if you'd like!
Blueberry Superfood Smoothie
3 pitted Medjool dates
1 cup frozen blueberries
1 cup chopped raw or frozen kale
¼ cup frozen riced cauliflower
1½ cups unsweetened almond milk
½ teaspoon vanilla extract
½ tablespoon all natural peanut butter (optional)
2 tablespoons oats or oat bran
1 scoop The Natural Citizen Organic Digest
1 oz. Young Living Ningxia Red (optional)
1 tablespoon chia seeds
Blend all ingredients together for 60 seconds in a high-powered blender.
Enjoy in a glass or bowl, and top with toppings of choice!