paid content
 for

I Work 24/7. Here's How I Find Time To Exercise, Eat Right, And Have Fun
March 7, 2017
As a busy entrepreneur, health coach, branding consultant, and fitness junkie, my schedule can be hectic.
Between driving around LA, meeting clients, or working from coffee shops, I constantly have to keep myself in check. When it comes to my crazy schedule, I've found that small things lead to big changes, from a quick breathing exercise and having a healthy snack on hand to keeping my Peony and Me activewear in my bag.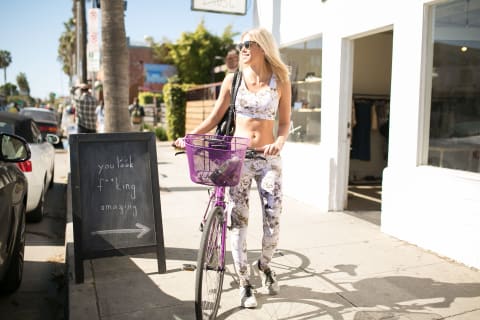 Of course, being the person that I am, I wouldn't trade the craziness for the world. Being constantly on the go means that it's super important for me to keep as much balance in my life as I can. I'm trying to fit everything into each day, including fitness, cooking, meal prep, "me" time, seeing friends, going out to dinner, and so much more. That's why I've created habits and routines that are essential to helping me keep my peace of mind while still allowing me to have fun.
Routine 1: Take advantage of the night before.
Every evening I get things ready for the following day so I can grab stuff and go. This includes getting lunch ready, knowing what I'll make for breakfast, and writing down a list of everything that I need to do the following day. I'll pack a bag that has my laptop, chargers, water, my Peony and Me clothes, snacks like raw almonds and an apple, and dry shampoo.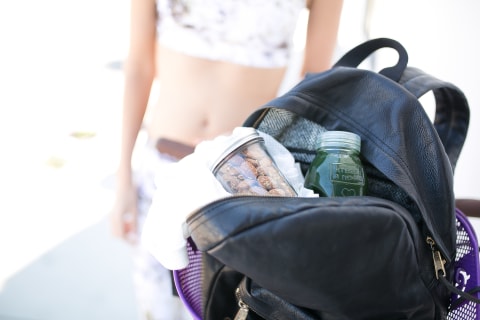 Routine 2: Do your mornings right.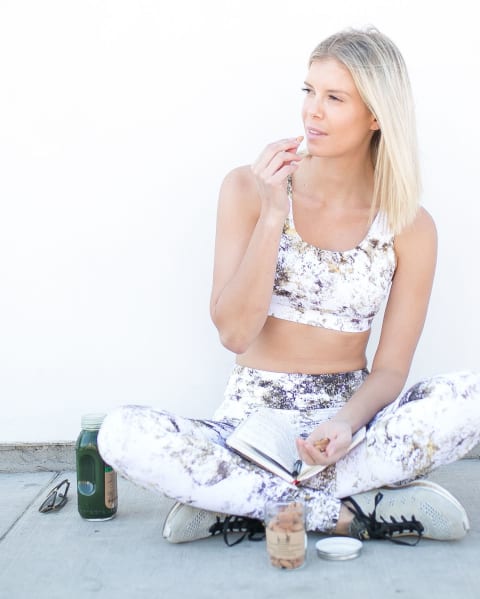 I tend to wake up around 7:30 each morning, although I'm really trying to be better about getting up earlier! Once I'm up, I always journal and meditate, even if it's just for 10 minutes. This keeps my mind sane when things are a bit crazy.
If I'm meeting a client then working out after, I'll put on one of my Peony and Me outfits. I'm really into their luxe athleisure right now because you can wear their pieces as a cute daytime outfit just as easily as you can wear them while working out. I'm actually really loving the Light and Airy outfit as well as the Sporty + Cool one, because they're very fashion-forward and make me feel confident, not to mention comfortable. The fit is incredible—I could live in those soft textures all day (and usually do!).
Routine 3: Eat a nourishing lunch.
No matter where I am, I always make sure to get a nourishing lunch in. I typically stick with the same thing if I'm home (or I'll make it to take with me), which is spinach, carrots, cucumbers, sautéed mushrooms, steamed broccoli, quinoa, kimchi, and two hardboiled eggs. I'm a bit obsessed with this at the moment and crave it every day. If I'm out, I always make sure to get something that is colorful, as I recommend everyone to count colors, never calories. In general, salads are my favorite lunch as they are super filling—I load mine up—and don't make you feel heavy. I also make sure to drink one to two liters of water every day, which means that I always need to be near a bathroom.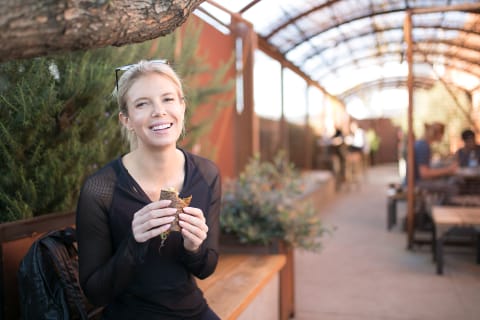 Routine 4: Rest.
I don't work out every single day, as it's very important to let your body rest. My workouts range from going to a heated Vinyasa flow at Tantris yoga in LA, running outside, going to a HIIT studio or doing bodyweight exercises outside. Looking chic when I'm working out (even though I work hard and sweat a ton) is important because it motivates me to go to the gym more.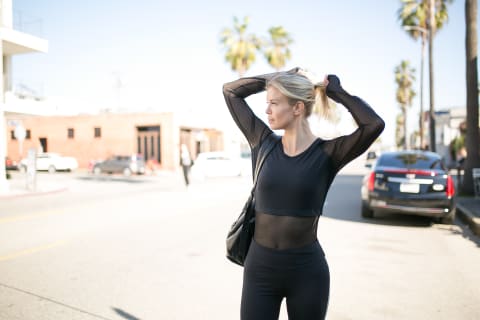 That's why the Peony and Me outfits are more than just another workout brand to me—they really embody my style. But the best part is that their pieces effortlessly transition from day to night. Once I leave the yoga studio, I usually meet some friends for a glass of wine at a new bar in LA or head home and just relax on my couch or get some work done—still in my Peony and Me clothes. It's hard to find athleisure that is so chic and multifunctional and truly looks good in every situation, from the fitness studio to the trendy restaurant.
There are not that many consistent moments in my day, so the little routines I set keep me balanced and feeling healthy and happy each day. I think it's really important to find things that work for you, whether it's eating the same breakfast each morning, meditating, putting on cute workout clothes, or going to bed at the same time each night. For me, life really is about having fun and creating balance between working hard and playing hard too.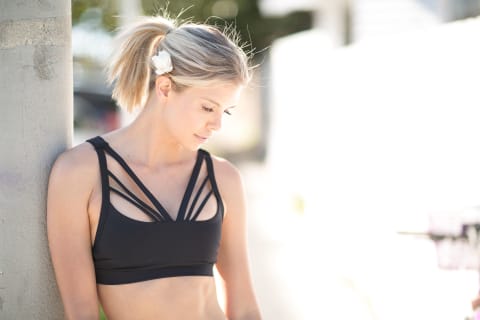 Nikki Sharp
Nikki Sharp is an author, wellness expert, and former model. She is the author of The 5-Day Real Food Detox, Meal Prep Your Way To Weight Loss, and Models Do Eat. She also created The 5-Day Detox app and is a co-host on her podcast, #Adulting. She has been featured in Cosmopolitan, Shape, Elle, Men's Health, Women's Health, and the Huffington Post, and can be seen giving health tips on Hollywood Today, Hallmark's Home & Family, Extra, Access Hollywood, Good Day LA, and Fox News Health. Sharp has studied at the Institute of Optimum Nutrition and the College of Naturopathic Medicine in London while also exploring raw foods, sports nutrition, nutrition for everyday living, and Ayurveda. She is a certified health coach through the Institute of Integrative Nutrition, a 200hr Yoga Alliance certified yoga instructor, and a plant-based chef.