Close Banner
Advertisement
This ad is displayed using third party content and we do not control its accessibility features.
paid content
 for

My Journey To Finding The Perfect Nut-Free, Plant-Based Milk
By Leah Goldglantz
mbg Contributor
Leah Goldglantz is a health enthusiast, wife, mother, and founder of the wellness blog Leah's Plate.
I can still remember the day so clearly when I gave my daughter, Emma, a small amount of nut butter when she was about 9 months old (she's now 20 months old). I am a nut butter fanatic so I was really excited to introduce it into my daughter's diet. To my extreme disappointment, within five minutes of her consuming a very small amount of the nut butter (about the size of a pea), her face immediately broke out into a rash. A few weeks later, Emma had a blood test just to be certain she had an allergy, and the test results confirmed that she is allergic to peanuts and ALL tree nuts.
It became very upsetting that every time I made myself a smoothie I could never give her a sip since I used only nut-based milks. Emma would look so sad, and she was too young for me to explain why I couldn't give her a sip of my smoothie. It got to the point that I actually had to hide from her while I was drinking my smoothies because it felt mean to drink it in front of her and not give her a sip when she badly wanted one.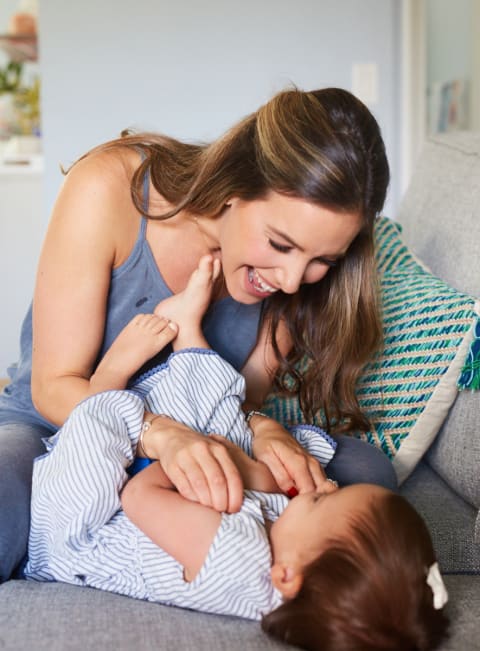 I then started making Emma a smoothie in a separate blender using cow's milk, but I never felt good about giving her cow's milk. I am not dairy-free, but I felt that cow's milk was just not easily digested by her little tummy. Not only did I not love giving her cow's milk, but making two different smoothies quickly became very inconvenient.
It's important to mention why I was making Emma smoothies. I tried numerous times to get her to drink milk, but she would almost gag anytime she took a sip. I never pushed it on her since I truly felt she didn't digest it so well anyway. The only way to get her to drink milk was to blend it in a smoothie to mask the taste.
Then one day everything changed—while walking down the aisle at my local Whole Foods I discovered Ripple. It's the perfect alternative to dairy milk and nut milks because it's clean, nut-free, and dairy-free. Since she couldn't have nut milk and I didn't love giving her cow's milk, this was my dream come true!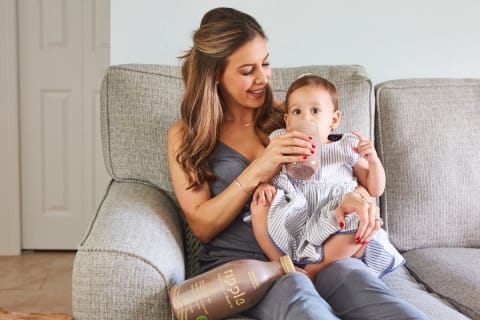 Upon getting home I immediately poured the Ripple Original flavor into her sippy cup, and to my pleasant surprise she looked at me and said, "yummmm"! I was THRILLED! The girl who would never take a sip of milk finally found something she loved!
My daughter is very picky about what she eats and drinks, so obviously the taste and flavor of the milk I give her are extremely important. She loves Ripple because it tastes AMAZING. Now both my daughter and I love consuming it on its own or mixed into our oatmeal and blended in our smoothies.
Emma loves sipping on Ripple Original before bed at night since it's lightly sweetened, rich, creamy, satisfying, and tastes great. She is also a huge fan of the chocolate flavor when she wants a treat. I love giving her "chocolate milk" as a special treat on the weekends with her breakfast. When I switch up the flavors she never gets sick of it!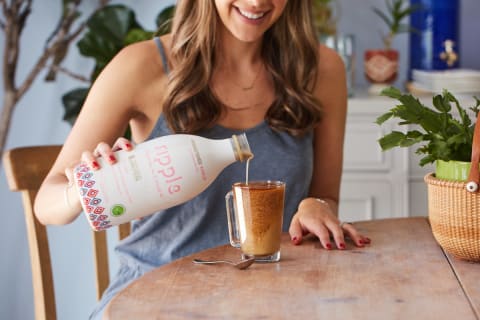 My personal favorite flavor is the Unsweetened Original because it's completely sugar-free yet doesn't lack flavor. I try to keep my sugar intake to a minimum, so this flavor is perfect for me. Some nut milks are watery and chalky but not Ripple. It has a clean taste and smooth texture. I use Ripple in my oatmeal and smoothies, but it's also an amazing alternative to coffee creamer, and I love adding a splash of the vanilla flavor in my coffee. I also like to pour Ripple over a bowl of cereal. Ripple is great for cooking, and you can use exactly the same amount of Ripple in recipes as dairy milk.
I love that Ripple is packed with plant-based protein. I usually add a scoop of protein powder into my smoothies, but with Ripple, I feel it's not even necessary since I'm getting 8 grams of plant-based protein per serving. It has eight times the protein of almond milk and half the sugar of milk if you're drinking the Original version (Unsweetened is sugar-free!). It's also good to know that Emma gets a healthy amount of protein by drinking Ripple. I used to worry about whether she was getting an adequate amount of protein, but now those worries have been put to rest.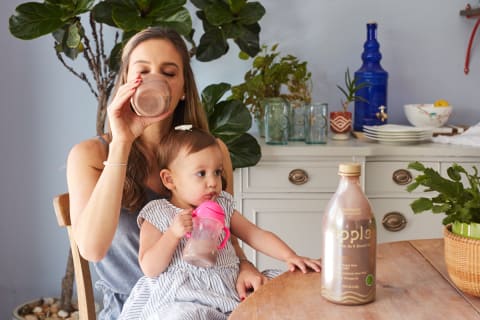 Not only do most toddlers have sensitive little tummies, but I do too. Ripple is gentle on my body because it's 100 percent natural. It's vegan and is free of gluten, soy, lactose, dairy, GMOs, and carrageenan. Ripple is also free of the top eight common allergens. I consume dairy and gluten on occasion but definitely feel my best on days that I don't consume them. Depending on which flavor you choose, it has low to no sugar, which is so important to me!
Obviously, I love that Ripple is packed with protein and is free of dairy and nuts, but most importantly it's packed with nutrients essential to a healthy diet. It's high in calcium, vitamin D, iron, and omega-3s—all essential nutrients for me and my little one.
As you know, I REALLY wanted to be able to share my smoothies with Emma, and now I'm finally able to blend one smoothie for the two of us to share using Ripple. I want to share our favorite simple smoothie recipe that requires very minimal ingredients:
Allergy-Friendly Creamy Chocolate Smoothie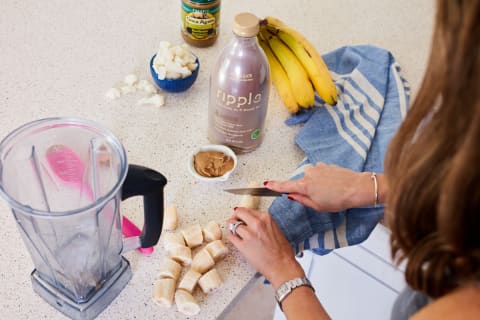 2 cups Ripple Chocolate milk
1 tablespoon sunflower-seed butter
2 frozen bananas
½ cup steamed then frozen cauliflower
Add all ingredients to a high-speed blender and blend until smooth and creamy.
Pour into two glasses and enjoy!
More On This Topic
more Food
Advertisement
This ad is displayed using third party content and we do not control its accessibility features.
Advertisement
This ad is displayed using third party content and we do not control its accessibility features.