Want The Perfect Keto Post-Thanksgiving Meal? We Found The Perfect Vegetarian Recipe For You
mbg Contributor
By Caroline Muggia
mbg Contributor
Caroline Muggia is a writer, environmental advocate, and registered yoga teacher (E-RYT) with a B.A. in Environmental Studies & Psychology from Middlebury College.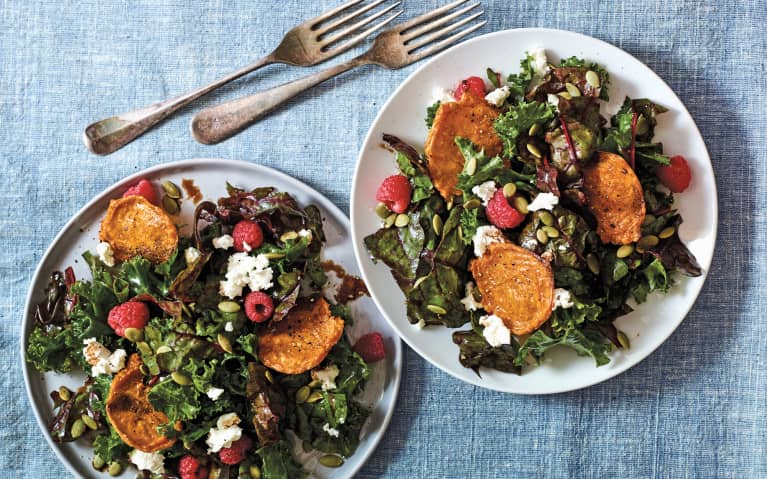 Our editors have independently chosen the products listed on this page. If you purchase something mentioned in this article, we may
earn a small commission
.
The ketogenic diet is making headlines for its anti-inflammatory, gut-healing, and weight-loss benefits. This high-fat diet is meant to put the body into "ketosis," a process in which you begin burning fat instead of glucose. You don't need to be in ketosis all the time—in fact, you could try it out a few days a week and still get benefits.
A great time to try a keto dish is the day after Thanksgiving to help you detox from sugary, high-carb foods. Look no further—Mark Sisson has you covered. The best-selling author of The Primal Blueprint, and founder of Mark's Daily Apple and Primal Kitchen foods, has just released his new cookbook, The Keto Reset Diet Cookbook: 150 Low-Carb, High-Fat Ketogenic Recipes to Boost Weight Loss.
We love this Kale Salad, which uses crisped pumpkin in place of traditional croutons for a seasonal, keto-friendly twist. It also includes keto classics like leafy greens, coconut oil, extra-virgin olive oil, and sunflower seeds. Nosh on this along with some leftover turkey and you'll be feeling back to your best, nourished self in no time.
Kale Salad With Pumpkin Croutons
½ cup unsweetened canned pumpkin puree
1 small bunch curly kale (green or red), ribs and leaves separated
1 tablespoon extra-virgin olive oil
1 teaspoon fresh lemon juice
½ teaspoon kosher salt
1 small bunch Swiss chard, ribs and leaves separated
4 tablespoons keto-friendly dressing of choice
¼ teaspoon pumpkin pie spice
2 tablespoons coconut oil
½ cup crumbled goat cheese
3 tablespoons pumpkin seeds or sunflower seeds
½ cup raspberries or blackberries (optional)
Tear or cut the kale leaves into roughly bite-size pieces and place them in a large bowl. Add the olive oil, lemon juice, and ¼ teaspoon of the salt. Use your hands to knead (massage) the kale for about 2 minutes, until the volume has reduced by half.
Chop the Swiss chard leaves into small pieces and mix it into the kale. Pour in 2 tablespoons of the dressing and stir well. Set aside.
Place the pumpkin in a small bowl. Stir in the pumpkin pie spice and remaining ¼ teaspoon salt. In a skillet, heat the coconut oil over medium heat for 2 minutes. When it is hot, carefully drop rounded teaspoons of the pumpkin mixture into the oil (watch for splatter) and press down slightly. Work in batches to avoid crowding the pan. Cook until browned on the side, about 2 minutes. Flip and cook 2 minutes on the second side. Remove the pumpkin "croutons" to a plate and repeat until you have used all the pumpkin mixture. Add more oil if the pan gets too dry.
Dice the chard and kale ribs. Add them to the skillet and stir-fry for about 4 minutes. Mix them into the salad.
Transfer the kale and chard mixture to a serving bowl. Crumble the goat cheese over the top, then sprinkle on the pumpkin seeds. Arrange the berries (if using) and the pumpkin "croutons" on top. Drizzle with the remaining 2 tablespoons dressing. Serve immediately.