Every year I look forward to peak tomato season—the few glorious weeks each summer when the farmers markets and backyard gardens are full of the fresh, ripe fruit. During those golden weeks, I eat tomatoes constantly—chopped in salads, baked on chicken or fish, or my favorite, simply sliced with a sprinkle of salt. While tomatoes are best when eaten as close to harvest as possible—preferably still warm from the sun—the window for fresh tomatoes is limited.
In the winter, supermarket tomatoes are a pale imitation of the real thing, so when the days are short and the weather is cold, chefs and culinary experts turn to canned tomatoes. They're great for making comforting hearty winter dishes like stews and braises and can also be used in recipes calling for fresh tomatoes to bring that summer flavor to your table year-round. Muir Glen tomatoes are grown in sun-drenched California and picked at the peak of freshness to ensure great taste and flavor. They've always been organic, and they use jars or cans with no BPA in their lining to keep chemicals out of our bodies and our food system (acidic foods are especially known for leaching BPA from the lining, so be careful with tomatoes).
With so many options to choose from, it can get a bit confusing! Use this handy guide to help determine what's best for your next recipe: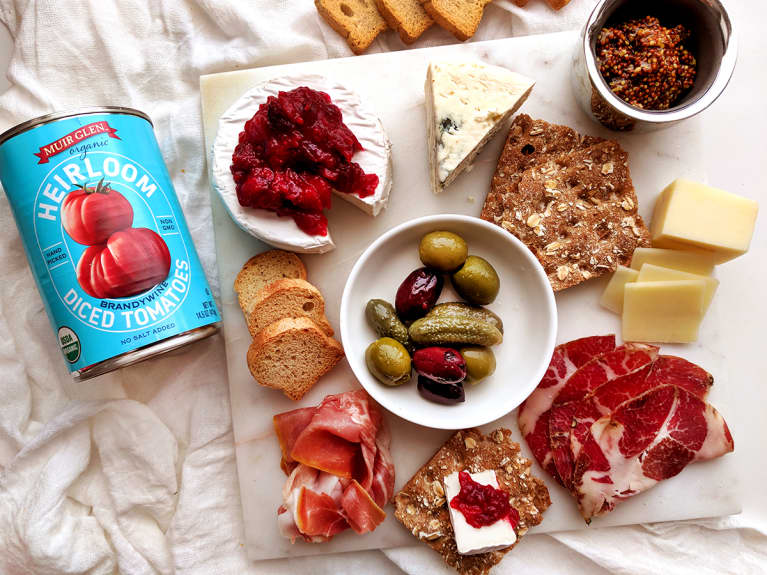 Diced Tomatoes are harvested, peeled, and diced into small pieces before being canned. Muir Glen tomatoes go from field to can in only eight hours! These are a great option for when you want to retain the shape of the tomato in a recipe or want a consistent size. Drain off the additional liquid to more closely imitate a fresh tomato (if you do, save the juice for your next Bloody Mary!) or just dump them, liquid and all, into your recipe for more flavor. Use them to make winter bruschetta and salsas or when you want to punch up the flavor in a soup or a stew.
Whole or Crushed Tomatoes
Whole or crushed tomatoes are most common in my house because they're so versatile. They're harvested, peeled, and then canned whole or crushed into pieces. They can be used interchangeably; if your recipe calls for crushed but you have whole, just use your fingers to rip up the tomatoes before adding them. Whole or crushed tomatoes can be used almost anytime, but they're especially nice in recipes that call for a few hours to simmer, like all-day spaghetti sauce or braised meat in the slow cooker.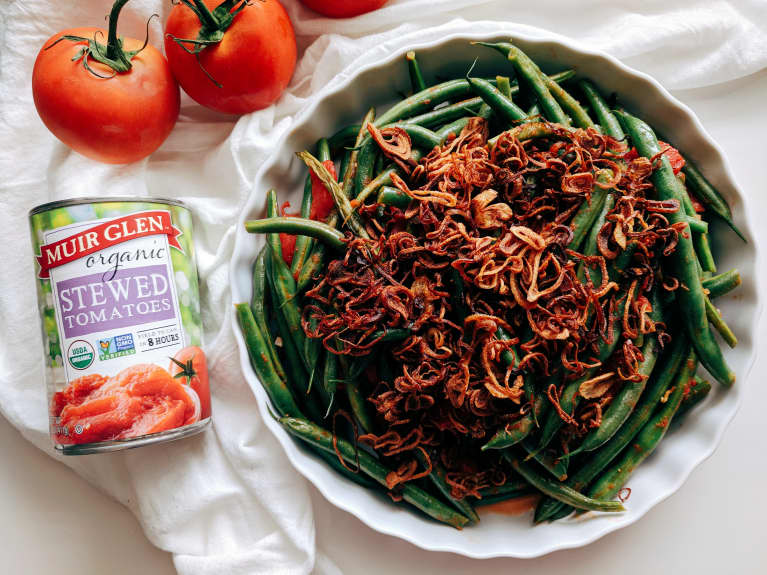 Stewed tomatoes have been cooked down with additions like pepper, garlic, or onions and save time when you want to add bright, bold flavor quickly. One of the best ways to use stewed tomatoes is in a quick shakshuka—a can of organic stewed tomatoes, a can of drained garbanzo beans, some leafy greens like kale or spinach, and a few eggs baked together. They're also great for a quick marinara, as they've already been cooked down a bit and give you a head start. With some brands, the flavor needs to be balanced with a splash of vinegar or pinch of sugar, but Muir Glen can be used right from the can.
Here the tomatoes are cooked down with a touch of sea salt, onion, and garlic, then pureed into a smooth sauce. It's perfect for when you want to add flavor to a dish without actual tomato pieces or as a base for your own creation. I love to add a little to soup or scrambled eggs. I always have a can or two of Muir Glen's pizza sauce around—it makes homemade pizza possible on a weeknight!