Close Banner
Advertisement
This ad is displayed using third party content and we do not control its accessibility features.
paid content
 for

A Health Expert's Minimalist Skin Care Routine For Barefaced Beauty
By Jordan Younger
mbg Contributor
Jordan Younger is an LA-based blogger behind the wellness and lifestyle blog The Balanced Blonde.
My health journey has been a wild one. I've always been super interested in wellness and even fell in love with the amazing practice of yoga as a young teenager, but when it came to figuring out the nutrients I need for my body to run best and which products work best for my skin and body from the inside out—well...let's just say it's been a journey.
I'll spare you the details of my tailspin into orthorexia, my raw vegan life, recovery from my juice-cleansing addiction, and how these unhealthy relationships with food and exercise led to major hormonal skin problems. What's important is that now I've found a more balanced, healthy, and realistic lifestyle that helps me both look and feel glowy from the inside out. After all, we all just want to look and feel our best, right?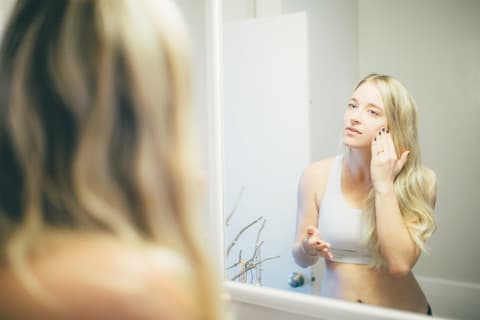 Let's talk skin care.
As a wellness ambassador for Kohl's, I've been able to discover some incredible products that keep me feeling natural and radiant. A huge part of my overall wellness routine is how I take care of my skin, and when it comes to beauty, I prefer to keep things natural, light, and bright. I'm one of those people you'll see on the street or on my blog and think, "She's not wearing any makeup and that's rad." Truly, I'm barefaced almost all of the time!
Ever since I began to blog full-time a few years ago, I've had to balance a super-packed schedule with lots of travel, hustling, photo shoots, writing, events—you name it. Because I don't have the luxury of having the same routine every day, I have to be really diligent about how I approach taking care of my skin.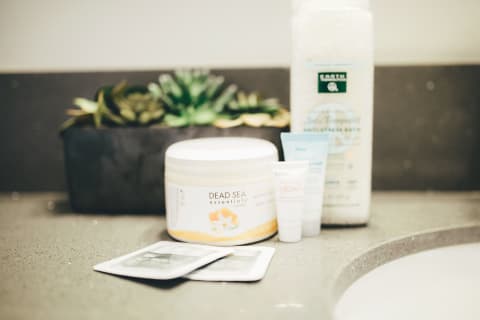 Make your skin care routine a spa experience.
The main thing I do is turn my bathroom into a full-blown, self-service spa at least twice a week. I get a ton of my favorite spa and skin care products from Kohl's because they have a huge selection of brands and products that I love all in one place.
My body and skin both respond extremely well to restorative, self-care, relaxation vibes—from soaking in the bath, to giving myself at-home facials, to lathering up with the most nourishing lotions. This part of my wellness routine makes my skin glow and also helps me sleep so much more deeply. It's also a great time to reflect and ponder...something I think is hugely important in my creative process and my mental sanity.
Rejuvenate your face by revealing fresh skin.
As far as my face goes, I have a very diligent routine. I wash my face with products I've discussed on my podcast (check it out on iTunes, episode 8!) including a microdermabrasion scrub, like this from Bliss Spa, which I use about once a week to dig deep into the layers of my skin and remove oil to prevent blackheads. With my frequent yoga teaching schedule and travel routine, removing oil is a total must. I can't use anything too harsh, and this product is on the gentle side, which works well for me!
Another exfoliation product I found at Kohl's is these Bliss Resurfacing Pads. I like to use these after I've had a lot of makeup on for a photo shoot or event because it digs deep to remove oil, retexturize, and soothe my skin.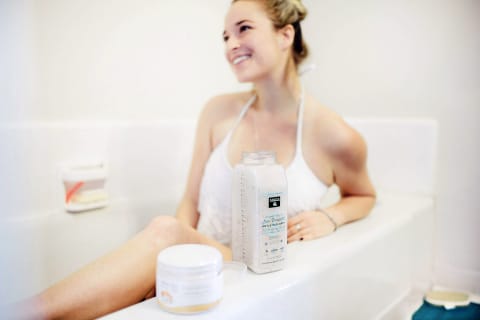 Make bath time do double duty.
On top of my at-home spa nights, I try to take a bath every day (even if it's short) because they are so soothing for my nervous system, helping to reduce stress. On top of that, I've found that my skin responds really well to all of the hydration and soaking. In fact, I swear by this bath soak by Earth Therapeutics Sea of Tranquility line that I found at Kohl's. I discovered that soaking in the bath with an actual bath soak product relieves tension from my muscles and also makes it so much easier for me to fall asleep at night. Given that I am a certified insomniac, this is a massive plus! This particular soak is made with a salt mineral formula and is blended with essential herbs to soothe and ease my entire body. It's a must.
After the bath, I moisturize like crazy! I love the Ahava Nourishing Milk & Honey Whipped Body Cream from Kohl's, and so does my skin. It's non-oily (a must for me) and is packed with sea minerals and extracts of milk and honey that work to relax, moisturize, and revive skin. And it smells like heaven!
Moisturize, moisturize, moisturize.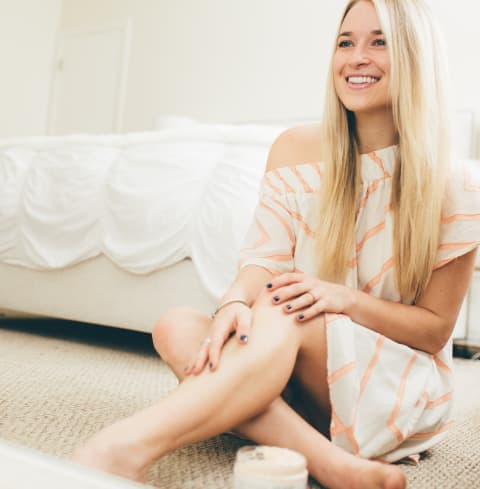 Lastly, I am all about moisturizing. It's easily the most important step! I lather an oil-free moisturizing cream onto my face each night before bed because my skin gets easily dried out and irritated from wind, sun, nasty weather, and travel. I like to keep my face ultra hydrated by also drinking tons of water. Lately, I've been a fan of this Bliss Spa vitabead-infused cream from Kohl's that seriously saturates my face with so much moisture. I put this on after my face is fully washed and squeaky clean.
On top of skin care, I think the keys to overall wellness and beauty are regular exercise, quality sleep, being mindful of what I eat (real, whole foods are key!) and spending a lot of time with the people I love, because they make me happy and help me glow from the inside out.
Jordan Younger
Jordan Younger is the creator of wellness & lifestyle brand The Balanced Blonde which includes her top-read blog, Forbes acclaimed podcast, thriving social media community, high vibe digital store, & soul-inspiring retreats and events. She hosts the podcast SOUL ON FIRE, which dives into everything from plant medicine and nutrition to channeling angels & aliens. Jordan is a mother, author, intuitive, recipe developer, and the creator of The Balanced Blonde digital store, filled with plant-based programs, awakening courses & spiritual merch. She lives in Los Angeles with her husband, her son Atticus & her cat Hudson.