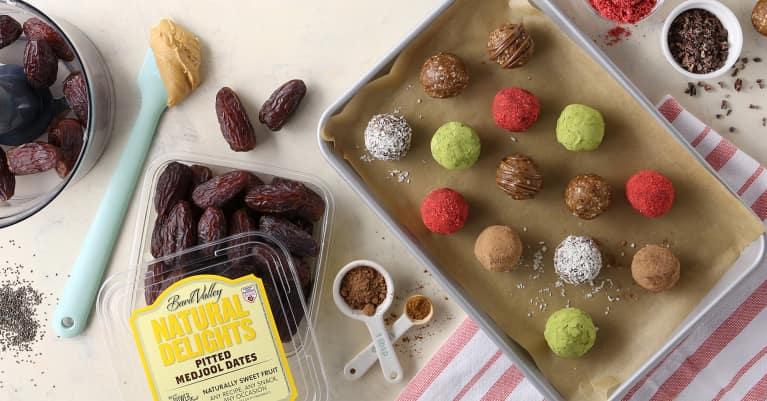 DIY Energy balls may be the best grab-and-go breakfast ever invented. Or the best late afternoon snack, or the best dessert, or the best pre- and post-workout energy food. You get the picture. The beauty of DIY Energy balls is that you can add a wide variety of ingredients based on your own nutritional needs. Plus, they are super portable and easy to make.
Meet Natural Delights™ Medjool dates.
Medjool dates are a fresh whole fruit that are packed with complex carbs, fiber, and potassium, making them the perfect nutritional base to start building your own energy balls. Each serving of Medjool dates (two Medjool dates) has 33 grams of carbs (mostly natural fruit sugar) but are low on the glycemic index thanks to plenty of plant fiber. The fiber helps slow the absorption of sugar in your body, giving you sustained energy without the crash you might get with processed sugars.
We've found that the Natural Delights™ brand of Medjool dates are grown without pesticides, are GMO-free, and are certified heart-healthy by the American Heart Association. You can find them at most grocery stores in the produce department. Medjool dates are naturally sweet with a caramel-like flavor and have a chewy texture that's perfect for holding the rest of your energy ball ingredients together.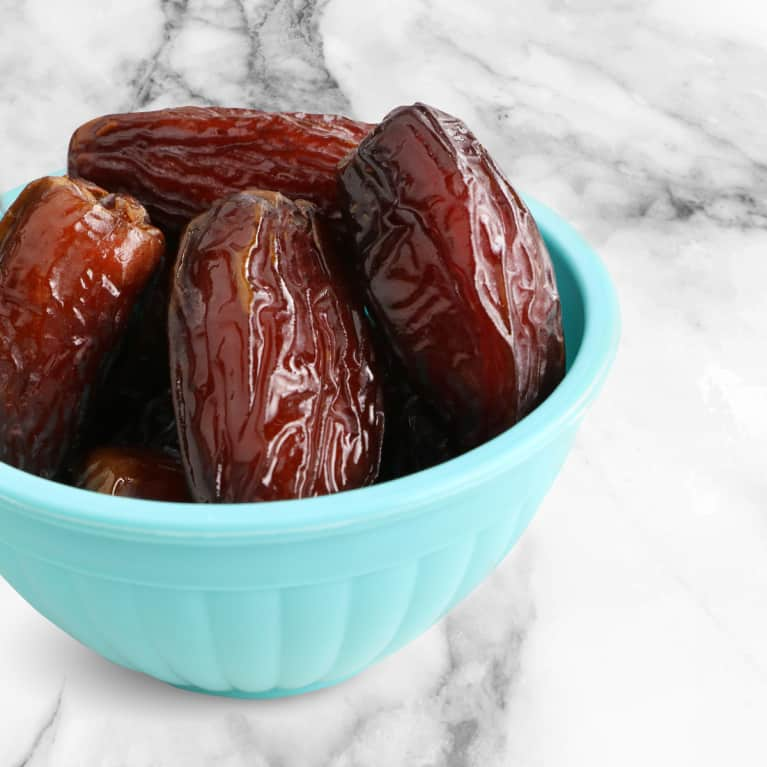 Now that you have your all-day energy-boosting base, the possibilities are endless. Our new favorite recipe includes cacao nibs for some extra vitamins and polyphenols and tastes just like your childhood favorite—cookie dough. Make a batch and keep 'em in the fridge or freezer, so you can have one on hand whenever you need a boost.
Cookie Dough Energy Bites
2 cups cashews
1 cup shredded unsweetened coconut
2 cups Natural Delights™ Medjool dates
½ teaspoon sea salt
2 teaspoons vanilla extract
⅓ cup raw cacao nibs
Maldon sea salt or another flaky sea salt, to top
In a food processor, process cashews, coconut, Medjool dates, sea salt, and vanilla until it starts to clump together.
Pulse in cacao nibs so they're distributed but not homogeneous.
Scoop a rounded spoonful of the mixture and roll into a ball; place on parchment paper.
Press a pinch of Maldon sea salt flakes into the top of each ball. Store in refrigerator until ready to eat.