Avoiding Plastic Is Hard. Here's How 9 People Aim For Progress, Not Perfection

mbg Sustainability + Health Director
By Emma Loewe
mbg Sustainability + Health Director
Emma Loewe is the Senior Sustainability Editor at mindbodygreen and the author of "Return to Nature: The New Science of How Natural Landscapes Restore Us."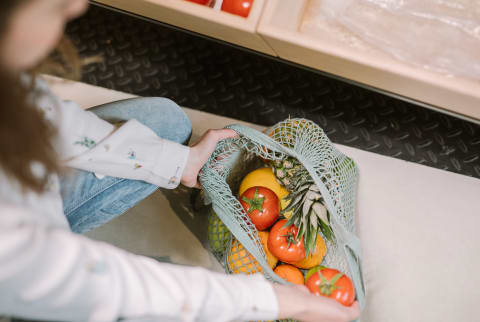 Image by Ani Dimi / Stocksy
August 7, 2019
You just heard the latest terrifying news about microplastics. You vow to make this the week you actually pack your lunch in Mason jars and avoid single-use plastics. Reusable straw in hand, you're ready for anything—until, inevitably, something comes up that leaves you tossing a plastic wrapper in defeat. We've all been there. In a world where plastic is quite literally everywhere, reducing the amount of waste in your life is a challenge in every sense of the word. So we asked nine decidedly eco-friendly women how they deal with inevitable snags in the road. The take-away? Eating plastic-free is a huge challenge—but it's about progress, not perfection.
Advertisement
This ad is displayed using third party content and we do not control its accessibility features.
Image by Martí Sans / Stocksy
Opt for unpackaged food when you can (without depriving yourself).
One challenge I've had in trying to avoid single-use plastic is that some produce items I love, like grapes and berries, are nearly impossible to find not packaged in plastic. So it's just something I try to be conscious about. If it's peak raspberry season and I'm craving them, I'll buy them and then maybe find another use for the clamshell. But if there's something else that sounds just as good that doesn't come packaged in plastic, I might go for that instead. I never want to feel like I'm depriving myself by living a low-waste lifestyle—for me it's just about making decisions from a mindful place.
Advertisement
This ad is displayed using third party content and we do not control its accessibility features.
Keep with it—and don't get discouraged if plastic inevitably comes up.
The biggest challenge in switching to a low-waste lifestyle was the extra effort and thought it required. Leaving the house meant I had to be prepared with my water bottle, coffee mug, napkin, silverware, and grocery bag. However, once I got used to it, it became easier. That all changed once I had my daughter because my thought and effort went to her. The few low-waste practices we are able to maintain with a baby? Buying cloth diapers and wipes. We are slowly getting back into being more mindful about our plastic usage, which is what it takes!
Lead by example.
Having a low-waste lifestyle in 2019 isn't easy. Not even remotely! Our society is designed for ease, which means items are usually fast, cheap, and disposable. I believe that as a community we can generate new social norms that will put pressure on corporations creating the majority of pollution/carbon emissions. By challenging our daily consumption habits, bringing reusables, and being a leader in our family/community, we can help inspire others to do the same. This is how together we can create a new normal!
Advertisement
This ad is displayed using third party content and we do not control its accessibility features.
Use TerraCycle whenever you do end up with plastic lying around.
My whole family is on board with low-waste living and is environmentally conscious. However, I'm definitely the strictest. I don't want to be the plastic police and constantly make those people I love the most feel bad. To remedy the plastic that inevitably creeps into our lives, I make as much food and as many snacks at home as possible, and I purchase a TerraCycle Plastic Packaging Zero Waste Box. TerraCycle is dedicated to recycling the unrecyclable. We fill the box with all the plastic we accumulate and send it to them, knowing that we're at least dealing with the plastic in a responsible way.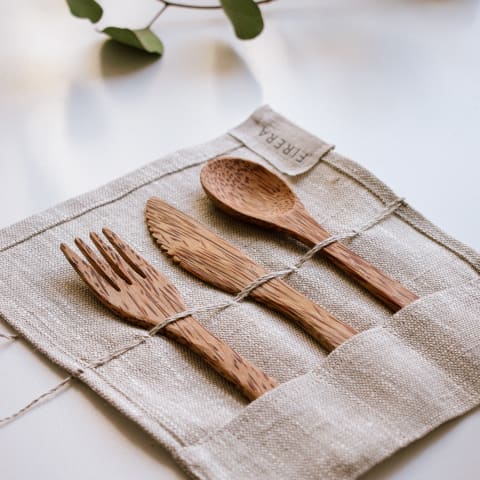 Image by Maria Ilves / Stocksy
Advertisement
This ad is displayed using third party content and we do not control its accessibility features.
Keep a zero-waste tool kit on hand.
Going plastic-free, to me, is a journey. One of my biggest hurdles was not having to resort to plastic when I was on the go. I found myself wanting an iced coffee, needing to use the plastic forks when grabbing a salad, or being stuck with only plastic-wrapped snack options. So now I always leave home prepared with a snack in a glass jar or Stasher bag and with my zero waste tool kit: a travel coffee mug, bamboo silverware, a tote bag, a cotton produce bag, and a water bottle. Carrying these items has helped me to reduce my plastic usage drastically!
Rethink your grocery store routine.
Since switching to a low-waste lifestyle, I'd say the biggest challenge has been avoiding food packaging. I try to stick to more whole foods. I also try to shop in bulk grocery stores (or stores that have bulk sections within them) to get as many of the things I need without packaging. It's also kinda fun scooping out your food and is a great way to get kids involved in the process if you have them. (I don't have kids just yet, but I've seen many parent-kid duos at the bulk section having honest, fun conversations about why they're getting their food from the bins instead of buying something that's prepackaged.)
Advertisement
This ad is displayed using third party content and we do not control its accessibility features.
When you do find ingredients that don't come in plastic, buy in bulk and freeze 'em!
One of the biggest challenges I've encountered since switching to a low waste lifestyle has been choosing to do without some of my favorite foods that typically come packaged in plastic. For example, I love strawberries, blueberries, and raspberries, but they typically come packaged in plastic clamshells at the grocery store. So now I mainly purchase all of my berries in season at the market with my own bags and containers, and freeze as much as possible until they come in season again the following year. The awesome benefit resulting from this change is that I'm supporting local farmers and buying berries in season, so there's less transportation and packaging.
Always keep some simple, unpackaged snacks on hand.
I'm a disorganized person and don't always properly plan ahead to bring home-packed snacks with me when I may be out for an extended period of time. But something that's really helped me is putting bulk-bought nuts and snacks in separate small containers at home on the weekends, so when I'm in a rush to head out the door, I can just easily grab a few of the containers to take with me spontaneously.
Image by Tino Renato / Stocksy
Tote it up.
I believe plastic bags should be completely banned globally, so organic cotton tote bags are my absolute go-to carrier of choice. Unlike in the past, there are finally so many fabulous styles available, allowing one to make a true and important (eco)fashion statement!