paid content
 for

Meet The Low-GI, Energy-Boosting Natural Sweetener That's Going To Change Your Life
Photo by Natural Delights™
April 7, 2018
Having the energy to enjoy exercise and being able to experience a feeling of balance in your mind and body are key to overall wellness. Fueling your body with delicious, healthy food and crowding out the stuff that's not doing you favors can upgrade your day instead of making you feel deprived.
You've probably heard it a million times: Processed sugar can cause negative effects like energy crashes and issues with appetite control, tooth decay, and blood sugar spikes, which, over time, can contribute to inflammation and chronic disease. Additionally, the extra calories sugar adds (without providing additional nutritional benefits) may contribute to weight gain and obesity.
Finding a naturally sweet substitute that also boasts some nutritional benefits can improve your diet and satisfy your sweet tooth at the same time.
Have you tried Natural Delights™ Medjool dates?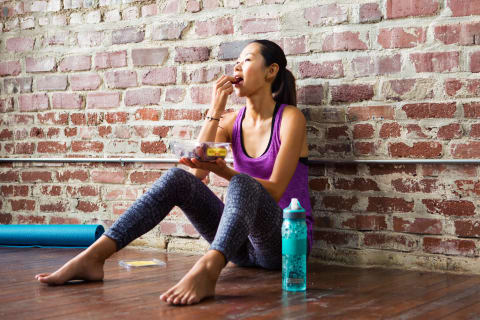 Medjool dates are a whole fresh fruit snack that have amazing pre- and post-workout benefits. Because they're a good source of complex carbohydrates, they're a great way to power up for exercise and support recovery and repair afterward. Enjoy a Medjool date or two as a quick snack before you lace up your sneakers, or toss one into the blender when you make your post-gym protein smoothie.
When you choose a brand like Natural Delights™, you'll rest assured that what you're fueling yourself with is GMO-free, pesticide-free, and certified heart-healthy by the American Heart Association.
While Medjool dates do have a lot of naturally present fruit sugar, they're low on the glycemic index, thanks to their soluble-fiber content. This helps slow the absorption of sugar in your body giving you a sustained energy boost without the crash you might get from processed sugar.
A serving size of 2 Medjool dates (46 grams) provides about 137 calories, 33 grams total carbohydrates (including 3 grams of fiber), and 281 milligrams potassium. Fun fact: Medjool dates have 50 percent more potassium by weight than bananas.
Replace processed sugar forever.
Medjool dates are a versatile sweetener because there are so many ways to use them. You can chop them up to add to sweet and savory dishes like salads, hot cereal, yogurt parfaits, desserts, or toss one into a smoothie. You can also use them to make into a paste or syrup you can add to other foods to make them sweet without processed sugar.
Medjool Date Syrup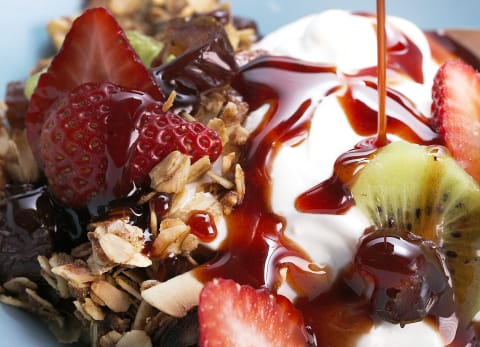 Master this Medjool date syrup to totally change your cooking game. You can use it to replace processed sugar in a wide range of recipes. Use this syrup in smoothies, tea or coffee, baked food, yogurt parfaits, sauces, over oatmeal, in homemade energy bites, and more. Because it's a concentrated sweet liquid, you can use less than you would granulated sugar, so start with 1 teaspoon for each tablespoon of sugar.
6 cups water
4 cups pitted Medjool dates
Bring water and dates to a boil in a large pot. Reduce heat and simmer, covered, for 1 hour, stirring occasionally and pressing dates with the back of a spoon.
Line a large colander with a double layer of cheesecloth. Be sure to leave about 6 inches of overlap at the top. Place the colander over a bowl that's slightly smaller so the bottom of the colander sits above the bowl. Carefully pour the dates and liquid into the colander.
Press the dates well with the back of a spoon to force liquid into the bowl. Fold over the ends of the cheesecloth and place a very heavy pot or bowl directly on the dates. Set aside for 1 hour to drain. When it's cool enough to handle, gather the excess cheesecloth at the top and twist tightly to enclose dates. Squeeze dates firmly to remove as much liquid as possible.
Pour liquid into a medium saucepan and bring to a boil; reduce heat to medium-low and simmer for 30 to 40 minutes or until the mixture has reduced to slightly over 1 cup, stirring frequently. As the mixture reduces, lower heat and stir frequently to avoid scorching. Syrup will thicken as it cools. Makes about 1 cup.
Medjool Date Paste
This Medjool date paste is a bit thicker than the Medjool Date Syrup, and it's a delicious way to add sweetness to baked goods, energy bites, and more. Add spices like ginger or pumpkin pie spice for a little kick. You can also spread it on toast in place of jam or use it in a savory dish like roasted meat or poultry. Use 1 teaspoon for each teaspoon of sugar.
2 cups pitted Medjool Dates, coarsely chopped (about 20 dates)
½ cup very hot water
Place Medjool dates and water in a food processor. Process until fairly smooth to make a coarse paste. If preferred, process longer to make a creamy paste, scraping down the sides as necessary.
Store tightly covered in the refrigerator for up to 1 month.