The Challenge to Continually Challenge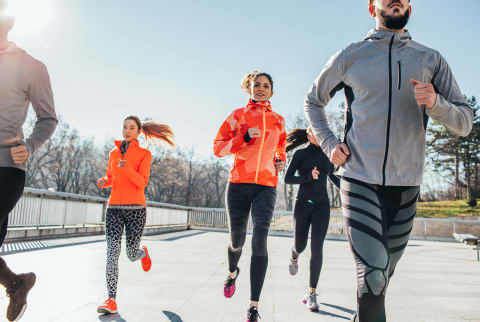 Image by Studio Firma / Stocksy
August 1, 2011
A few days ago, I decided to take a workshop from a visiting fitness expert from Germany. I didn't really know what I was in for, but a friend assured me it was "right up my alley". Armed with a brief description of the class, (cardio focused, derived from yoga, Pilates and weightless sculpting exercises), I decided it was right up my alley, indeed!
The first few minutes were slow and familiar enough. The instructor eased us in to her class with full, flowy movements. And then, somehow, before even realizing it, I was sweating bullets and feeling as though my entire body was on fire! The physical part of the workshop was only about 45 minutes, but by the end of it, I was so exhausted and worked over that I could not even speak. I hadn't dug down to that level for a very long time. The results were humbling.
Advertisement
This ad is displayed using third party content and we do not control its accessibility features.
While I thoroughly enjoyed the experience, the next couple of days proved to be less than comfortable. I couldn't walk the stairs without wincing. My arms felt like lead. And my butt felt like its own separate entity (in the good way). As rough as the after-effects of this class may have been, I felt GREAT! I was elated to feel this awake and alive. I felt strong, engaged, and connected to this new movement experience. I decided immediately to take more classes like this -- classes that were beyond my comfort zone.
When it comes to fitness, it is so easy to continue doing what we are familiar with; what we are good at. Especially when there are very real stages of progression that can be observed while sticking to this one thing. By no means am I undermining that. (Sticking to one thing and doing it regularly can be challenging enough.) But this experience is a perfect example of how good "NEW" feels. Instead of perfecting that arm balance in the yoga studio, swim some laps! Instead of your weekly bike ride, try some martial arts! Instead of running an extra mile, take a dance class!
It has always been my sincere belief that given the chance, our bodies will astound us with what they are capable of doing. Half the battle is pushing past the fear. Who cares if you look stupid (like me throwing kick boxing punches) or feel awkward? If you connect yourself to what you're doing, and not how you look doing it, I promise you will love the way you feel! The victory comes from giving everything you've got to something you never thought was in you. This change in attitude towards your body will remind you of what you already know. YOU ARE LIMITLESS.
Advertisement
This ad is displayed using third party content and we do not control its accessibility features.

Sarra Morton
Guest post written by
Sarra Morton
, a New York City yoga instructor and
Pravassa
collaborator. Sarra will be challenging herself as she leads her first Pravassa yoga vacation this November in
Aruba
.