paid content
 for

The Best Advice On How We Can Live Every Day Like It's Earth Day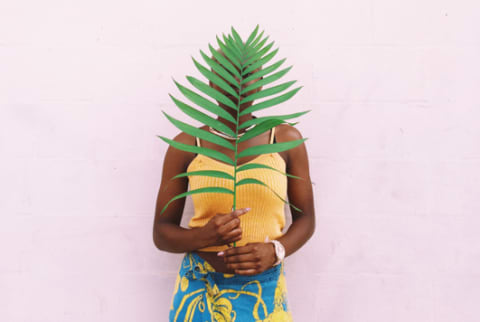 April 26, 2017
This Earth Day, 1 Hotels partnered with mindbodygreen to celebrate the one planet we all share with events across the country, from beach cleanups in Miami to interactive floral displays in Manhattan. In Brooklyn, leading eco-experts gathered for panel discussions on the future of sustainability and the role we all play in it. Didn't catch the fun? Don't worry; we were taking notes.
Here is their top advice on how you can be a more conscious consumer and live every day like it's Earth Day: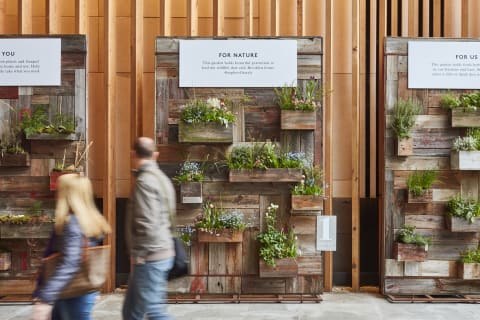 Miachel Breton for mindbodygreen
1. Question your clothes and look beyond labels.
These days, there are plenty of labels making our food industry more transparent (think certified organic, non-GMO, gluten-free, etc.) but not so many for our clothes. The Sustainable Apparel Coalition is working hard to formulate a "nutrition label" for clothing that assigns a green score to footwear and apparel based on its entire life cycle. However, it will probably be another two to three years until we see it in stores.
What can we do in the meantime to ensure that our clothes are produced in an ethical, sustainable way? "Ask more questions and request more information from the company you're buying your clothing from. Be curious and go beyond the label," said panelist Debera Johnson, executive director of the Brooklyn Fashion + Design Accelerator. So educate yourself on how resource intensive the textile industry can be (the average T-shirt uses 700 gallons of water!), and begin to question exactly what goes into the clothes on your back.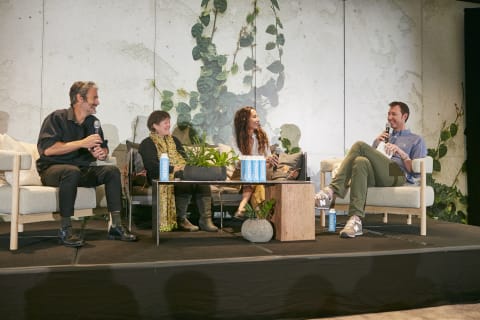 Miachel Breton for mindbodygreen
2. Think about what you actually want to say with your wardrobe.
Honing your own personal style is the first step in quitting fast fashion, or trend-centric clothes that are made to be worn only a few times. "If you examine your own personality, you're probably not going to want to wear the same thing as 10 million other people," explained Scott Mackinlay Hahn, CEO of Loomstate, a line of organic cotton clothing. Instead of dressing to fit what's in style that season, craft your own uniform of thoughtfully chosen pieces that will last year after year.
3. Make the trash can a last resort.
Iconic designer Mara Hoffman thinks it's about time we stop thinking of our clothes as disposable resources. "I think that it's rare we wear our clothes until the end of their life span," she said on Saturday. "We need to shift our habits as consumers and understand our relationship with all material things before we even go out and buy."
Next time you do decide it's time to get rid of a piece of clothing, look into donating it to charity or recycling it to be repurposed (it's easier than you think!). You can also take a cue from Hoffman, who organizes regular clothes swaps within her company, and get a group of friends together for a trade.
4. Start introducing plants into your diet (even if it's a slow process!).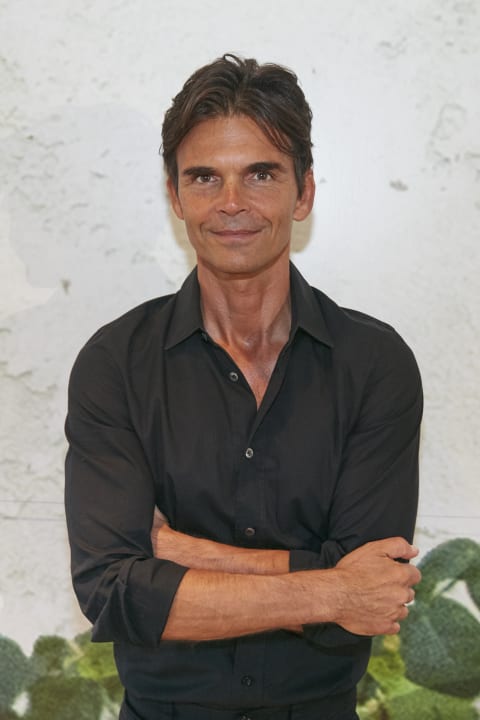 Miachel Breton for mindbodygreen
What do a fine dining chef, a functional medicine doctor, and a farmer have in common? They all believe in the power of plant-based diets. While meat can be eco-friendly if it's raised on a small, ethically minded farm, plants are the more sustainable choice most of the time. You can harness their healing benefits by keeping things simple. Matthew Kenney, the chef behind Plnthouse, reminded the audience that a roasted sweet potato, steamed broccoli, and some chopped shiitake mushrooms are all you really need for a balanced meal. Dr. Robert Graham, the holistic doctor behind Fresh Med agreed, adding that people should listen to their bodies once they start eating more veggies and let their newfound vitality guide their decisions moving forward.
5. Eat seasonally.
Eating locally with the seasons can cut down on your diet's carbon footprint as well as save you some serious cash. Sam Berenstain, the farm manager at Riverpark Farm in NYC, explained how farmers basically give away seasonal produce at markets. He said that big leafy greens like kale, collards, and bok choy are all super cheap in our area right now, and spring vegetables will be coming in soon. If you don't live in New York, get to know the faces at your local farmers market, ask them what they have a lot of, and eat up!
6. Get to know your water.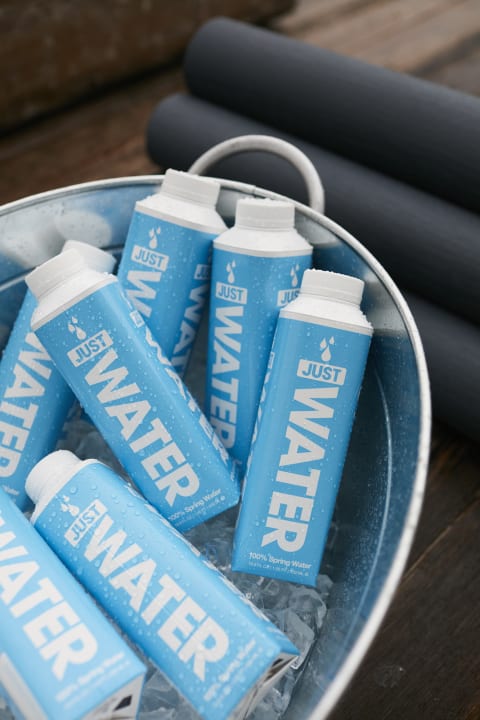 Miachel Breton for mindbodygreen
"Traditional bottled water separates us from our watersheds. If we think that water comes from a bottle, we don't have to think about where it really comes from," explained Dr. Christiana Peppard, a water ethics expert and professor. We can find ways to make the invisible visible by getting to know our region's tap water in the same way we get to know its food. Drew Fitzgerald's JUST Water sets a model for this by printing the watershed of origin on every bottle, so keep an eye out for brands like this too.
7. Research water contaminants, but don't freak yourself out.
The incident in Flint, Michigan, reminded Americans that we shouldn't take potable drinking water for granted. While our tap water is really clean on average, getting yours tested at home may not be a bad idea. If you'd like to take more aggressive action to filter any compounds out, you can install a reverse osmosis filter.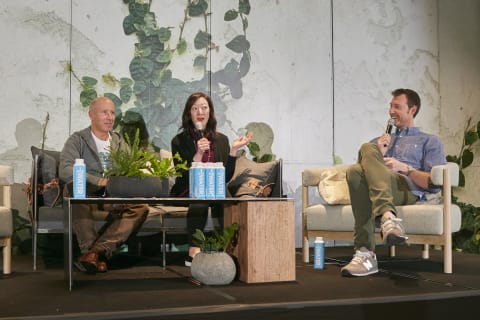 Miachel Breton for mindbodygreen
8. Don't underestimate your power to inspire change.
"In the U.S., we need to walk the walk and talk the talk in terms of sustainability. We can all do a little better and we can make a huge difference," Barry Sternlicht, the founder and CEO of 1 Hotels, reminded the Earth Day audience in a powerful address. But how can we enact real change under the current administration? There are oh-so-many ways: Clean up your individual decisions by making some of the aforementioned changes, call a member of Congress, volunteer with an environmental organization, or join the March for Climate Action in D.C. this weekend. "Frankly, that's the only thing that ever has made a difference: People standing up for what they believe in," added president of the National Resources Defense Council Rhea Suh.
Show us how you celebrated Earth Day, tagging @mindbodygreen, @1Hotels, and #1EarthDay.