Apparently, Women Are Most Productive When The Thermostat Is Set To This Temp

mbg Beauty & Wellness Editor
By Jamie Schneider
mbg Beauty & Wellness Editor
Jamie Schneider is the Beauty & Wellness Editor at mindbodygreen, covering beauty and wellness. She has a B.A. in Organizational Studies and English from the University of Michigan, and her work has appeared in Coveteur, The Chill Times, and Wyld Skincare.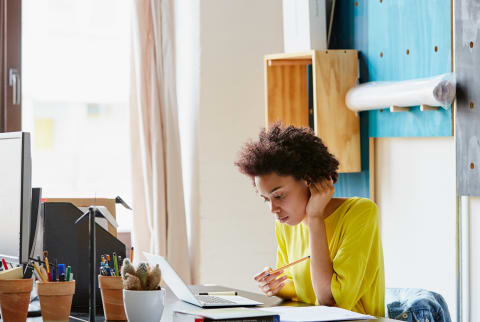 Image by ALTO IMAGES / Stocksy
Our editors have independently chosen the products listed on this page. If you purchase something mentioned in this article, we may
earn a small commission
.
October 4, 2021
They call it the thermostat wars: When the temperature tends to creep in one direction (typically in office settings), a group of people might alter its course, perhaps cranking it up a few degrees; a few days later, the opposing group dials it back down. Rinse and repeat.
But this battle over the thermostat is more than some passive-aggressive office feud. Says neurohacker and MIT- and Harvard-trained brain researcher Elizabeth Ricker, author of Smarter Tomorrow, on the mindbodygreen podcast, temperature regulation can actually affect your productivity—women's performance in particular.
Advertisement
This ad is displayed using third party content and we do not control its accessibility features.
The best temperature for women's productivity.
"On average, women tend to perform best when the temperature is warmer," Ricker declares. "Say, around 75 to 77 degrees." Men, on the other hand, are more productive when the thermostat is set lower—closer to 72 degrees, she says. This is a sweeping generalization, of course, as not all women and men may have these preferences (and research doesn't take other genders into account, either)—but for now, that's where the science stands.
Specifically, one 2019 study of 543 participants found that women performed better on math and verbal tasks at higher temperatures (while the opposite was true for men). Interestingly, though, the increase in productivity for women at warmer temperatures had a very significant effect, while the decrease in performance in men was there, but less pronounced. Meaning: Women's productivity can really benefit at warmer temperatures; men do their best work at cooler temperatures, but their productivity doesn't actually suffer too greatly when it's warmer. Another study found that when men and women were exposed to the same temperature, women still reported feeling colder and more uncomfortable than men.
"A lot of people don't realize that they are systematically putting themselves in environments where they cannot function at their best," says Ricker. In the case of chilly workspaces, "there [may be] a group of people who is not necessarily doing it on purpose, but they're optimizing for their own functioning."
But being too warm has its drawbacks, too. 
That's not to say you should crank up the heat too high. Says Ricker, a too-hot environment can have negative effects on performance, regardless of gender. She references a study in China, where researchers analyzed students taking the gaokao, China's National College Entrance Examination, in non-air-conditioned environments during a heatwave. As the temperature climbed higher, the students' test scores suffered. "All of the kids did much worse because it was during a heatwave," Ricker adds.
All that to say: Women may perform better at warmer temperatures, but being too warm does have its drawbacks. "Your brain just can't function if it's outside of a particular temperature range," she says. (But for what it's worth, the 75-to-77-degree range she mentioned above likely won't have those effects.)
Advertisement
This ad is displayed using third party content and we do not control its accessibility features.
The takeaway. 
According to Ricker, women may be more productive at warmer temperatures (just not too warm). There are, of course, individual differences to mind, but if you do find yourself shivering at your workspace, it might be harping on your concentration—which, in turn, can affect your performance. And if you do find yourself in a thermostat battle, feel free to use the science above as your point of debate.
Advertisement
This ad is displayed using third party content and we do not control its accessibility features.
Reset Your Gut
Sign up for our FREE doctor-approved gut health guide featuring shopping lists, recipes, and tips