Close Banner
Advertisement
This ad is displayed using third party content and we do not control its accessibility features.
paid content
 for

The Best Superfood Breakfasts for Every New Year's Resolution
While we don't believe in making empty resolutions that we feel like we "should" do something, we are all about making positive shifts that make us feel our best. Because breakfast is (arguably) the most important meal of the day, we thought we'd share four functional breakfast ideas that correspond to popular 2018 intentions. Think of it as a Choose Your Own Wellness Adventure-style mission — pick a resolution, get a breakfast idea that you can customize with a related superfood mix, and start your day in alignment with your intentions.
Your Super is a great place to start to explore the benefits of superfoods without any sweeteners (artificial or otherwise) or fillers with ingredients that are responsibly and sustainably sourced. Your Super is also 100% transparent about where these top-quality ingredients are coming from, so you can stay informed and connected to the food you're eating and adding to your breakfast. And of course, the following ideas are only suggestions! Try to come up with ways that you can harness the powers of Your Super to create your ultimate breakfast for the new year.
If your resolution is to transition to natural beauty products
Natural beauty products are awesome, but we all know that great skin and that healthy glow comes first and foremost from within. Support your skin goals from the inside out by using this Organic Forever Beautiful superfood mix in a berry parfait. Rich in antioxidants and vitamins A, C and E, this powder gives your breakfast the extra beauty boost you need to support your skin.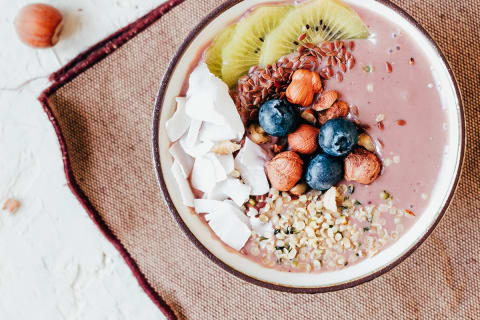 Forever Beautiful Parfait
How to do it: Stir 2 tablespoons of Organic Forever Beautiful powder into a cup of your favorite yogurt (we love plain Greek or coconut yogurt as a reliable base). Once you've mixed the powder into the yogurt, layer it in a jar with berries (fresh or frozen and thawed both work), toasted coconut flakes and almonds, or your favorite low-sugar granola.
If your resolution is to cut back on coffee
So you love coffee … but maybe a little too much. You still want that energy boost without the intensity and jitters of coffee — enter matcha. Do yourself a favor and incorporate Organic Power Matcha Mix into your overnight oats. You get a natural energy from the matcha and adaptogen maca, plus extra greens in your breakfast from the moringa, wheatgrass and barley grass — all of which will leave you feeling clear headed and focused all morning.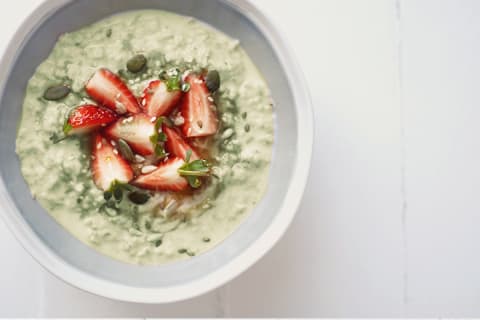 Power Matcha Overnight Oats
How to do it: Combine ½ cup rolled oats, ½ cup coconut milk, 1 tablespoon Organic Power Matcha Mix, and 1 mashed banana in a glass jar and store in the fridge overnight. In the morning top with fruit, toasted nuts, honey (optional), or whatever toppings you prefer.
If your resolution is to cut back on sugar
Replace sugary sweets with a low-sugar, chocolatey alternative that makes you feel like you're treating yourself at breakfast (while simultaneously fueling you). Use Organic Chocolate Lover Mix to make a breakfast chia pudding. The combination of cacao, coconut, chia seeds, and naturally sweet (and low glycemic) lucuma naturally boost your mood, can reduce stress, and feed your cravings first thing without messing with your low-sugar goals.
Chocolate Lover Chia Pudding
How to do it: Combine 3 tablespoons Organic Chocolate Lover Mix with 2-3 tablespoon chia seeds, ½ cup almond or coconut milk, a tablespoon of peanut butter, and a little maple syrup (optional). Whisk everything together to combine and store in the fridge in a cup, small bowl or glass jar overnight. Enjoy in the morning with extra peanut butter, fruit, and any other toppings you'd like.
If your resolution is to reboot and feel your best
For more focused mornings, keeping your blood sugar in check, and getting your bod back into balance after the holidays, opt for a smoothie made with Organic Skinny Protein Mix. It has all the essentials — plant-based protein (60%), fiber, and greens while being low-carb and sugar-free with no artificial sweeteners. Make sure you add a bit of healthy fat to your smoothie in the form of nut butter, avocado, or coconut milk, to keep you energized and satisfied all morning. The combination of all these elements will help you bounce back and feel good all year long.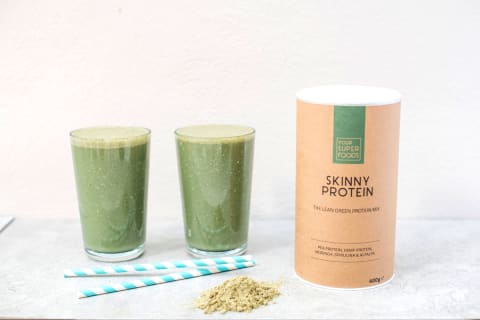 Skinny Protein Smoothie
How to do it: Combine a plant-based milk (use coconut to double as your healthy fat), 2-4 tablespoons of Organic Skinny Protein Mix, a handful or two of spinach, ½ a frozen banana, frozen berries, and your healthy fat of choice and blend until smooth.