The One Snack You Should Eat Daily For Thyroid Health (According To A Hormone Doctor)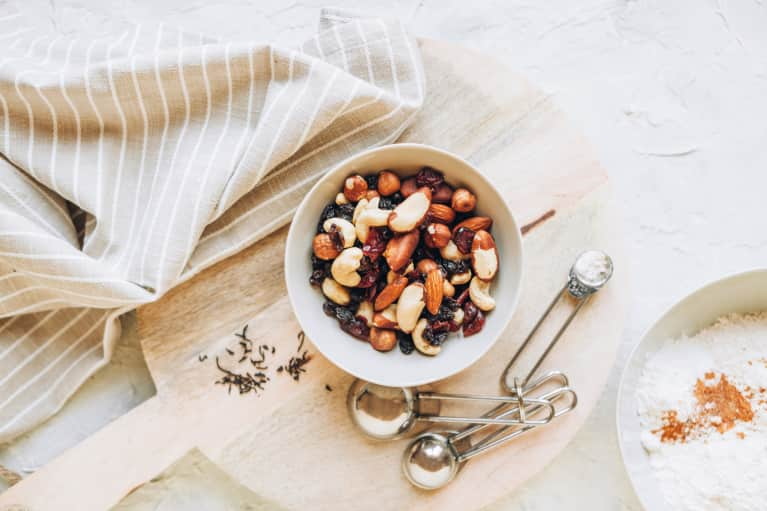 Our editors have independently chosen the products listed on this page. If you purchase something mentioned in this article, we may
earn a small commission
.
Taz Bhatia, M.D., is a functional medicine doctor, licensed acupuncturist, and the author of a number of books, including the newly released megahit,
Super Woman Rx
. She's also one of the lauded instructors in our first-of-its-kind
Advanced Functional Nutrition Program,
where we bring the best minds in nutrition together to dive deep into the healing power of food. You can find out more about Dr. Taz, the rest of the faculty (including groundbreaking doctors like Mark Hyman and Frank Lipman), and this revolutionary training
here.
Your thyroid gland sits at the base of your neck and is responsible for producing and releasing the hormones triiodothyronine (T3) and thyroxine (T4). These chemical messengers are intimately involved in regulating your metabolism, weight, energy levels, mood, and hair. Thyroid hormones also influence many other hormones in your body including the stress hormones cortisol and adrenaline, which are manufactured and released by your adrenal glands, and those produced by your ovaries, estrogen and progesterone. In other words, your thyroid is important!
According to the American Thyroid Association (ATA), one in eight women will develop a thyroid disorder at some time in her life. To help heal and balance your thyroid, it helps to include certain nutrients in your regular diet, including selenium, magnesium, and iodine. It's also important to avoid inflammatory foods and to boost antioxidants.
The following mix is one of my favorites, both for its convenience and thyroid boosting abilities (and, of course, it's delicious). Altogether, this recipe is jam-packed with thyroid health—and also helps to balance your other hormones. Let's break down the six super-thyroid benefits in this recipe:
Brazil nuts are rich in selenium, a nutrient that protects your thyroid gland from oxidative damage.
Iodine found in iodized or pink salt is an element that is needed for the production of both hormones T3 and T4.
Almonds are rich in magnesium, which is a super micronutrient that is a key cofactor in hormone regulation and stress reduction.
The recipe is gluten- and sugar-free, avoiding two of the major inflammatory foods that can cause hormone imbalances.
Honey is a natural anti-inflammatory food, good for promoting hormonal balance and function.
Dark chocolate provides antioxidants that can help prevent tissue damage to your thyroid.
Who doesn't love trail mix? This mix is one of many thyroid-supporting recipes you'll find in my book Super Woman Rx. This trail mix is packed with selenium and iodine to support your thyroid. Plus, this recipe makes eight servings, so you can mix up a batch and have it on hand for a daily snack all week—and it's substantial enough to make a quick on-the-go meal. Just mix it up and then portion it out into ½-cup servings and zip them up in plastic bags.
Ingredients
1 cup roasted, unsalted Brazil nuts
1 cup almonds
½ cup dark chocolate chips
1 cup any gluten- and sugar-free cereal
2 teaspoons pink or iodized salt
1 to 2 teaspoons dark honey
In a bowl, combine the Brazil nuts, almonds, chocolate chips, cereal, salt, and honey. Mix well.
Portion out into ½-cup serving. Eat one serving per day.