Found: The Top 8 Plant-Based Protein Sources (No Powders Allowed!)

Contributing Food Editor
By Liz Moody
Contributing Food Editor
Liz Moody is a food editor, recipe developer and green smoothie enthusiast. She received her creative writing and psychology degree from The University of California, Berkeley. Moody is the author of two cookbooks: Healthier Together and Glow Pops and the host of the Healthier Together podcast.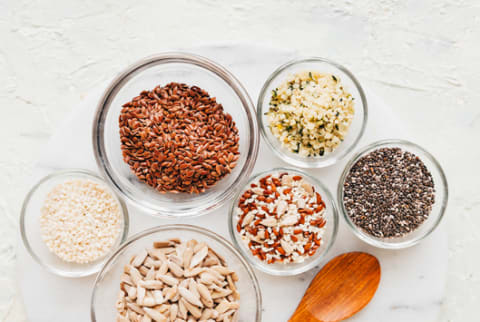 March 14, 2017
While we love the many protein powders available these days as much as the next person (whey, collagen, brown rice, oh my!), sometimes, you just want to get your protein from food that looks like, well, food. To be clear, we're all about sustainable and ethical animal protein sources like wild-caught fish, pastured eggs, and grass-fed and finished beef if it works for your body, but everyone knows those foods are rich in protein, so we wanted to give you options in the plant-based realm.
How much protein do you actually need?
According to Dr. Will Cole, a functional medicine practitioner, the amount of protein someone should get in a day depends on many factors such as their body size, weight, and how much activity they do. "Too much protein is definitely not healthy, with toxic by-products and a potential to spike blood sugar," he says (another downside of protein powders which make it easy to overdose). "Too little protein can contribute to fatigue and poor blood sugar regulation. Somewhere between 15g and 35g of high-quality, real food, protein per meal is generally a good range."
What is a complete protein?
A complete protein refers to foods that contain all nine of the necessary amino acids that your body can't produce on its own. While you really only need to consume all of the amino acids in a day's diet (having rice, say, at one meal and beans at another would be completely fine), it can make it easier to just get all nine in one meal, which is what these single foods or simple combinations are designed to do (all animal protein is complete).
What you'll notice is missing from this list
Artificial proteins, like the fake meat products you'll find in the freezer section, and soy, both of which many of our doctors agree aren't great options. "Soy can wreak havoc on hormone levels because it mimics estrogen in the body, blocking normal estrogen from binding to receptors, which leads to decreased testosterone and inhibited thyroid function," explains Dr. Serena Goldstein. "Soy is also one of the most genetically modified crops, meaning that it is loaded with toxic pesticides that can further lead to hormone imbalance."
Top 5 Complete Protein Sources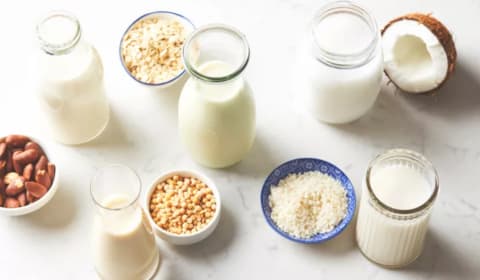 Hemp Milk
Photo by Stocksy
1. Hemp seeds (or hulled hemp hearts)
Hemp seeds contain a whopping 10 grams of protein for every 2-tablespoon serving. They're my personal go-to in lieu of protein powders in a smoothie (I just toss in a few heaping spoonfuls and blend—it also adds a super creamy texture and healthy fat necessary to absorb the fat-soluble vitamins) and they're one of the easiest ways to make your own homemade dairy-free milk in under two minutes. P.S. Repeat after me: Hemp seeds will not make you high. Hemp seeds will not make you high. If you wanna get high, you'll have to hit up something with far more THC.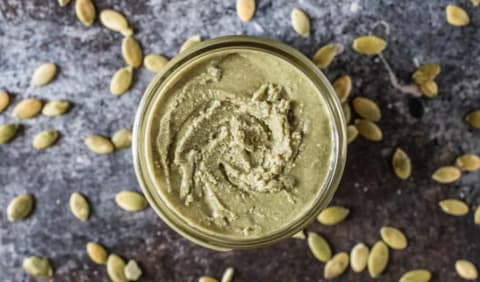 Pumpkin Seed Butter
Photo by Christina Bedetta
2. Pumpkin seeds (or pepitas)
Pepitas are so often overlooked in the protein world, and I'm not quite sure why. These little guys have 10 grams of protein per quarter-cup serving, in addition to calming magnesium and immune-boosting zinc. Go for the raw, shelled variety, then toast 'em with some coconut oil and sea salt or tamari for a to-die-for salad topping, or blend them into your morning smoothie for a creamy, protein-packed touch. Tossed with maple syrup, sea salt, cinnamon, and just a touch of cayenne, and roasted in a 375-degree oven until golden brown, they make an addictive snack that will stop any sweets cravings in their tracks. You can also whip up a batch of pumpkin seed butter that's great on toast or as an oatmeal drizzle.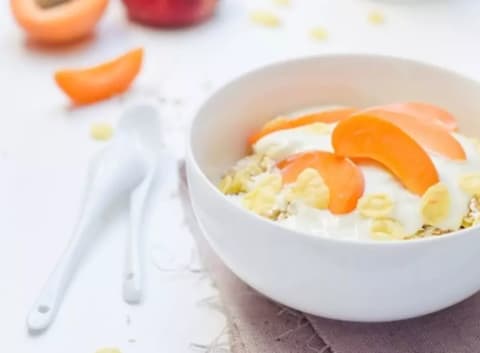 Amaranth Breakfast Porridge
Photo by Naomi Teeter
3. Amaranth
An ancient grain that's catching on more in the culinary world, amaranth has 9 grams of protein per one-cup serving. Naturally gluten-free, amaranth is also easy on the digestive system and rich in bone-building vitamins. With a nutty, toasted flavor and a texture similar to a smaller quinoa, amaranth is an easy swap in grain bowls, and it makes a breakfast porridge worth waking up for.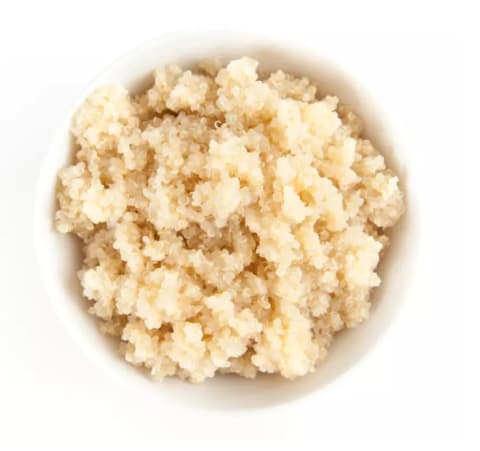 Perfectly Fluffy Quinoa
Photo by Stocksy
4. Quinoa
Ah, the once-unpronounceable darling of the health food world, it's not surprising quinoa has become such a staple when you consider its nutritional profile—8 grams of complete protein per one-cup serving. I love to make a big batch of quinoa on Sunday and top it with vegetables or leftover soup for an easy weeknight dinner or turn it into a high-protein porridge base by topping it with almond milk, some fresh fruit, and crumbled nuts (pistachios steal my heart).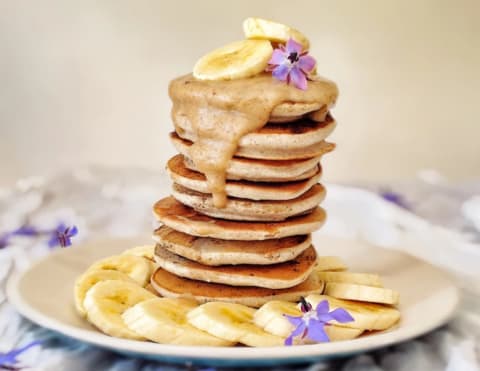 Buckwheat Pancakes
Photo by Kyra Howearth
5. Buckwheat
Buckwheat isn't a wheat at all but a gluten-free seed with 6 grams of protein per one-cup serving. I love its nutty, rich flavor and will often reach for buckwheat flour in my pancakes (these chai-spiced ones are delicious) or swap out my morning oatmeal for soaked buckwheat groats. Here are seven other easy recipes that will make it one of your go-tos.
Top 3 Incomplete Proteins (+ Exactly What To Eat To Make Them Complete)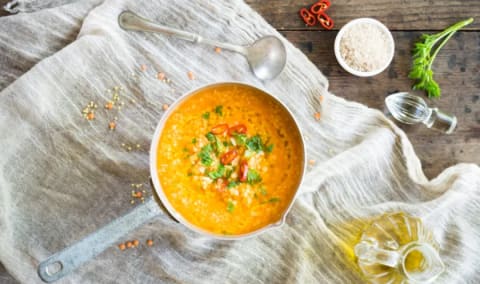 1. Lentils
With 18 grams of protein in a cup of lentils, they're a protein powerhouse. They lack the amino acids cysteine and methionine, so on the same day you eat lentils, be sure to consume some whole grains or a handful of nuts. Ayurvedic kitchari is one of my favorite ways to eat the pairing, as it brings together brown rice and lentils (along with peas, making it an amazingly protein-filled option),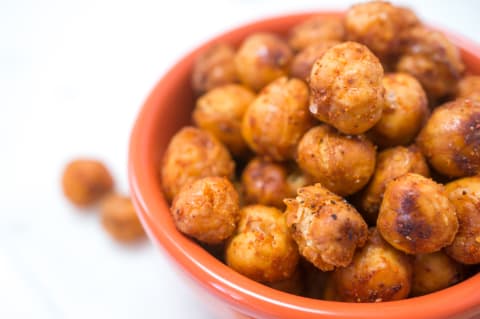 BBQ Chickpeas
Photo by Liz Moody
2. Chickpeas
Chickpeas might be my favorite food on the planet right now; besides having a whopping 14 grams of protein per one-cup serving, they're incredibly versatile and can be used in everything from hummus to salad toppings. I personally love to roast chickpeas with my signature BBQ spice blend—the savory-sweet combo gets me every time, and they're perfectly poppable, sized just right for snacking. To get complete protein, eat them in the same day as a handful of nuts (pistachios, almonds, and cashews are my top picks).
Pistachio Salad
Photo by Lily Simpson
3. Pistachios
Ah, is there anything more delicious or decadent than sweet green pistachio flesh? With 6 grams of protein per ounce-sized serving and a texture that can only be described as meaty, these will satisfy all of your cravings. There's almost no way I don't like to use pistachios, whether I'm crumbling them on top of overnight oats, making them into a milk, turning them into a pesto, mixing them into cookies, or using them to spice up a salad. To get complete protein, eat pistachios on the same day as a legume like chickpeas (eating some hummus or tossing roasted chickpeas into your salad).