We're lucky to live at a time when cutting dairy from your life doesn't have to be difficult—and can even be delicious. With such a huge variety of dairy milk alternatives out there, each one bringing different health benefits and flavors to the table, the hardest part might be choosing the right one. So, we sifted through some of the most popular plant-based beverages to help you determine which one is best for your needs.
First things first, look out for:
Organic. Generally, products with an organic label are produced without synthetic pesticides and artificial fertilizers, adhering to specific USDA standards.
Ingredients. Ideally, a plant-based beverage should be made with a short list of good-quality ingredients. Check out the label!
Sweetness level. If you want to cut added sugars out entirely, just seek out an unsweetened variety.
Make the dairy milk swap with these 4 plant-based substitutes: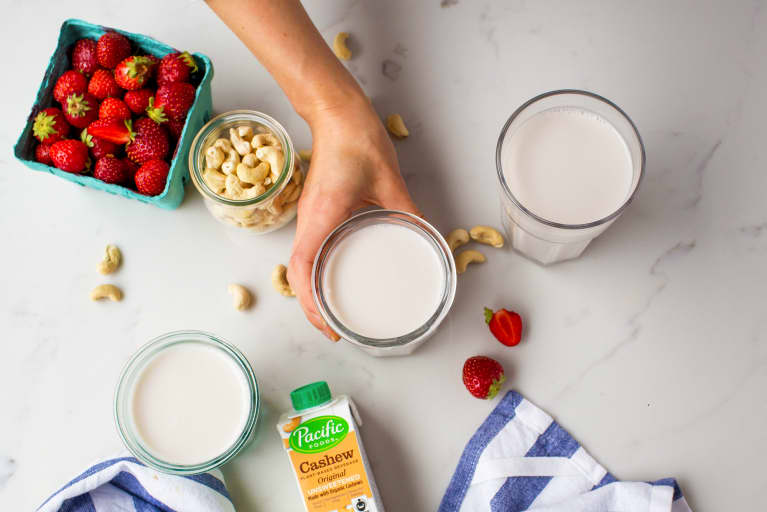 Plant-based beverages made from cashews have a smooth texture that makes it ideal for a variety of different dishes: Its light creaminess and mild flavor work well in both sweet and savory applications. Pacific Foods' version uses Fair Trade Certified cashews, ensuring that the ingredient is sourced responsibly. Its Unsweetened Cashew Vanilla makes a flavorful banana bread, and its Unsweetened Cashew Original beverage can be used a base for a hearty pasta sauce with nutritional yeast.
Keeping an unsweetened coconut beverage in the pantry is an easy, ready-to-go ingredient for meals and snacks that could use a little authentic coconut flavor. The Pacific Foods Coconut Plant-Based Beverage contains vitamin D and is naturally sweet, so it tastes delicious on its own as a drink and is right at-home in chia puddings and creamy ice pops. It can also work well in Asian-inspired dishes like Thai curries and Indian dahls as a lighter alternative to heavy canned coconut milk.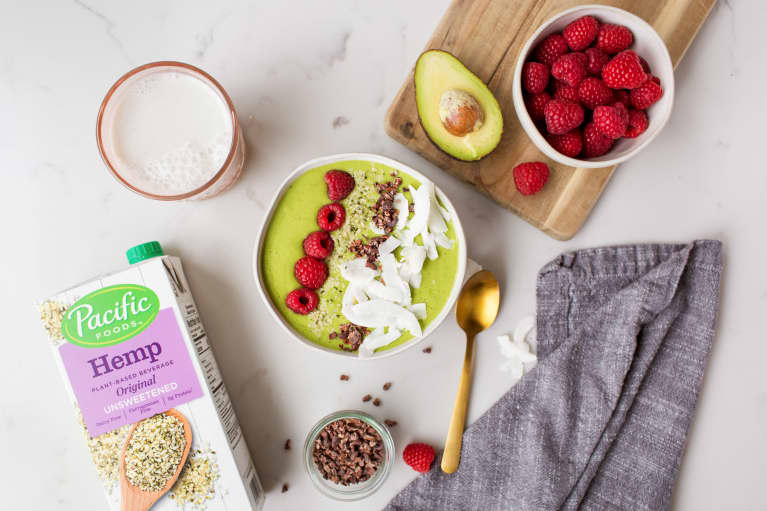 Hemp seeds are excellent for getting those essential amino acids (the building blocks of protein), Omega 3s and 6s for supporting heart health, as well as nutrients like magnesium and potassium. A nice alternative for those with nut allergies, hemp plant-based beverages can be used as a creamy base to add a mild, nutty flavor to smoothies, salad dressings, and tonics. Hemp is especially great for baking because it adds extra fluffiness to pancakes and muffins and easily adapts to the flavor of whatever you're cooking up.
Plant-based beverages derived from oats lend a sweetness to hot and cold cereals, coffee drinks, and your favorite baked goods. Nutrients in Pacific Foods' Organic Oat Original include 4 grams of protein as well as 1 gram of soluble fiber—eating 3 grams of soluble fiber from oats every day may help lower cholesterol. Plus, it's low in fat if that's a consideration. Oat beverages have a lush texture while still maintaining a lightness, so it's easy to drink straight in a chilled glass on its own.
Whether you're looking for a permanent vegan dairy substitute for your pantry or simply something new to add to your smoothies or superfood lattes, there's a plant-based beverage out there that's a perfect fit for your needs. Give one or two of these a try to see how they can improve your dairy-free routine.