This Advice Will Keep Your Houseplants Alive Forever & Ever
We've officially reached peak houseplant season: a time when windowsills without succulents just look drab and a fiddle leaf fig in the corner is the ultimate statement piece. We hope the trend is here to stay, as new research is popping up every day on greenery's ability to help us live longer. And with more resources than ever to help the beginner plant parent, our green thumbs are getting pretty darn shiny. Here's some of the best advice out there on how to display and tend to your houseplants.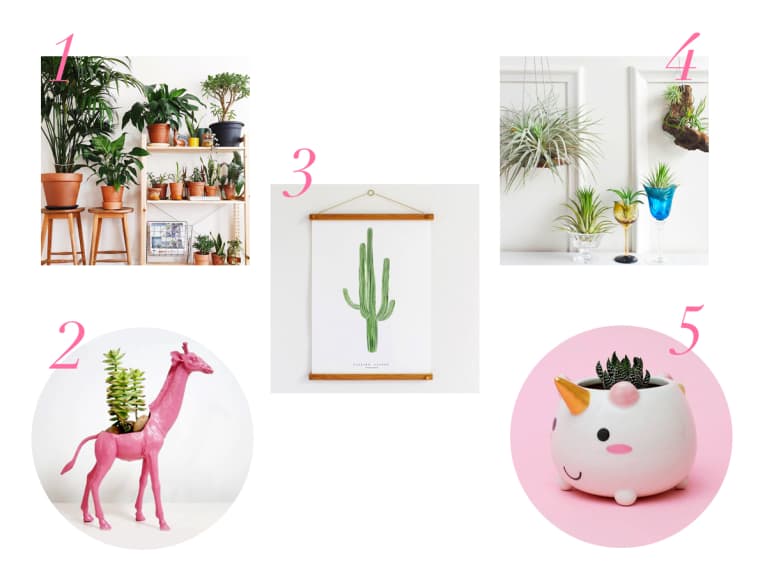 So you bought a houseplant you love—now what? Here are a few fun, creative ways to show off your new greenery when a mason jar or vase just won't cut it.
1. Stick with a color scheme.
If you want to experiment with grouping different types of plants and planters (to which we say, go for it!), try unifying them with a color scheme. We've seen it done really beautifully with soft creams and terra-cotta shades, but why not go bold with oranges and reds or purples and pinks?
2. Let your inner kid come through.
3. Put plants on plants on plants.
Play up your greenery theme by placing your plants inside a mug with a leaf motif (like this one from IKEA's spring collection) or in front of floral prints (we love this cute cactus from Living Pattern).
4. Ditch the planters altogether.
Tillandsias, or air plants, are a unique breed of plant that doesn't require soil to grow, often found perched atop rocks or twigs in nature. You can use these beauties to make your own living, breathing wall display. Just hang, mist, admire, repeat.
5. Embrace the trend of the moment.
The unicorn trend doesn't have to be relegated to our sugar-ridden frappuccinos. Release the mystical creature from your to-go cup and experiment with unicorn-centric planters for your home. Who knows, maybe some of those magical vibes will rub off on your plant pal?
How to take care of them:
Now that you've housed your plant, let's talk about how you can keep it alive as long as possible. There's tons of information out there on how to set your houseplant up for success, so let's distill it down to the top care tips that hold true for most varieties. Remember that care instructions vary from plant to plant, though, so look into what your plant needs before you buy it.
During a recent plant care workshop at The Sill, one of NYC's buzziest greenery shops, I was reminded that lighting, not water, is usually the most important factor in a plant's health. One of their resident botanists introduced me to Sun Calc—a website that will tell you exactly how much sun your windows will get on any given day so you can decide on plant placement accordingly. If a plant is a fast grower, it's a fast eater, so it needs plenty of bright light. Slower growers, on the other hand, can handle some shade.
2. Get your watering right.
Overwatering is just as bad as underwatering! One easy way to determine if it's time for a watering is to just stick your finger in the soil to see if it's too dry or too damp.
Certain plants, like cactuses and aloe vera, are perfect for propagating—or chopping off a section to grow your own. If you want to put your green thumb to the test but don't have an outdoor garden to do it in, give this one a shot! You can do it with avocados, too, by the way...
Inspired to start your own indoor jungle? This primer will help you find the perfect low-maintenance houseplants for your space. Looking for ones that vibes with your zodiac sign? We've got you covered there too.