The 7 All-Time Best Clean Beauty Tips, From Our Favorite Pros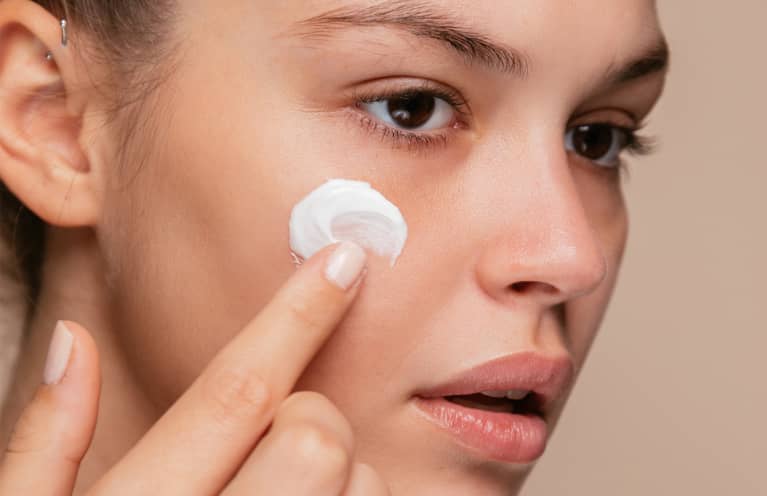 This article was produced to support the mindbodygreen supplements+ line. Our supplements adhere to the highest standards of ingredients and quality. We hope you enjoy these products, for more information
click here
.
There's a holiday for everything—and today, folks, we have Clean Beauty Day. And while the day really amounts to nothing more than a marketing ploy and a day to "celebrate" on Instagram—we'll certainly take whatever excuses we can to share some of our favorite tips and quotes from beauty experts in our space.
Here, the best advice around from clean beauty pros:
"In traditional medicine, doctors are there to put out fires, but if we take a step back and educate people on how to care for their skin in a prophylactic way, you can not only help with accelerated aging—but perhaps stop people from developing certain skin conditions later. Think about that version of you 10 years from now—what can we do today to prevent skin conditions from forming?" —mindbodygreen Collective member and board-certified dermatologist Whitney Bowe, M.D.
2.
Use and respect nature.
"[My mom] used to save scraps from the kitchen, be it orange peel leftovers from making orange juice that morning, or maybe papaya seeds that no one wanted to eat with the fruit. She used to make her own face masks and treatments with these kitchen ingredients instead of throwing them away. She would also make her own hair-conditioning treatments with henna, alma, soap nut, and shikakai. I think of those memories fondly. She taught me how everything we need already exists in nature and that these natural elements could be just as effective as conventional products. I have come to appreciate this synergy very much." —Krupa Koestline, clean cosmetic chemist and founder of KKT Consultants
3.
Check in on your skin — with kindness.
"You could be someone who knows everything about every ingredient in your skin care routine, and if you still pick yourself apart in the mirror, it can cause stress and that inflammatory response. You want to train yourself to have this mindful daily check-in. Ask yourself, how am I feeling in my skin? For me, the biggest difference I noticed in my skin and my approach to my routine was when I stopped attacking my skin and stopped being too critical." —licensed esthetician Hayley Wood, founder of Therapeutic Skin Coach
4.
Care for your scalp like the rest of your skin.
"Our scalps are bombarded by products that we put on our hair and scalp, bombarded by environmental toxins, pesticides, cigarette smoke, UV damage, pollution, all these stressors—and you know, all of these stressors cause inflammation on the scalp due to free radical exposure. So much of what causes hair loss comes down to inflammation and the ability to fight inflammation." —board-certified dermatologist and hair care expert Raechele Cochran Gathers, M.D.
5.
Focus on longevity over quick fixes.
"Facial rejuvenation, the whole idea of it is obviously to treat the outside, but we want to go deeper and treat the inside on an energetic level. It's investing in the future; it's not topical quick fixes, but it's lifelong and deeper. That's where true beauty lies." —facial acupuncturist specialist Debbie Kung, DAOM, L.Ac.
6.
Rethink society's definition of beauty.
"The beauty industry has attempted to take this intangible, philosophical concept of beauty and push it into this narrow understanding of physical beauty. And I think that's why we're never really satisfied with physical beauty. We keep buying more, wanting more, trying new things, and applying new things because we're searching for this satisfaction that cannot come solely from the physical. We're searching for beauty in an industry that is only serving it to us by its definition." —beauty expert and journalist Jessica DeFino
7.
Set boundaries for yourself and your skin.
"Whenever I go to a dermatologist or esthetician, I tell them right away before they can even suggest it: I don't want Botox or filler, so we won't be discussing this today. When you set boundaries, you are telling people, directly or indirectly, that they can not influence you to have an unhealthy relationship with your skin or your looks." —behavioral scientist Perpetua Neo, DClinPsy