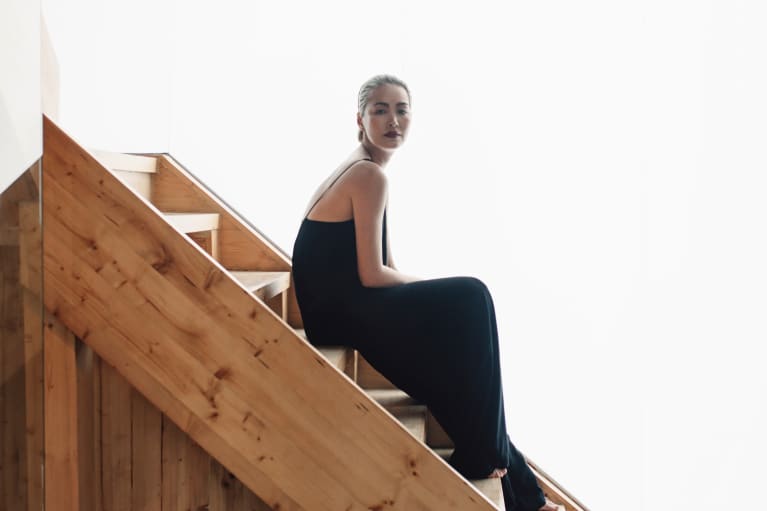 At mbg, weekends are a sacred time of the week. They're a chance to unplug, recharge, and tune into what we need. Some Sundays, this translates into attempting our longest solo distance run yet, and on others, we're all about slowing down the pace for some afternoon gardening with the family. Wherever we land on the Sunday mood spectrum, we do our best to live out the day intentionally and with sustainability in mind, from work out to wardrobe.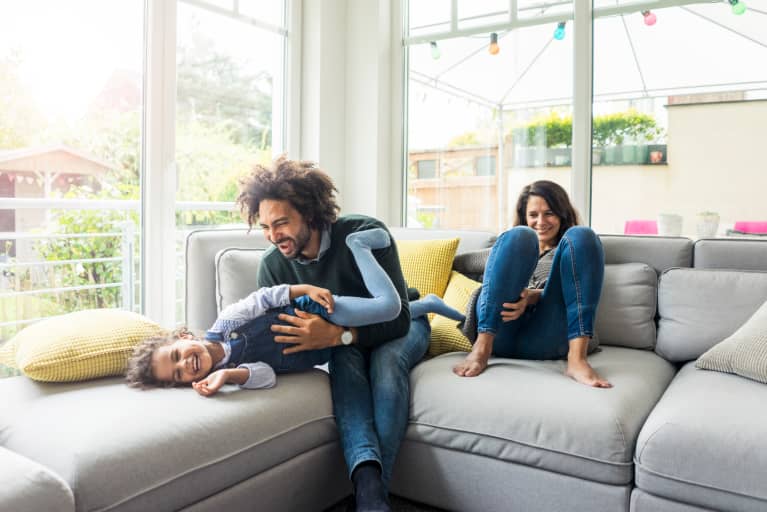 Lately, more than ever, we've realized just how valuable a comfortable, breathable wardrobe that stays fresh all day is… no matter how many days in a row we wear it. It's important that our wardrobe is as conscious about the environment as we are, while also being durable and fuss-free. The mbg crew's wardrobe needs to be thoughtful and keep up, no matter where the weekend takes us. For that, we turn to cotton.
Kate McCormick: Associate Sales Director
"These days, I've been living in my black cotton overalls on the weekend. I've had them for years and they've outlived many moves and closet transitions. As someone who lives in Brooklyn and is always on the go - whether it's walking my dog, exploring a new neighborhood, or biking (my preferred way to get around) - comfortable, breathable clothing is key.
I love that they're seasonless - a tank layered underneath and sandals in summer, or a turtleneck and white sneakers in winter, and I'm set for most situations. They're that magical piece of clothing that manages to be both weekend comfortable and effortlessly cool. Plus - pockets on pockets for everything my Sunday throws at me."
Jess Stone: Executive Director, Brand Partnerships
"As a new mom, everything seems changed… except that I still like to keep it simple, especially when the weekend rolls around. For me, cotton underwear is a non-negotiable, everyday essential. For baby Ethan who has sensitive skin, it's all cotton all day, from onesies to burp cloths, crib sheets, and blankets.
I've always been careful to use products that are better for the environment, but being responsible for a little one made me even more conscious about reducing our expanding family's environmental impact. I wanted to make choices that were comfortable for him, and good for the planet - cotton was the solution!"
Jourdan Buchler: Social Media Strategist
"I am known in my family for keeping and wearing my clothing long past their expiration. We're talking my Bat Mitzvah dress (I'm 25), cotton leggings from high school, and every comfy tee I acquired in college. Given my track record, and the fact that I can't resist all things comfy, I need my clothes to last (and look good) for as long as I plan to keep them...forever.
Over time, I've discovered my go-to picks for every weekend activity, from park to couch. You'll always find me in a cotton ballet bralette (I like the extra length at the bottom), V-neck tees (V-neck, ALWAYS), and high waisted leggings or joggers. Mark my words: I'll be spending my Sundays in these essentials, now and forever."
No matter the day of the week, mbg's love of sustainable, responsible cotton is constant. It feels good on our skin, and we feel good about wearing it.