paid content
 for

How To Shop For Sustainable Seafood, Plus The Tuna Melt Recipe We Can't Get Enough Of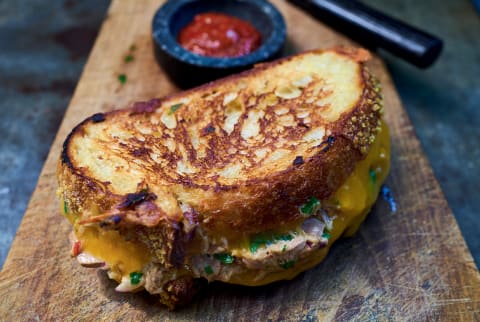 Image by David Loftus / Marine Stewardship Council
October 20, 2020
Take a look at an omnivore or pescatarian RD's day on a plate, and you're more than likely to spot a few servings of seafood a week. That's because the Dietary Guidelines for Americans recommend eating at least two servings of seafood each week. From the super-convenient tinned fish to hit your lunchtime protein goal, to wild-caught, B-vitamin rich salmon salad for dinner, fish is the perfect way to balance your plate and get a whole host of important nutrients, vitamins, and brain-beneficial omega-3 fatty acid into your system.
Bonus - you can make good choices for your health that are also good for the planet. It's important to learn how to shop for sustainable seafood that will protect the big blue, and you too.
Advertisement
This ad is displayed using third party content and we do not control its accessibility features.
We've partnered with the Marine Stewardship Council, a global science-based nonprofit, to learn how to do just that. Plus, we're sharing a delicious tuna melt recipe from celebrity chef Bart van Olphen to help you put your newfound ocean-friendly shopping skills into instant action.
What is sustainable seafood? 
Too often, words like sustainable and eco-friendly are thrown out into the world without a clear definition, making it difficult to understand exactly what we should be looking for.
When it comes to seafood, sustainability is specifically about fish that is caught in a way that keeps the marine environment intact, comes from a healthy population of fish, and is caught with oversight from regional and national management bodies.
These three factors that make up the MSC sustainable fishing standard go a long way to help protect the future of the sea life, oceans, lakes, and rivers we love.
What should you look for when shopping for seafood? 
The simplest way to vote with your dollars and ensure you're buying ocean-friendly, wild-caught seafood is to look for the Marine Stewardship Council (MSC) blue fish label.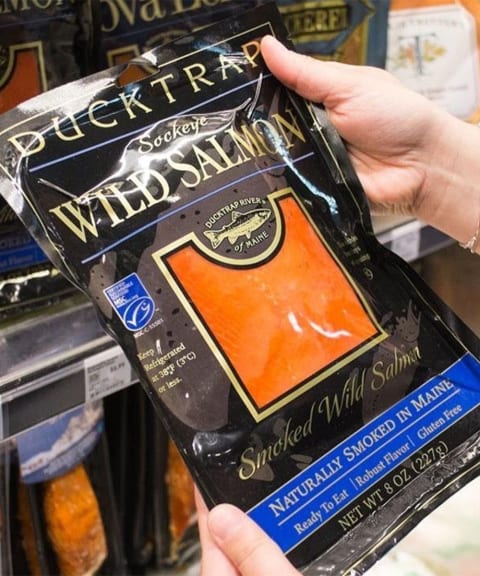 Advertisement
This ad is displayed using third party content and we do not control its accessibility features.
The MSC was established to end overfishing and ensure future generations can enjoy the same sustainable, wild seafood we do now. Its certification and ecolabelling program builds a more sustainable seafood market and, as a bonus, makes the eco-minded individual's grocery store visit a whole lot easier.
When you see the MSC blue fish label, you can trust that the seafood you're buying is sustainably sourced, from an ocean-to-plate traceable supply chain, and wild-caught. All MSC certified seafood has been vetted against a set of criteria that was developed in partnership with scientists, the fishing industry, conservation groups, and other experts to verify the sustainability of a fishery. In addition, the MSC requires third-party assessments and auditing of all fisheries in the program and conducts fish DNA testing periodically as a fail-safe against fraud and mislabeling.
Once you get in the habit of looking for the MSC blue fish label, you'll see it's not just found with fish at the seafood counter. You'll find it when shopping for frozen fish, canned fish, pet food and even supplements!
Remember, shopping sustainably is about so much more than the food you're putting on your plate — it's about backing the sustainable practices that will safeguard our future and ensuring that the brands you support are aligned with your personal values. Currently, more than 350 fisheries around the world are engaged in the MSC certification program, and more than 17% of all global catch is now certified to MSC standard. Its goal is to have 30% of the world's fisheries engaged in the process by the end of 2030. By supporting brands and products with the MSC blue fish label, you'll be helping to reach this important goal and encouraging more grocers and seafood brands to get involved in the program.
If you want to learn how to buy seafood that's ocean friendly and dinner friendly , visit the MSC Blue Fish Guide to Sustainable Seafood to know what to look for and where, why it matters, and how to cook your favorite seafood. You can also find out how to ensure the stores and restaurants you love are using seafood that's good for you and the ocean too.
Advertisement
This ad is displayed using third party content and we do not control its accessibility features.
Cooking with seafood 
Firstly - it's a myth that cooking seafood is hard. We promise. In fact, it's super simple, quick-cooking and can even be cooked from frozen in many cases! There's a whole world of dishes to try, from impressive dinner party favorites to weekday lunches in a hurry. If you're feeling intimidated, start with something easy like pan-fried shrimp in a stir fry or salad, or a salmon fillet under the broiler. Canned fish is another great place to begin, as it's incredibly versatile and requires no fancy cooking skills whatsoever.
To start you off on your journey, we're sharing an incredible tuna melt with a homemade ketchup recipe from celebrity chef, cookbook author, and sustainable fishing advocate Bart van Olphen. Get the recipe below. You can try it with Bart's new line of MSC-certified canned tuna, but no matter what, make sure your brand of choice has the MSC blue fish label!
TUNA MELT WITH KETCHUP
> SERVES 2 FOR LUNCH OR A SNACK <
TUNA MELT
One 6-ounce (160 g) tin of tuna (preferred pole & line caught and MSC certified) in sunflower
oil, drained
1 small red onion, diced
1 scallion, white and light green parts, finely chopped
¼ bunch of flat-leaf parsley, leaves only, coarsely chopped
3 tablespoons mayonnaise
Tabasco sauce
4 slices of bread, preferably rustic
1½ tablespoon (20 g) butter
4 slices of cheddar cheese
Salt and pepper, to taste
KETCHUP
2 tablespoons olive oil
1 garlic clove, minced
1 small red onion, diced
One 14-ounce (400 g) can peeled plum tomatoes
1½ tablespoon tomato purée
1 tablespoon dark brown sugar
1 tablespoon red wine vinegar
Salt and pepper, to taste
Mix the tuna, onion, scallion, parsley, mayonnaise, and a few drops of tabasco in a bowl. Season with salt and pepper. Set aside.
To prepare the ketchup: Heat the olive oil in a saucepan over medium-high heat and sauté the garlic and onion until soft but not browned, about 2 to 3 minutes, stirring frequently. Add the peeled tomatoes, tomato purée, sugar, and vinegar. Cook over low heat until thickened, about 3 to 5 minutes. Season the ketchup with salt and pepper. Press the sauce through a fine sieve and leave to cool.
Butter each slice of bread on one side and turn over. Pile the tuna mixture onto the non-buttered sides of two slices of bread and top with the cheddar. Cover with the other two slices (buttered side up).
Bake the toasted sandwiches for 2 to 3 minutes on each side in a dry frying pan over medium heat until the bread is crunchy and the cheese has melted.
Cut the tuna melt diagonally and serve with the ketchup.
Recipe from The Tinned Fish Cookbook: Easy-to-Make Meals from Ocean to Plate—Sustainably Canned, 100% Delicious © Bart van Olphen 2019, 2020. Translation © The Experiment, 2020. Reprinted by permission of The Experiment. Available wherever books are sold. experimentpublishing.com
Advertisement
This ad is displayed using third party content and we do not control its accessibility features.

Chloe Schneider
mbg Brand and Integrated Marketing
Chloe Schneider is the VP of Brand and Integrated Marketing at mindbodygreen. She received her degree from the University of South Wales. She has worked at many top publications and brands including Mashable and RESCU. She lives in Brooklyn, NY.