Stuck With Too Ripe Avos? Make This Chocolate Pudding

By Caroline Muggia
mbg Contributor
Caroline Muggia is a writer, environmental advocate, and registered yoga teacher (E-RYT) with a B.A. in Environmental Studies & Psychology from Middlebury College.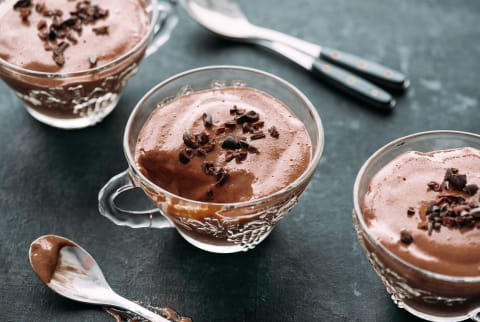 Image by Ina Peters / Stocksy
April 15, 2019
It can be hard to know if your avocado is ready to eat, and sometimes we're left with over-ripened options and aren't sure what to do with them. Considering how expensive this fruit is, it's important to have a back-up plan for when things go south.
This chocolate-avocado pudding from the Waste Not cookbook by the James Beard Foundation is a tasty solution. Instead of tossing out your bruised and brown avos, whip them into a creamy (dairy-free) chocolate avocado pudding. You'll blend two of our favorite ingredients—avocado and chocolate—into a melt-in-your-mouth puree, and top it with your choice of strawberries, hazelnuts, or olive oil.
With this recipe on hand, you won't have to toss your imperfect avos. And feel free to customize it depending on if you're feeling salty or sweet. Here's to reducing our food waste and saving some money.
Chocolate-Avocado Pudding
2 bruised avocados, cored and diced
1/2 cup agave, or more to taste (preferably organic blue agave)
3 tablespoons high quality cocoa powder
1/2 teaspoon kosher salt
Sliced strawberries, toasted and chopped pistachios or hazelnuts, and extra-virgin olive oil for serving (optional)
In a blender, combine first four ingredients until smooth. Use a rubber spatula to scrape down the sides of the blender and repeat.
Taste and add a little more agave if you'd like it sweeter. Transfer to the refrigerator and chill for 2 to 3 hours.
To serve, scoop the chilled pudding into serving bowls or cups. If you like, top with strawberries, toasted pistachios or hazelnuts, and olive oil.
Based on excerpts from the
Waste Not cookbook
by the James Beard Foundation with the permission of Rizzoli. Copyright © 2018.

Caroline Muggia
Caroline Muggia has a B.A. in Environmental Studies & Psychology from Middlebury College. She received her E-RYT with Yoga Works and is a graduate of the Institute for Integrative Nutrition. A writer and environmental advocate, she is passionate about helping people live healthier and more sustainable lives. You can usually find her drinking matcha or spending time by the ocean.