You Have To Try This Easy Half-Baked Breakfast Skillet Cookie Recipe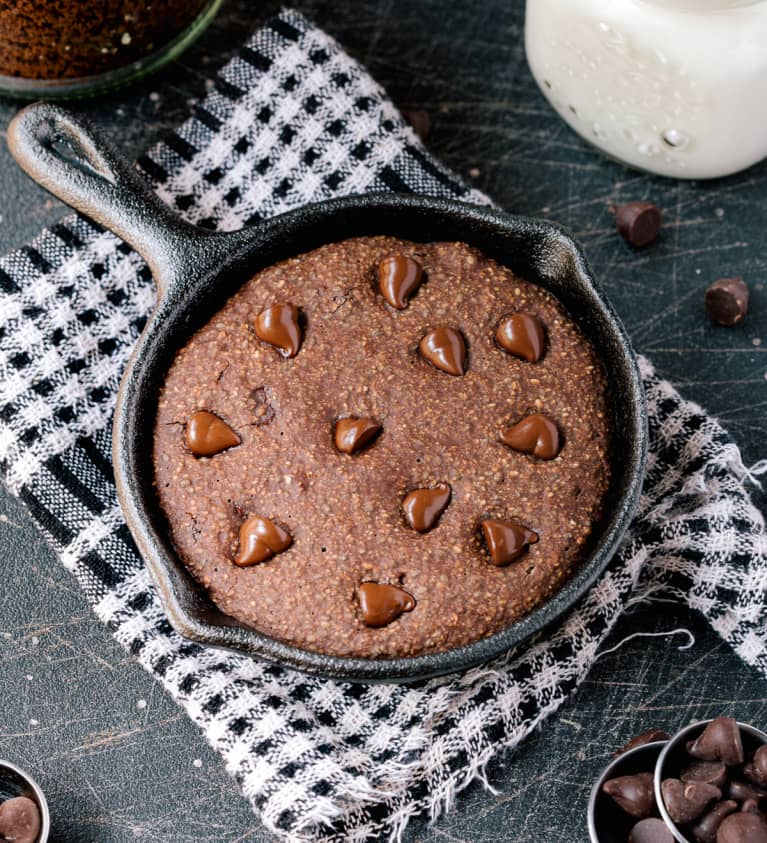 Our editors have independently chosen the products listed on this page. If you purchase something mentioned in this article, we may
earn a small commission
.
This cookie skillet from Arman Liew's Clean Sweets might sound complicated, but it's actually quite simple and only takes around five minutes to make (in your microwave, no less). This easy-to-make dessert—or breakfast because we're quarantined and need some excitement in our lives—is vegan and gluten-free, so you can feel free to indulge without sacrificing a healthy diet.
It's also extremely customizable: Don't want a chocolaty cookie? Swap out the chocolate for cinnamon or nutmeg, and you've got a gooey, melty snickerdoodle skillet. And because there are no eggs, you can underbake this beauty to your heart's (or rather, your stomach's) desire. Who says working from home has to be boring?
Half-Baked Skillet Breakfast Cookie
¼ cup gluten-free quick oats
2 tablespoons gluten-free oat flour
1 tablespoon cocoa powder
½ teaspoon baking powder
1 tablespoon ground flax
1 scoop vanilla protein powder (32 to 34 grams, optional)
1 tablespoon coconut oil, melted (or substitute with another neutral-flavored oil)
1 tablespoon pure maple syrup
¼ cup (or more) milk of choice (dairy-free, if necessary)
1 to 2 tablespoons (or more) chocolate chips
Method (microwave option):
In a microwave-safe bowl, add the dry ingredients and mix well.
Add in the melted coconut oil and maple syrup, and mix well until a crumbly batter remains.
Using a tablespoon, add your milk of choice until a very thick batter is formed.
Stir in the chocolate chips, reserving a few to add on top. Microwave for 2 to 3 minutes, or until just cooked in the center.
Preheat the oven to 350°F. Lightly grease an oven-safe ramekin, mini skillet, or small baking dish and set aside.
Follow the microwave instructions and bake for 8 to 10 minutes, depending on the power of your oven and the consistency you want your deep-dish cookie to have.
This recipe also works well with sugar-free syrup, as it isn't used as the sole binder.