Close Banner
Advertisement
This ad is displayed using third party content and we do not control its accessibility features.
paid content
 for

Stir-Crazy Kids? How To Transform Your Living Room Into A Playground (Safely)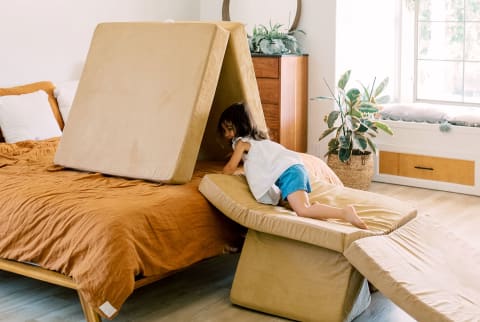 Image by Brentwood Home / Contributor
Remember the simpler times when the only real responsibility we had for the day was building the coolest fort possible? As adults, the easy-breezy days of play will always hold a special place in our hearts. Not only for the fun that was had but for the many benefits of unbridled imagination. And now, it's only natural to want the same (and even more) for our kids.
Days of play.
Play and childhood go hand-in-hand. For one, because kids are intrinsically playful. But also because play is one of the predominant ways children learn about themselves and the world around them. Science shows that free play influences the connections of neurons in the prefrontal cortex, which has to do with emotional regulation, planning, and problem-solving. Tucked into a fort, or in the thrills of make-believe, our children are really undergoing physical, intellectual, emotional, and social development. Play helps our kids expand their executive functioning skills, self-regulate, and understand social cues—in other words, they can't get too much of it.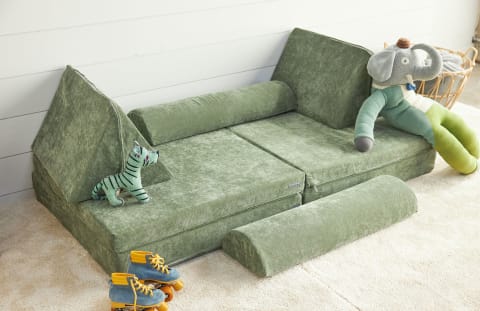 Image by Brentwood Home / Contributor
Let go, let grow.
As parents, we know that play is important, but it can trigger other difficulties. It seems we have to strike the perfect balance between keeping our kids safe and letting them truly engage with this wild world. We don't want to be helicopter parents (which has been connected to more difficulty as our kids transition into the real world), but parenting obviously involves a degree of setting our kids up for success. That's why, once we know they're safe, we defer to the magic mantra: Let go, let grow.
There's no better place to practice this philosophy than in the comfort of our own home. In fact, all the benefits of free play can be enjoyed right in our living room with a little inspiration, like the Brentwood Home Play Couch. This Play Couch, along with a couple of other tricks we have up our sleeve, will transform your living room into a playground (and classroom) in no time. Here's how to do it:
Get creative with a play couch.
The best kind of play is when our kids are in earshot but content to entertain themselves without a screen. And that's why the Brentwood Home Play Couch is a near necessity for sane parenthood. The Play Couch starts as a cozy seat for your little ones as they put their puzzles together or read books. But then it breaks down into six separate pieces: two supportive triangular pillows, two half-round pillows, a thick base cushion, and a thin base cushion. And how the pieces come back together—well, that's up to your kiddo's imagination. But they're most often turned into a play mat, two chairs, or a fort.
Make a stronger (and cooler) fort.
It's a universal law: All kids love forts. As you've probably often witnessed, fort-making is a serious craft. And while kitchen chairs and a sheet might suffice, there's not a kid on earth that wouldn't appreciate the colorful cushions of the Brentwood Home Play Couch as a way to upgrade their fortress. As your kid works with the separate pieces of the Play Couch, combining them with other elements in your home, their imagination and gross motor skills are at play. Their cognitive wheels turn. And they get to lose themselves in some innocent play while you get a well-deserved break.
Design the obstacle course of their dreams.
We're all about leaving our kids to their own devices to create their own fun. But that doesn't mean we can't set them up for safety and prolonged fun (read: more free time for us). The mental and physical trials of an obstacle course will keep your kids busy all afternoon. And here's a way you can save some time and brainpower: Grab a roll of masking tape. You know how all heist movies involve breaking into a safe and crawling through a web of lasers? You'll create the same with masking tape. Create a web of tape between the walls, tables, and chairs. Your kids are about to discover their inner ninja.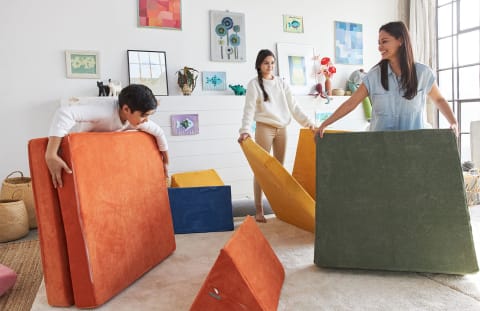 Image by Brentwood Home / Contributor
You can also break apart the Brentwood Home Play Couch to create soft obstacles to crawl over or land on. It's made with high-density foam and up to 20% BioFoam®—meaning your kids are fully supported with a more sustainable product. It's also covered in fabrics made from recycled plastics, emitting fewer greenhouse gases and conserving water and energy in the process. So not only are you supporting your kids, you're supporting the planet.
Make way for movement.
Think of your living room as the canvas for your child's imagination. The more space you give them, the better! Push your furniture to the sides of the room (which will already excite them), and turn the Brentwood Play Couch into a play mat for some casual gymnastics. Or if you have toddlers, create a blocked-off space where your little ones can crawl around and over the different-shaped cushions freely. Once they're done playing, reconfigure the cushions into a couch for snack time. Don't worry—you can simply wipe off any spills weathered by the Play Couch. Or remove the zippered cover, machine wash, and tumble dry or hang on a line!
Keep them safe.
It's a lot easier to let your kids play their own way when you feel confident they're safe. The Brentwood Home Play Couch keeps the fun flowing but also takes your child's well-being seriously. It's the only Greenguard Gold and Formaldehyde-Free verified play couch on the market. Plus, its sustainability standards are directly connected to our kids' futures. Brentwood Home is one of the first mattress, bedding, yoga, and play couch brands to be Climate Neutral Certified® and achieve net-zero carbon emissions. It may not be something our kids care about for some years but can bring us parents a little extra peace of mind.
It's OK, you can play too.
Our children learn about the world, and who they're meant to be, through the act of play. And anything that supports that process—sustainably and safely, like the Brentwood Home Play Couch—certainly deserves a spot in the living room. It can be easy to dismiss the levity of play... The games, imagination, and make-believe. But don't forget that as adults, we benefit from play too... So if you hear laughs and joy in the other room, don't be afraid to jump in!
Devon Barrow
Branded Content Editor
Devon Barrow is a Branded Content Editor at mindbodygreen. She received her degree from the University of Colorado. When she's away from her desk, Devon is teaching yoga, writing poetry, meditating, and traveling the world. She's based in Boulder, Colorado.
Devon's first book, Earth Women, is coming soon. To learn more, join the mailing list, and receive updates, head to www.devonbarrowwriting.com.