paid content
 for

Spring Refresh: The 5-Minute Clean Skin Care Ritual That Has It All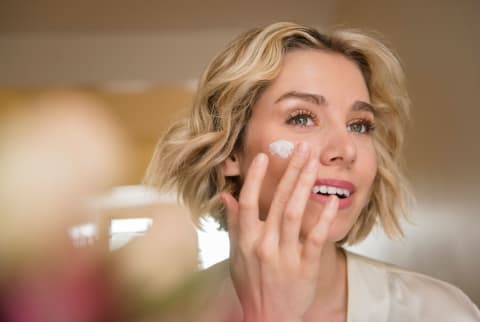 Image by Jamie Grill Atlas / Stocksy
April 19, 2021
Between juggling work, family, personal growth endeavors, and trying to make the world a better place—not many of us have time left in the day for a nine-step skin care routine. If this sounds like you, we think you'll appreciate the concept of "skinimalism" as much as we do.
Skin care shouldn't feel like a chore.
Skinimalism is all about taking a thoughtfully curated, "less is more" approach to your skin care ritual, focusing on just a few high-performance essentials versus a complicated, hourlong routine. Clean and cruelty-free skin care brand Follain embodies skinimalism. Their under-five-minute (yes, we've timed it!) ritual for smoother, firmer, and more radiant skin is what we've long been looking for. Keeping it green with high-performance botanicals and clean synthetics—spring refresh, here we come.
Step 1: Start with a clean slate.
The first (and most important) step of any skin care ritual is purifying skin from makeup, dirt, oil, and other toxins. Cleansing may be more important than we realize: Research1 shows that outdoor pollution intensifies signs of skin aging and reduces moisture. But many cleansers can over-dry or strip skin of beneficial natural oils. Enter, the Follain Hydrating Cleanser: Purify + Nourish, which gently and thoroughly exfoliates with natural ingredients like Willow Bark Extract, while keeping skin moisturized with Rosehip Oil. Rich in antioxidants like Green Tea and Moringa Leaf, this citrusy fresh cleanser feels and smells like a breath of fresh air. Springtime is about rinsing away the old and welcoming in the new—exactly what your cleanser should do.
Step 2: Boost your radiance.
Gone are the dull days of winter—it's time for our skin to glow. Adding a vitamin C serum to our daily skin care routine is key for amplifying our natural radiance. The next step of our spring skin care ritual uses the Follain Brightening Serum: Vitamin C Boost, a concentrated dose of highly stable, nonirritating vitamin C to visibly brighten lackluster skin. Extracts like Yuzu and Tangerine help us even out skin tone and reduce the appearance of pigmentation, and this silky-soft serum has both (plus prebiotics to help balance our skin's microbiome).
Step 3: Firm, smooth and brighten the eye area.
This four-step ritual is easy to fall in love with because it incorporates all the essentials you need for your best skin, including the often-overlooked eye cream. The Follain Eye Cream: Firm + Brighten gives new meaning to "bright eyes," with a multitasking formula that depuffs, firms, brightens, and smooths fine lines and wrinkles. It has the primo natural ingredient we love to see in an eye cream: Bakuchiol, a plant-derived alternative to Retinol (for stubborn crow's feet). Achieve that dewy, wide-awake look with power ingredients like Caffeine, Kakadu Plum, and Moringa Oil.
Step 4: Hydrate, protect, and smooth fine lines.
A phenomenal moisturizer strikes the perfect balance between deep hydration and lightweight feel. As the last step of this routine, the Follain Moisturizer: Replenish + Protect, feels amazing on skin but is also clinically proven to visibly reduce the appearance of fine lines and wrinkles. This is all thanks to clean power ingredients to look out for: Bakuchiol (a plant-derived Retinol alternative), a Peptide blend, Rosehip Oil, and Squalane. Carrying the light scent of Bulgarian Rosewater, this final step sends us into our day (or night) feeling and smelling like our best self.
Step 5: Smile! You've just completed your entire skin care routine in under five minutes.
Bonus step: Customize your ritual.
Your best skin may be only four steps away, but our skin always appreciates a little extra love. Since everyone's skin has different needs, specific challenges can be remedied with more targeted treatments. For dull, lackluster skin (especially after a long winter), turn to the clays and hydroxy acids of the Follain Dual Detox Mask: Purify + Resurface to decongest and gently resurface. Or if excess oil is your woe, calm irritated blemishes with the naturally derived Salicylic Acid of the Clarifying Spot Gel: Oil Control. Adding specific products that address your unique skin composition is a simple way to elevate an already stellar routine.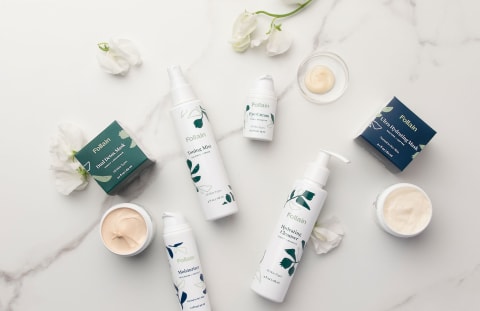 Image by Follain / Contributor
Spring reminds us to go green.
As the world reawakens and blossoms around us, we're inspired to prioritize natural beauty in our self-care and skin care routines. The Follain products of this simple yet effective ritual meet the green standards our beauty deserves: They're EWG VERIFIED™ (the highest standard of ingredient safety), cruelty-free (Leaping Bunny certified), synthetic fragrance-free, and dermatologist-tested. Inspired by thousands of one-on-one consultations, these products make switching to clean beauty easier than ever. Let's keep it simple this spring: Do less and shine more.
Devon Barrow
Branded Content Editor
Devon Barrow is a Branded Content Editor at mindbodygreen. She received her degree from the University of Colorado. When she's away from her desk, Devon is teaching yoga, writing poetry, meditating, and traveling the world. She's based in Boulder, Colorado.
Devon's first book, Earth Women, is coming soon. To learn more, join the mailing list, and receive updates, head to www.devonbarrowwriting.com.