paid content
 for

Jalapeño and Ginger Kombucha Make This Mule Kick Even Harder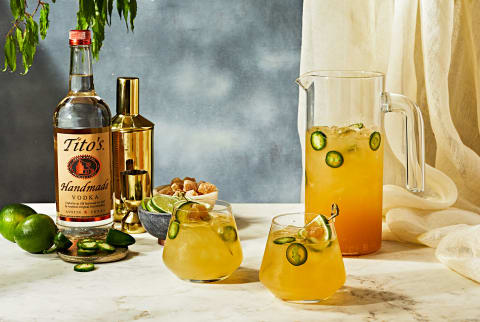 Image by Jenny Huang / Contributor
July 8, 2019
As kombucha has become more mainstream, it seems like more and more folks are catching on to one particular fact: The probiotic elixir makes an awesome mixer for cocktails.
Bubbly, tart, and just a little bit sweet, kombucha's natural flavor is a great balance for all kinds of spirits. With fruit-flavored kombuchas reminiscent of a shrub—a traditional style of drink made with fruit, sugar, and vinegar that are usually paired with booze and bubbles—you pretty much can't go wrong combining any variety with vodka.
This summer, try using ginger kombucha in a twist on a traditional mule, the classic cocktail usually made with vodka, ginger beer, and lime.
Image by Jenny Huang / Contributor
Naturally spicy, ginger kombucha makes a great swap for ginger beer, while cutting back on the cane sugar sweetness and adding a whole new earthy dimension. Then, kick that spice up another notch by shaking up Tito's Handmade Vodka with jalapeño before topping with kombucha; a few slices are all you need to make the drink feel totally new.
The resulting drink hits all the right notes for pairing with barbecue season's favorite dishes, from grilled skewers to veggie burgers. Make it by the pitcherful for a sweet, sour, spicy, and (most importantly) crowd-friendly drink that will have all your friends asking for the recipe.
One quick note on the simple syrup included below: We like the way it balances out the drink with caramel notes thanks to the molasses flavor of coconut sugar. If you prefer a less sweet cocktail or if you're using kombucha that's already sweetened, you might want to leave it out—totally up to you.
Image by Jenny Huang / Contributor
Spicy Kicking-Mule Pitcher Cocktail
1½ cups Tito's Handmade Vodka
3 limes, juiced (about 3 oz. lime juice)
Optional: 3 tablespoons coconut sugar simple syrup (recipe below)
1 small jalapeño, de-seeded if you wish and sliced into ½-inch slices (should be about 12 slices)
3¾ cups unsweetened ginger kombucha, plus more to taste if desired
Mint sprigs for garnish
Combine the vodka, lime juice, jalapeño slices, and coconut simple syrup in a large Mason jar with a lid. Shake to combine. Strain (through a mesh strainer) into a large pitcher and top with kombucha (you'll need about 3½ to 4 cups, depending on your preference).
To serve, pour into ice-filled double rocks glasses, Mason jars, or copper mugs. Garnish each drink with a mint sprig.
Rich Coconut Sugar Simple Syrup
Made with coconut sugar and water at a 2:1 ratio, this alternative to cane sugar simple syrup is excellent for cocktails, sweetening coffee, or even serving over oatmeal, yogurt, ice cream, or baked goods. Thanks to coconut sugar's deep malty flavor, it basically tastes like caramel.
1 cup coconut sugar
Hot water
Add 1 cup coconut sugar to a heat-proof container such as a Pyrex mixing glass or Mason jar. Heat water until it just reaches boiling. Add ½ cup hot water to the coconut sugar, and stir until it dissolves completely.
Allow to cool, then store in an airtight container in the fridge for up to a week.